Big Business : The Beast You Are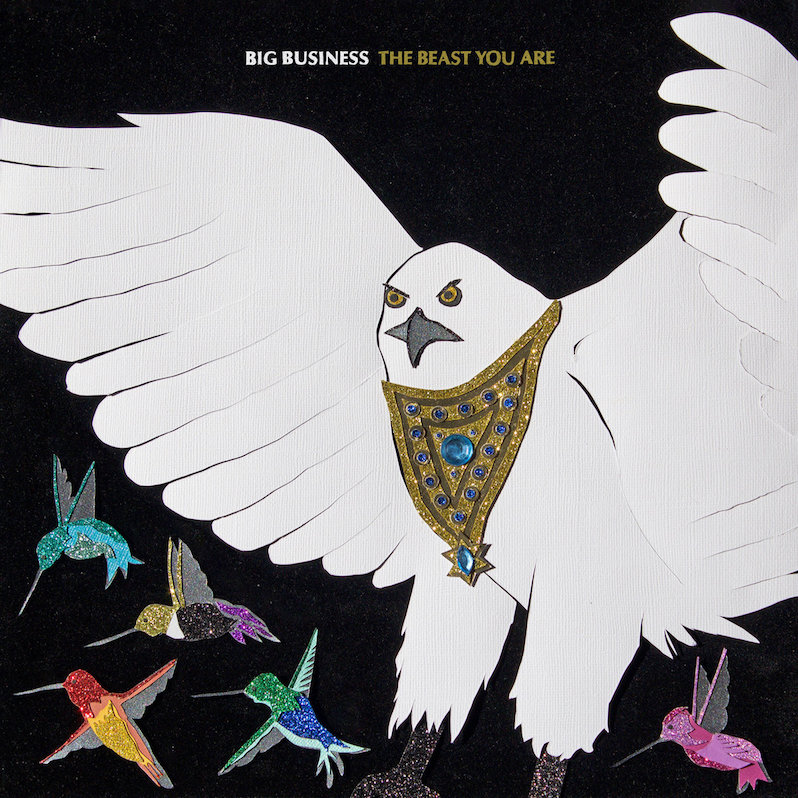 Big Business put together on their previous record, 2016's Command Your Weather, that they do best as a big, burly, dumb rock band. This is no slight to their records as a trio, with a guitarist joining up with the bass-and-drums duo, and in some other world that lineup is continuing on as a fair and proper evolution of the group's sound. But there was some elemental weirdness that was lost with the added players, a straightening of the jacket, and apparently the core duo felt that was a greater abridgment conceptually than the gifts of the added instruments and players. The Beast You Are, the second of their renewed work as a duo, continues the same testament to the wisdom of this idea that their last record did.
The group holds tight to a Queens of the Stone Age-esque weirdness to their concept rock, mirroring that iconic harmonized guitar sound Josh Homme used all over those records, like a carnival organ breaking down. In terms of compositions, they've always stuck close to the dumb and burly riffs, never getting too caught up in trying to be clever as much as they try to be big and powerful, two spaces they consistently succeed in. The added sonic weirdness, part sci-fi and part slack-jawed histrionic magical realism, gives the songs an arty and resplendent flair where otherwise they might just be primal rock tunes. It's not unlike reading a weirdo pulp novel, but a good one, one where the writer can weave a cracking sentence but also knows well enough that pulp genre readers want dumb thrills. Big Business is, after all, a rock band, and they embrace this without shame. It's impossible to hear them play and not imagine longhairs thrashing about with pedal lights glowing and volume cranked so high every chord struck feels like getting hit by lightning.
Unfortunately there is not a tremendous amount of artistic growth demonstrated on The Beast You Are, an issue compounded by the fact that it is likewise not their greatest work of this mode. That honor still falls to Here Come The Waterworks, the last record they recorded as a duo before briefly joining Melvins in a King Crimson-style duo-duo line up of two drummers and two string players. Still, this is only a minor quibble in the grand scheme. Not all rock bands are built on being expansive conceptually across the body of their work, instead choosing to bring one or two key sonic ideas to the table and offering as many variations as they can over a career. Creedence Clearwater Revival, AC/DC and KISS are example enough that the mode of conceptual singularity can work, and Big Business in fairness produce a sound that hits just the right spot between familiarity and novelty to make it satisfying to engage with new work from them even if it isn't a great leap forward.
This is a bit of a tricky situation, critically speaking. Despite the songs being strong compositions, they all more or less aim for the same thing and as a result it is hard to feel tremendously excited for the work. There are a couple that strive for a Zeppelin-like epic desert stomp and stroll, and "The Moor You Know" feels like a substantive addition to their oeuvre for its moodiness and darkened doomy psychedelia that feels like it wouldn't be out of place on a Mastodon concept record chronicling some strange trek through a crooked forest. But the contributions are too relatively narrow in focus for The Beast You Are to feel substantive in a broader art world. That said, the performances and compositions are likely to be the best hard rock of the year, demonstrating a real mastery of the form, including knowledge of the fact that all the truly great hard rock records we love have a touch of the weird to them, either because the distortion is so high or the composition is so loose, feral, untamed that the whole enterprise might fall apart before your eyes. Big Business are skilled at creating that sense of sonic risk and scale without really risking much of anything; one ventures the trimming of their lineup was partly to make the songs less anchored, so that every minute change felt like it might destabilize the work despite both players being far too competent for that to actually happen.
Still, a middle of the road Big Business record, like Queens of the Stone Age, still makes it one of the best of its kind for the year. At the end of the day, they are simply better at hard rock than most other bands playing, and the sense of real heft and weight behind the thumps of the drums and strangled harmonized sci-fi squeal of the bass is compelling still. If you've followed the band, then you've walked these roads before and little of the terrain will be new, but it's increasingly difficult to find bands that know how to stay in that misty pocket between punk, metal, psychedelia and rock and do so with a real sense of power. Power is one thing Big Business has never had issue conjuring, and the tremendousness of rock 'n' roll is in being as big and dumb as possible. Critical considerations aside, The Beast You Are is a compelling record and a solid addition to their body of work. The hope is that they draw a bit farther outside the lines on their next.
Similar Albums: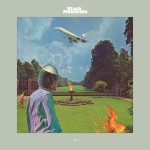 Black Mountain – IV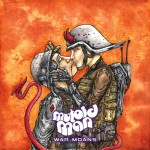 Mutoid Man – War Moans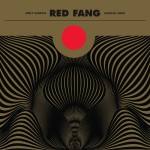 Red Fang – Only Ghosts
Langdon Hickman
Langdon Hickman is listening to progressive rock and death metal. He currently resides in Virginia with his partner and their two pets.