Three years isn't terribly long when it comes to the time a band spends between albums. When you add up the touring, the recording, more touring, some time off and all of the press done in the meantime, three years is practically nothing. Hell, it's been at least five years between each Nine Inch Nails album. But since Clearlake released their stunning sophomore effort Cedars, we've been introduced to Franz Ferdinand, The Futureheads, Bloc Party, The Kaiser Chiefs, The Rakes, Art Brut, Maximo Park, Razorlight, Babyshambles and The Arctic Monkeys. And somehow, the number of bands playing gorgeous, dark British pop with a shoegazer sheen has been drastically reduced. So, if you became distracted, it's perfectly understandable. But come back to Clearlake, and many of the new new wave UK bands start to look like novelty acts. Their dark psychological narratives are eerily lovely. Their rockers are deceptively crisp, but ultimately brutal. And for three straight albums, they've made an extremely strong case for being named the best band in Britain.
Cedars was a ridiculously hard act to follow, and yet, Amber, Clearlake's third full-length, is up to the task. Citing My Bloody Valentine, Neil Young and Queens of the Stone Age among the varied influences that were poured into this set, the band largely plays up the more rocking aspects of their sound here. The My Bloody Valentine influence, in particular, is prevalent on Amber. Opener "No Kind of Life" is chugging, buzzing rock, much in the tradition of Cedars' "Almost the Same," but noisier, hazier and, vocally, more restrained. While the music is a woozy, distorted maelstrom, Jason Pegg's vocals are pointed and clear:
You rely on someone else
To make you feel alright
As far as I'm concerned
That's no kind of life
With only four lines, it's a minimal statement, though "Good Clean Fun," Pegg's so-called first "sexy" song, mines similar ground, opting for denser shoegazer textures and abbreviated, but powerful lyrics. "Finally Free," meanwhile, displays more of the Neil Young influence, melodically similar to "Cinnamon Girl," which the band covered on last year's Wonder If the Snow Will Settle EP. And the adrenaline rush of "Far Away" is a sort of sped-up, garagey take on Ride or Swervedriver.
The first single off the album, titled "Neon," almost sounds something like a really beefed-up Stone Roses. For Clearlake to try their hand at something so bluesy and Zeppelin-esque takes some nerve, but, as if there was any doubt, they prove that they even have the most testosterone-fueled hard rock nailed. Glam rock too, come to think of it, as evident on the Gary Glitter-meets-Sonic Youth rocker "Here To Learn," a mind-melting standout track. And amidst all of these burly rock tunes, there's not a one that couldn't be released as a single.
Though the rockers may have immediate appeal, it's the subtle, quieter songs that keep Amber glued together. In the jangly "It's Getting Light Outside," a more lighthearted sound emerges, Pegg crooning lines about late night talks with old friends: "before you know we'll forget the time/and we'll turn around and find we've talked all night." "Light" transitions into the exotic title track, a song with more in common with Bjork than British Sea Power, as Pegg's vivid narration is accompanied by twinkly effects and wheezing cello. And the dreamy "You Can't Have Me" finds the perfect balance between restrained ambience and soulful pop.
Amber culminates in the raucous dirge, "Widescreen," in which Pegg confesses: "I'm the first to admit I get used to being unhappy," suggesting that the band has come a long way since the foggy gloom of Lido. Before long, though, the quiet opening gives way to a noisy, plodding whirlwind, an apt sound to match its suggestive title. And we find that, though Cedars and Amber begin similarly, this album's end is far more chaotic and uneasy than the sweet ballad "Trees In The City." Clearlake has let go of any filters that may have held them back before. While the restraint and pressured beauty of Cedars was nothing short of brilliant, the rawer, stylistic jumps of Amber make for an entirely new exploration. There may be a wealth of talent in the UK music scene at the moment, but few match the dizzying heights and artistic leaps displayed on Amber.
Similar Albums:
British Sea Power – Open Season
My Bloody Valentine – Loveless
Catherine Wheel – Chrome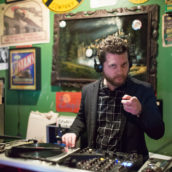 Jeff Terich
Jeff Terich is the founder and editor of Treble. He's been writing about music for 20 years and has been published at American Songwriter, Bandcamp Daily, Reverb, Spin, Stereogum, uDiscoverMusic, VinylMePlease and some others that he's forgetting right now. He's still not tired of it.