Enjoy Your Stay: An interview with Dave Aju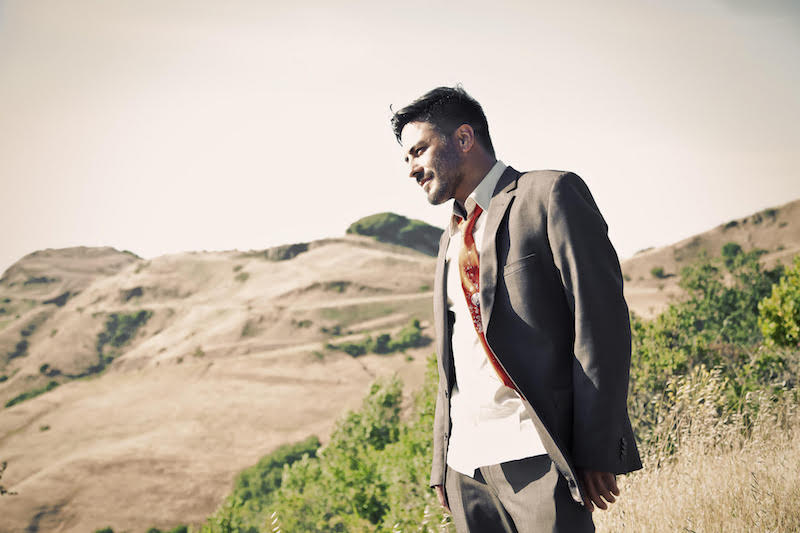 Dave Aju's productive crux is based on uniting the spirit of community. Just ask. The San Francisco-born artist will weave factual yarns about being a member of a breakdancing unit when he was a youngster in high school. Or the time he was a member of a seven-headed DJ crew that destroyed after-hours warehouse parties and infuriated Park Rangers all over San Francisco in the late 2000s.
The experimental and open-minded electronic music producer, who now resides in Los Angeles, just released his Off Weed Or Sane EP on Herbert's Accidental imprint. It's consisted of four uptempo house tracks that go ahead with the communal vibe by contributions from Guillaume & The Coutu Dumonts, Alland Byallo and vocals by Vanessa Vassallo. His single "Wayahed," from November, is a large-scale genial house anthem that leans on his Jazz upbringing by successfully imbuing Arthur Verocai-blissed harmonics. Released on the Ostgut Ton label, it fits nicely between tracks by Brainfeeder artist Ross From Friends and Duplex.
You can hear Aju's sound in Left-field House or Pop music ten years in the future. This culmination of Jazz, hip-hop and adventurous 4/4 excursions is uniquely accessible, but never Vanilla. If you check his curated Beatport playlist, you'll see it's composed of Bay Area folks, some being best buds he's known and grown up with musically, such as Spacetime Continuum, Kit Clayton, Afrikan Sciences and Aybee just to name a few. It's an extension of his affinity to DJ with peers to create something bigger than self. Granted, it's also part of his hustlers plan, to peep game by sensing what his contemporaries may be consuming at that moment. So he can go the opposite direction. With a smile.
Dave Aju DJ sets, ranging from large international festivals, Gilles Peterson broadcasts or even at small dive bars, are regarded as three-dimensional chess matches where boundaries get the Gas Face. Alternating through house, disco and techno genres in rinse and repeat form, while summoning the sunshine as well.
We chatted with him, on a quick break from his finishing up a new album for next year, and asked about his new EP.
Treble: Is there a specific concept behind Off Weed or Sane?
Dave Aju: The overall concept of the Off Weed or Sane EP…is about transition and duality in a way. It was the last of collaborations and projects I started while based in Berlin and in the case of the last two tracks, finished in my new home in LA, the title is a play on "goodbye" in German and the plethora of the greenery in Cali. The idea behind "O.O.O." comes from that as well, being the first piece of music I worked on while Stateside again. It's a dysfunction anthem of sorts—the acronym standing for Out Of Order. We are living in literally incredible times, where ridiculousness, especially in the political world, is an accepted status quo. So the track reflects that: Welcome to life 2.0, shit's officially cray, hope you enjoy your stay. The vibe starts out light and passive, with everyone making the best of things on their day-to-day despite the very real climate, happily retreating into cyberspace and their gadgets for some form of comfort or connection, until that inevitable digital error message shows up as well. The TB-303 and acid house in general have enjoyed a welcome revival with the younger generations these days, so I guess this is my contribution to the form, with a twist. I cut up an actual 303 line and spread it across some MPC pads and played it back incorrectly, to make it a 404 message line, if you will. Which is also kind of meta in a sense too I guess, seeing as the cheap little plastic silver box was originally intended to be used in a simple, rudimentary way by play-along musicians, until a few south side Chicago pioneers copped it at a pawn shop and flipped it into the context we now know as acid.
Treble: Incredible times for sure. And your output reflects so. While "O.O.O.", from your current EP, might be packing dysfunction, it's also projecting sonic light. What you are listening to these days when you are not producing?
DA: Cool, man. I've definitely been feeling the urge to bring more warmth and light to new musical productions as possible these days. As much as I've always been a fan of the weirder shit and can appreciate hyperrealism in art, cold and dark times don't really call for cold and dark music in my opinion, especially in the supposed more collective and unifying world of underground dance music. I feel a need for some balance. We're already feeling isolated from each other in so many other ways right? You can just turn on the news if you need a dose of darkness and alienation. I love being on the floor and seeing folks actually dancing, smiling, vibing off each other. Just saw a good example of that for the first time in a minute with Theo Parrish playing an all night warehouse set—that's really it for me right there. We can still be weird, but also warm, and hopeful.
As for other music I'm taking in now since I'm deep in production mode trying to finish up a new album, not in the loop or digging as much I'd like at the moment. But man, there is so much good music out there, as I'm sure you of all people know! At home lately, I've found comfort in some older personal classic LPs from my collection I was reunited with moving back to Cali from Berlin. Timeless music like Arthur Verocai, Mizzell Brothers-era Blue Note and Prestige cuts, Will Onyeabor, all things Roy Ayers, early Sly & Robbie, and David Byrne-related etc. As for newer stuff, on the local tip, we're blessed to have stations like Dublab and KCRW always highlighting dope new releases. I'm feeling The Internet's, Anderson . Paak's, Peaking Lights', and Georgia Anne Muldrow's new albums, Channel Tres, Sudan Archives, Moses Sumney. Just a few of endless examples of L.A.-based acts that are inspiring to me lately.
Treble: What do you hear in the new album you are in the process of completing?
DA: Hmm. I hear a more focused aesthetic and sound palette. Clear inspiration from my current environment in the new album in progress.
Treble: Between breaks, what food spots are hitting the joy button for that L.A. belly?
DA: Dune for some top-tier mediterranean, killer falafel and fried chicken shawarma. Villa Corona for the legendary burritos, one of the very few places in L.A. that can hang with the SF/Bay burrito game, and at great pre-inflation prices. Proof Bakery for coffee and pastries of the gods. El Buen Gusto, a well-known legit Salvadorian spot, gets bonus points for making some cool twists on their pupusas, especially for peeps with special diets. Pretty blessed to be working around such bomb eateries. Also to be sharing what used to be the Beastie's Grand Royal studio, where Check Your Head and Ill Communication were recorded, with Alex Sonns and Seb from Scratch Massive. Two great dudes with deep gear collections and golden ears to back it up!
John-Paul Shiver
John-Paul Shiver has been contributing to Treble since 2018. His work as an experienced music journalist and pop culture commentator has appeared in The Wire, 48 Hills, Resident Advisor, SF Weekly, Bandcamp Daily, PulpLab, AFROPUNK and Drowned In Sound.