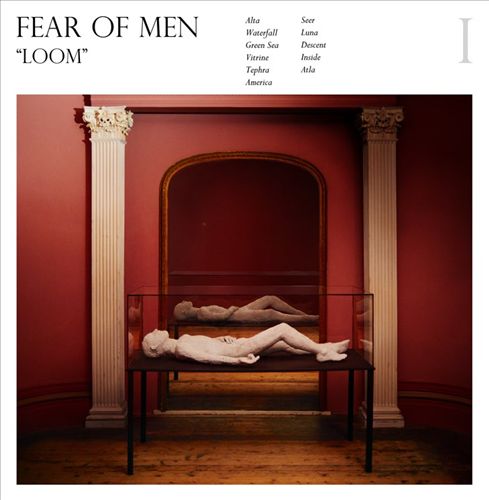 Fear Of Men formed when band members Jess Weiss and Daniel Falvey met at art school, the two finding common ground with Weiss' ambient soundtracks to her short films. Eventually, they would form a band and issue a series of early releases showcasing Fear Of Men's early sound. Just last year, they released the Early Fragments EP, a small collection of carefully arranged dream-pop songs that would help establish the band as an outfit soon to be ready for a national audience. Early Fragments presented a promising start for the band, with its diverse and lush songs, and only raised curiosity for where the band could go next.
Fear of Men's full-length debut Loom arrives with a wider array of tracks, which keep up the momentum they built on Early Fragments. Opening track "Alta" begins with Weiss' soft and angelic vocals, which meticulously builds up to the transition of the exciting "Waterfalls." Backed by a strong melody of rich textures, Weiss maintains a heavy presence and control with her hypnotic vocals and catchy chorus ("I'm not alone in this"). "Seer" reappears in an updated version from that found on Early Fragments, more polished and refined, demonstrating the crystallization of the band's strengths and maturity. Meanwhile, "Descent" captures Weiss & Co. at their best with jangly guitars and opulent melodies that contribute to the extremely verdant atmosphere the band often evokes throughout.
These are a few of the worthwhile moments within Loom, yet a considerable portion of the album suffers from a dearth of new ideas. Too many of the songs are too similar in their structure, often making them indistinguishable from one another. "Green Sea," another Early Fragments leftover, has a sonic cousin in the album's closer, "Atla." And if Fear Of Men's objective was to create an album that flows seamlessly and remains cohesive, they have achieved it, but to a fault.
Weiss has a gorgeous voice and a suitable, complementary band, which pairs well with her songwriting. And while those elements give Loom its appeal, it has its limitations. Early Fragments showed the promise of a band in a pure and raw form, with a wide range of songs on which they could test the waters and begin to put their talents to interesting applications. Fear of Men definitely have the style and emit a strong aura. They have the harmonies, structure and the voice — they just need to apply them to something new.
Similar Albums:


Wild Nothing – Gemini


Wye Oak – Civilian


Beach Fossils – Clash the Truth