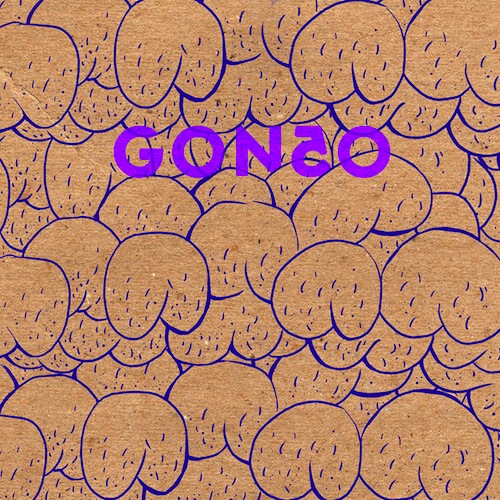 For most of their decade-long career, Foxy Shazam have been on a single quest: to become the biggest rock band in the world. For a band who build so much of their schtick on deadpan silliness, it's easy to question the earnestness of this goal — but to their credit, they've gotten much closer than anyone had any right to expect, and they've got the narrative of their discography to prove it. In ten years, they've transitioned from a gleefully anarchic post-hardcore garage band to a glam-rock outfit churning out catchy, radio-ready pop songs. Their fourth album, 2012's The Church of Rock and Roll, positioned the band as audacious new rulers of rock. Larger-than-life frontman Eric Nally declared himself God and promised to save our souls with his stadium-sized, Springsteen-meets-Darkness power ballads. But their fifth album, Gonzo, self-released for free earlier this month, fulfills none of those promises. Instead, it's an inconsequential — and worse, boring — album that screeches what had been a compelling narrative to a grinding halt.
It's hard to pinpoint what exactly went wrong with Gonzo because so much just seems off about it. Should I point to that god-awful album art, which looks like it was made by a twelve-year-old in Microsoft Paint? Should we focus on the album's awful mastering, which buries Nally's voice in the mix when it should be soaring above the rest? Gonzo looks and sounds like no one involved really gave a shit.
That extends to the songwriting, too, which is a huge disappointment considering some of the brilliant stuff Eric Nally has written in the past. 2010's "Oh Lord" is one of the most purely enjoyable songs I've ever heard; I wanted the choir-backed theatricality of "Welcome to the Church of Rock and Roll" to go on forever. Foxy Shazam's discography is littered with distinctively catchy tunes, but none of them are on Gonzo, whose songs are continually dragged down by repetitive guitar riffs and a lack of strong melodies.
The album's major problem is how bland it is. The songs aren't aggressively bad, but they don't pack the same punch that the band has been so good at in the past. There's no doubt that Foxy — one of the best live acts around — will manage to turn these songs into something more in a live setting, thanks to their naturally theatrical tendencies. But in the context of the album, the songs seem devoid of the band's trademark energy. The title track drags, almost to the point of being painful. "Have the Fun" tries to substitute inspiration for a particularly grating guitar buzz. More intriguing songs like "Brutal Truth," which plays like a grungier version of "Stuck in the Middle With You," lack that same energy. Aside from "Story Told," the fist-pumping closer that feels like the plastic toy at the bottom of a box of stale cereal, the album just isn't very interesting. Even Nally's lyrics, which have always walked a blissful line between cliche and stupid, seem like phoned-in attempts at his usually effortless absurdity: "Hero's the thing the Foo Fighters sing about," he sings on the title track. "Me, I'm just a man."
That lyric, for all its painfulness, does seem to indicate Foxy Shazam deciding to rid themselves of their self-aggrandizing ambition. It almost plays as an admission of defeat, an acknowledgement that the band will probably never fill arenas or be as big as the Foo Fighters. When Nally sings that he's "going Gonzo," it seems he's taking a stab at self-examination (i.e. Gonzo journalism). "How pathetically poetic it was to spoon-feed you the brutal truth," he sings on "Story Told," presenting the album as one emotional arc of self-doubt.
Conceptually, that's an interesting approach: the deconstruction of a self-declared rock god, who is afraid that he won't be able to live up to his own hype. But if a band is going to suddenly attempt to dismantle the image they've been cementing for the past decade (and doing a damn good job at it), it had better seem like they put some effort into it. Instead, Foxy Shazam made Gonzo, a wholly disappointing album that feels less like an emotional progression and more like a half-assed attempt at self-destruction.
Similar Albums:


Jaguar Love – Take Me To The Sea


Fang Island – Major


Electric Six – Switzerland