Fucked Up announce 15th anniversary reissue of The Chemistry of Common Life

David Waldman
Fucked Up's The Chemistry of Common Life is being reissued for its 15th anniversary. The album will be newly released on 2xLP colored vinyl via Matador Records on February 23, as part of the label's Revisionist History series. Watch the new video for "Black Albino Bones" below. The group is also on tour this fall in North America and Europe. Check out those dates below.
Drummer Joshua Falco said in a statement, "After Hidden World it felt like all of the musical impulses of Fucked Up condensed and turned into this musical dew, which inexplicably settled in this heavier, condensed place. The layering became way more intentional and focused, and instead of just making things long for the sake of being long, dense for the sake of being dense, the length and weight of our songs was necessary to house new found compositional moves. Development, tension, narrative, and space in song. 
"In some ways it felt like mockery – putting bongos on 'Crooked Head' and French horn on 'Days of Last,' 'Royal Swan' having about 1% punk involved, etc. – but in other ways opened the door for us moving forward to give these outlying ideas about our music precedence in our songwriting. Chemistry was unchained and free creativity from inexperienced and raw, but demanding and developing musicians."
Earlier this year, Fucked Up released One Day.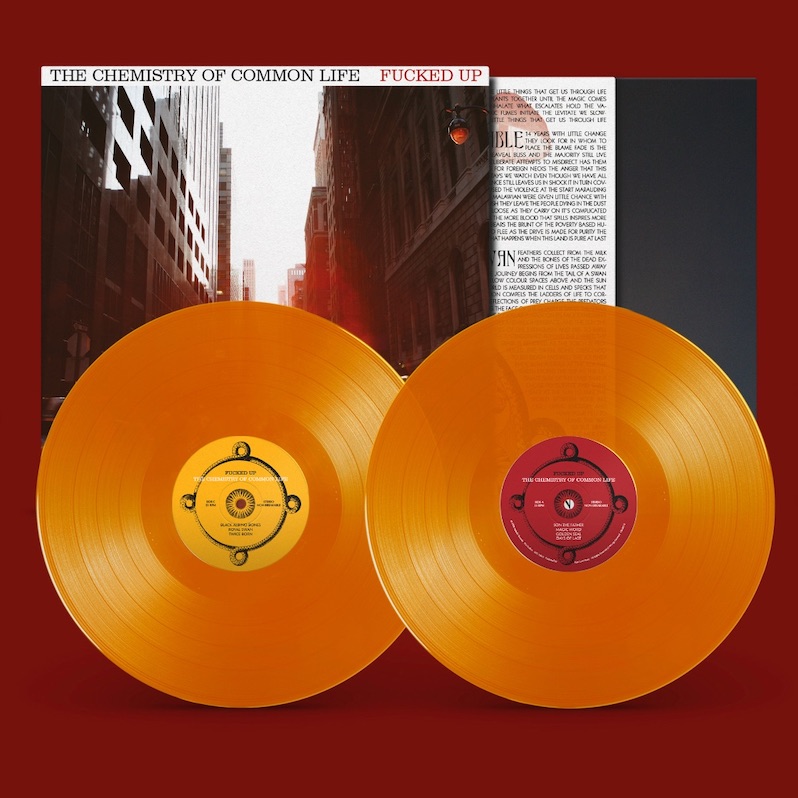 Fucked Up tour dates:
10.14.23 – Toronto, ON @ The Horseshoe Tavern
10.25.23 – Silver Spring, MD @ The Fillmore
10.26.23 – Stroudsburg, PA @ The Sherman Theater
10.27.23 – Asbury Park, NJ @ Stone Pony
10.28.23 – Richmond, VA @ Richmond Music Hall
10.29.23 – Philadelphia, PA @ Brooklyn Bowl
10.30.23 – Brooklyn, NY @ Warsaw
10.31.23 – New York, NY @ Irving Plaza
11.10.23 – Leeds, UK @ Temple of Boom
11.11.23 – London, UK @ Pitchfork Music Festival
11.12.23 – Bournemouth, UK @The Bear Cave
11.13.23 – Lille, FR @ L'Aeronef (Club Room)
11.14.23 – Paris, FR @ Petit Bain
11.15.23 – Reims, FR @ La Cartonnerie
11.17.23 – Benidorm, ES @ Primavera Weekender
11.18.23 – Malaga, ES @ Paris 15
11.19.23 – Barcelona, ES @ La Nau
11.21.23 – Milan, IT @ Legend
11.22.23 – Wiesbaden, DE @ Kesselhaus
11.23.23 – Cologne, DE @ MTC