Future Of The Left : Curses
When Andy Falkous chants "Violence solved everything," on "The Lord Hates a Coward," the leadoff track on Future of the Left's debut Curses, he's merely repeating a mantra that's served him and his bandmates well throughout the years. In McLusky, Falkous, drummer Jack Egglestone and bassist John Chapple made violence an art, thrashing their instruments with maximum intensity, only to churn out some of the catchiest songs that sheer brutality has ever yielded. When the band split, Chapple and his new band Shooting At Unarmed Men carried on the brutality without much in the way of hooks, while Falkous and Egglestone carried on with Future of the Left, along with Jarcrew's Kelson Mathias on bass, and those catchy singles emerged once again, sounding more violent than ever.
If McLusky's third and final album The Difference Between You and Me Is I'm Not On Fire was an exercise in subtlety and nuance, Curses is exactly the opposite. There is nothing subtle here. Future of the Left bludgeons at every turn, leaving the listener bruised and grinning. Falkous is as fierce and hilarious as ever, and each song, no matter how vicious, is catchy, appealing, and a whole lot of fun. Essentially, this is everything that made McLusky such a "fucking delight," but amplified well beyond safe levels.
But wait, this isn't just McLusky part two. It's much more than that, really, and in spite of Curses' unrelenting intensity, it's an exceptionally broad album. Obnoxious musicians in post-punk bands known for songs about collagen-injected singers and sex criminals as their replacements can certainly reveal new facets of their musical breadth. Curses just happens to express that growth in really vicious ways, as one could only expect from such merciless pranksters.
So, back to "The Lord Hates a Coward," it's as violent I've implied, particularly due to Mathias' churning, fuzz-drenched bass carving a deep trench beneath Falkous' ear-splitting screams during the chorus. And yet, it's really catchy, and that's the thing that truly sets Future of the Left apart from forebears such as Shellac. Albini never tried to make pop singles, Future of the Left just happen to excel at this sort of thing. "Plague of Onces" is a skronky, guitar scratching number, with Falkous asking "why put the body where the body don't want to go?" The less than two minute long single "Fingers Become Thumbs" is a fantastic and twisted tale of missing limbs and digits, with the bizarre refrain of "we're not alive/ we're not alive/ we're not a home for preg-er-nant callers."
"Manchasm" name checks Mark Foley, a Cardiff studio owner who just happens to have an infamous name, and Colin, "a very pretty pussycat." It's the most unapologetically pop track on the album, driven by a buzzing, bouncing organ, and it's also one of the best. "My Gymnastic Past" is more complex in its rhythm, with a circular guitar riff burning a ring around a fairly straightforward bassline, and Falkous finds yet another winning slogan in "Better bovine than equine!"
Okay, so I lied about "Manchasm" being the most unapologetically pop, that honor goes to "Suddenly It's a Folk Song," which is built upon a similar keyboard riff, only with a more greatly soaring melody underneath, and a delivery on the part of Falkous that sounds almost sane. Then there's "Small Bones, Small Bodies," simple and direct, like a punch to the face, and it does that with precision and efficiency, not unlike "That Man Will Not Hang," only with boasts of "the finest exoskeletons."
Violence solves everything nicely on Curses. Toning it down just isn't an option for Future of the Left. Truthfully, there is subtlety and there is nuance, but the bass grooves, guitar riffs and beats are just so pummeling, you don't catch it during those first few stunning blows. Once you steady your footing, and begin to better withstand the impact, that's when you begin to notice just how much this album really does kick your ass.
Similar Albums:
McLusky – McLusky Do Dallas
The Jesus Lizard – Goat
Hot Snakes – Suicide Invoice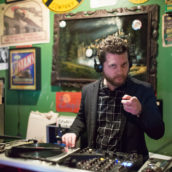 Jeff Terich
Jeff Terich is the founder and editor of Treble. He's been writing about music for 20 years and has been published at American Songwriter, Bandcamp Daily, Reverb, Spin, Stereogum, uDiscoverMusic, VinylMePlease and some others that he's forgetting right now. He's still not tired of it.