There are plenty of criticisms to be had with indie rock, from its tendency to be oddly musically conservative, to its sloppiness, and its artists' frequent lack of charisma. These are generalizations, though, and don't speak to every indie rock artist. But they speak to the blanket genre's lesser acts frequently enough to be a matter of concern. However, one of the lesser-heard but most apt critiques is that it's a sector of music deficient in sex appeal. When was the last time anyone practiced the tender act of love or seduced a member of the opposite sex to the sounds of Fleet Foxes or Band of Horses? I don't mean to pick on these bands. In fact, I quite like them, but sexy they ain't.
Enter Gayngs, a 25-member musician collective from Minneapolis with the objective to speak to their listeners' loins and get people in the mood for some sweet, sweet lovin'. Every song was written to be played at 69 BPM (not kidding), and is performed with glossy, sweaty care by ringleader Ryan Olson, Zack Coulter and Adam Hurlburt in addition to Bon Iver's Justin Vernon (indie rock's Kevin Bacon), members of Megafaun, Leisure Birds and The Rosebuds, rapper P.O.S. and numerous others. Yet these aren't folk ballads or backpack rap anthems, they're slow jams. They're all slow jams, some of them sweet, some of them dark, and most of them in the vein of 1970s AM legends 10cc.
The very nature of the music on Relayted lends itself to seem a bit ironic-sounding, even if all of the material is delivered with heart-wrenching sincerity, which it very much sounds to be. Yet, that doesn't preclude it from being extremely silly. After all, this is an album of '70s-style slow jams played by a bunch of Midwestern indie rockers. It's going to be a little bit awkward, no matter how passionately delivered. The entire record is bathed in Red Shoe Diaries saxophone; you can almost hear David Duchovny's narration. That saxophone emerges early on in the unexpectedly Bone Thugs-influenced "The Gaudy Side of Town," sung by an auto-tune washed Justin Vernon. And it plays a starring role in the Teddy Pendergrass inspired trip-hop all niter "No Sweat," sung with fierceness by P.O.S.
After four tracks, the slow plod of sexual slither does lose a bit of its freshness, the scent of stale sheets overcomes the aphrodisiacs, and in an attempt to liven things up, Olson & Co. introduce "False Bottom." It's a psychedelic instrumental of sorts that gets by on freakish effects, which segues into the similarly trippy "The Beatdown," with echoing vocals and aimless tufts of piano. Yet the strange consequence of introducing such stylistically incongruous tracks throws the album off pace, and one actually starts to miss the booty jams. The soft, sensual side returns with "Crystal Rope," but in contrast to the thick, soulful sequence of the album's first third, it sounds thin and lacks the same gravity or passion.
The album's strongest moments are saved for the end, namely the breezy new wave of "Faded High" and the subdued sophisti-soul of "The Last Prom on Earth." Unfortunately, after a few selections of 69 BPM down-low serenades, enduring the remainder of the album becomes tedious, and by "False Bottom," the group kind of loses the plot. Gayngs clearly had a good idea when setting out to record a bedroom album like few make these days. But rather than being effortlessly sexy, Relayted is overworked and overlong, and not all of the pieces fit. And when that's the case, you're probably not doing it right.
Similar Albums:
10cc – Sheet Music
Steely Dan – Gaucho
Isley Brothers – Between the Sheets
MP3: "Faded High"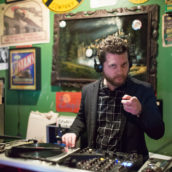 Jeff Terich
Jeff Terich is the founder and editor of Treble. He's been writing about music for 20 years and has been published at American Songwriter, Bandcamp Daily, Reverb, Spin, Stereogum, uDiscoverMusic, VinylMePlease and some others that he's forgetting right now. He's still not tired of it.