Apologies for the indulgence; this started out as a column. In typical Finer Things In Life fashion, another few months had passed and all the ideas I promised I would commit to paper…er, document, at least…had gone by the wayside. But one column I absolutely had to finish was the one I had planned to post after the season finale of Gilmore Girls. By now, most readers have probably seen my brother's take on American Idol, to which I have very little to add. You see, Gilmore Girls is in a competing time slot on rival WB, soon to be the CW. I'm not going to criticize anyone for watching American Idol; it's an experience akin to having my fingernails removed, personally, but I understand the appeal, even if it's in concept only.
With the exception of countless reruns of The Simpsons, Mythbusters and Scrubs (and many shows on Food TV), my only regular viewing is of Gilmore Girls. Tuesday brings yet another reason for excitement in my household. Not only are new albums out, but I have the comfort of knowing that the girls will be on later. I've gotten a lot of crap from my friends for watching the show. It's as if I told them my favorite movie was Divine Secrets of the Ya-Ya Sisterhood or I had tickets to Lilith Fair. The fact of the matter is Gilmore Girls is the coolest show on TV.
Bolstering my opinion of the show is its recent finale, which, aside from its cliffhanger Lorelai-sleeping-with-Chris ending, featured a large spread of guest stars, almost all of which were musicians—good ones. Since the beginning, singer-songwriter Grant Lee Phillips has been a regular on the show, portraying the town troubadour. As characters would stroll through the streets of Stars Hollow, Phillips could often be seen and heard playing his own songs, both from his solo albums and from his days with Grant Lee Buffalo, as well as a cover or two, such as when he performed "Be True To Your School" after Lane became a cheerleader.
The episode prior to the finale, Phillips encountered Sookie and Jackson as they were trying to unload 60 pounds of marijuana (which was quite hilarious, by the way), and announced he had been picked by a promoter to open for Neil Young. Since word spread, many a musician showed up in Stars Hollow to audition for town troubadour in Phillips' absence. The first to emerge is Joe Pernice, playing "Amazing Glow" from the recent Pernice Brothers album, Discover a Lovelier You. Taylor Doose, mayor and owner of Doose's Market, becomes suspicious of such goings on, as he then encounters Sparks, performing "Perfume" (possibly the best part of the whole episode). As the episode continues, we run into Mary Lynn Rajskub (of 24), Sam Phillips (who has contributed incidental music to the series for six years), Dan Palladino (longtime writer for the show), Yo La Tengo (who had their cover of "My Little Corner of the World" on the show and whose James McNew noted that it's one of the only non-animated shows "worth a shit from this decade"), and eventually, the much hyped guest appearance, Sonic Youth. Not every member of the band was in attendance, however. The "band" on the episode consisted of Thurston Moore, Kim Gordon, and their daughter Coco on bass. In a rather enthusiastic, yet sloppy, performance, Sonic Youth made off like there were just another hapless trio of buskers, the irony being that they're one of the most important and legendary bands in rock history.
All of these endlessly amusing guest appearances added up to a very entertaining and worthwhile side plot, which drew us back into Stars Hollow and the town's insular goofiness, which had been long neglected since the dawn of season six. Particularly amusing was Coco Gordon Moore's performance, as she almost seemed to be bored and embarrassed by her flailing parents, the irony, again, being that they're Sonic fucking Youth. Still, Joe Strummer once said that his kids never thought of him as cool, and the same could arguably be said of the Gordon-Moores (though I honestly have no idea), even if Coco looks and dresses like her folks.
For the longest time, critics, bloggers and anybody else publicly voicing their opinions on television programming, have been saying that The OC is the coolest show on TV. And I don't disagree that having Death Cab and LCD Soundsystem playing in every episode is pretty cool, but I could never bring myself too watch it. The storylines, based on the commercials, seemed like little more than a tawdry soap opera. But that's just my own bias. And if I really wanted to see spoiled, rich, pretty kids with problems, I could drive 90 minutes up the coast. Some may forget, though, that Adam Brody, of The OC, was once on Gilmore Girls as Dave Rygalski, once Lane Kim's love interest and bandmate. As he jumped ship for Fox, however, he was sent off to college and another coast, perhaps jokingly, knowing that that's where his other show was taking place.
This is getting off topic; my point is that, under the leadership of Amy Sherman-Palladino, the show has been consistently hip and well-written. Lane Kim (played by Keiko Agena), as mentioned before, has been a band geek, a cheerleader, a "rebellious" daughter to a strict Korean immigrant, and most recently, drummer in the band Hep Alien, which counted Skid Row's Sebastian Bach as a member. In a Dig! pastiche on a recent episode, Hep Alien frontman Zack (Todd Lowe) has a meltdown a la Anton Newcombe, paralleling the Brian Jonestown Massacre's famed on-stage fiasco at the Viper Room. Zack's complaint of "he broke my wireless mic" even echoed Anton Newcombe's woes of a broken sitar. Hep Alien did, however, reform after Zack and Lane were engaged to be married, the final wedding episode having them undergo three separate celebrations: one Buddhist, one Christian, and one loud and mischievous, ending in a cringe-inducing drunken toast given by Lorelai (Lauren Graham).
If you've been following the show, it would only make sense that bands like Yo La Tengo and Sonic Youth would make appearances, as well as The Shins, who were curiously cast in a Spring Break episode in a prior season. Somehow I never equated them with drunken frat boys and Florida. Regardless, it's obvious that the Palladino team know their pop culture, and as such, it's injected into every episode, music not being the least of the characters' obsessions, particularly Lane. While some may find it unnecessary, it actually paints a portrait of who these characters are. Rory (Alexis Bledel) bonds, briefly with a fellow dorm-mate her first year of college, as his laundry basket is covered in Smiths stickers. Lane goes on a blind date with a guy who only wore a Fugazi shirt because he liked the picture, which, of course, baffles her. Lorelai and Rory's father Christopher (David Sutcliffe) give each other a hard time, as Lorelai likes Metallica and Christopher likes the Offspring. They're obviously both right in criticizing each other's tastes.
Music, however, isn't necessarily the focal point of the show, but it does play a much larger part than most people realize. The true question, at this point, is not how good the soundtrack will be in season 7, however. As Amy and Dan Palladino chose not to renew their contract with the CW network, the show is left up to new writer Dave Rosenthal to tie up all the loose ends from this season's escalated conflict. His one credit from this season was a pretty decent episode, one that actually saw one of Alexis Bledel's best performances after a lackluster beginning to the season. Her attempt at debauchery and becoming a college dropout wasn't very convincing, which makes it all the better that she ended up back at Yale. And as Luke and Lorelai's drama became almost a Ross and Rachel style comedic soap opera, Rory's relationship with Logan (Matt Czuchry) actually became more interesting, and his character, who I once hated, became more likeable as the season went on.
I could go on about plotlines and how weird it will be to see the show in new hands next season, but even with some disappointments this season, it's still the best thing on TV. I'm going to echo James McNew's statement that it's one of the few shows this decade worth a shit. It's smart, has some of the best character development I've ever seen, the town of Stars Hollow included, and what's more, music plays such a big role in the show, in more than mere OC window dressing style, that it's impossible for a person like myself not to love. As nervous and unsettled as I am about recent events on and off screen, I still can't wait for season seven. And the next time anybody looks at me funny for talking up my obsession with the show, I have Sonic Youth as a good talking point. That beats any random OC cameo any day.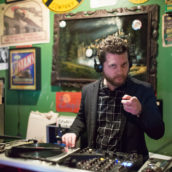 Jeff Terich
Jeff Terich is the founder and editor of Treble. He's been writing about music for 20 years and has been published at American Songwriter, Bandcamp Daily, Reverb, Spin, Stereogum, uDiscoverMusic, VinylMePlease and some others that he's forgetting right now. He's still not tired of it.