They go by many names—bootlegs, white labels, "unofficial"—but unreleased music has been a commonly traded commodity among music fans for around 35 years. Starting in the '60s with Bob Dylan's Great White Wonder, named thusly because of the white sleeve it came in, shelved albums and live recordings captured without permission have been among the most sought after items in rock `n' roll. For fans, it's the ultimate forbidden fruit — that one album that nobody else has. Of course, due to the seemingly endless taping and burning of the albums, eventually they become something that earns as much notoriety as an artist's official albums. And though, for a while, it seemed like little more than the practice of audiophiles and hippies, the popularity and relevance of bootleg releases has not waned a bit. In fact, several artists in recent history have had unofficial releases "leak," much to the joy of their fans.
Many think of bootlegs in terms of the Grateful Dead's Dick's Picks releases, but those, in actuality, are legal releases. However, without a doubt, many fans traded their own self-taped versions of these live recordings for years before they actually were licensed to be sold. But there's more to the long tradition of bootleg trading than live shows. Many artists have put aside recordings they ultimately sacrificed on the cutting room floor, or which upset their record companies. And the funny thing is that most of the time, it's the artist that ultimately makes the decision not to release it.
Two of the first known cases of albums that never saw the light of day were, once again, a Bob Dylan album, The Basement Tapes, and The Beatles' Get Back. The former, a105 song studio session recorded with The Band, was not given to Columbia records immediately, but rather handed off to peers like Peter, Paul and Mary, and The Byrds, who each earned hits from the material handed to them. Columbia did eventually put out a 24 song version of The Basement Tapes some years later, as well as many later appendices, among them a live recording infamously known for Dylan's demand that The Band (who backed him at the show) "play fuckin' loud." The Beatles' Get Back, meanwhile, was actually recorded twice, but both were shelved due to the band's unhappiness with the recordings. The tapes were then handed to Phil Spector, who dressed them up, and they became Let It Be. The band still wasn't happy, particularly Paul McCartney, though the 2003 release of Let It Be…Naked took many of the songs back to their original raw state.
Another bootleg of note that caught quite a bit of attention was Prince's Black Album in 1987. Slated for release after his massive Sign O'The Times double album, Prince ultimately decided not to release the album, as he saw it as too bleak and dark to see the light of day. The legend had it that all the LPs were destroyed afterward, but that clearly wasn't the case, as most dedicated Prince fans had already scored a copy by the time it was released, officially, seven years later. It wasn't a masterpiece, by any means, but was a fun, hyper-sexual album that many found to be an essential addition to their collection, though anybody can tell you that a Prince collection need not be comprehensive.
Today, after the rise of Napster and the countless followers who have found music traders electronically swapping music files, bootlegs are more popular than ever and much easier to get a hold of. Unreleased radio sessions, concerts, demos and various other mp3 files flood the masses of file-sharing clients, each fan able to seek after every last bit of music recorded by their favorite artists. Because of this, some albums have become lauded even more than official releases, such as The Dave Matthews Band's Lillywhite Sessions, recorded before the decidedly more upbeat Everyday. Nobody on Treble's staff, as far as this editor is concerned, has heard much of either (thankfully), but it's, at the very least, one of the more widely known cases.
In 1997, The Dandy Warhols tossed aside an entire album of their own, which frontman Courtney Taylor-Taylor spoke about dramatically in the documentary Dig! "I sneeze and hits come out," Taylor noted, but a listen to the sessions that predate Come Down, now known as The Black Album, predictably enough, prove that it was, much to Capitol Records' credit, not a very commercially viable release, due to its rambling instrumentals, psychedelic freakouts and no clear singles material, even though an early version of later single "Boys Better" was included on the original album. From a fan's standpoint, it's actually a pretty good listen, but more by early Mercury Rev or Spiritualized standards, not by those who were more interested in tunes like "Bohemian Like You."
The most infamous stockpiler of unreleased studio material in recent years is Ryan Adams, who also has released more than his share of official albums in just six years' time. Those who own his Demolition compilation will certainly identify many of the songs on his Suicide Handbook, Pinkheart Sessions and 48 Hours recordings. The first of these is a more quiet, intimate affair of mostly acoustic demos, while the Pinkheart recordings are more rockin' and upbeat, as the songs "Nuclear" and "Starting To Hurt" suggested on Demolition. The last of these is the most "country" sounding of the three, featuring such memorable tracks as "Chin Up Cheer Up" and "Hallelujah." To be sure, it was wise not to release all of the material at once, and a compilation of the best of these wasn't a bad idea. But each of these has a very unique voice, and will appeal to almost any Adams fan, as they contain hordes of great studio material.
The great bootleg story of 2005, however, is undoubtedly that of Fiona Apple and Extraordinary Machine. Apple went into the studio with Jon Brion (who produced her previous album, When the Pawn…) in 2003, and came out with a completed album, albeit one that was not to be released. Initially, the blame was placed on Sony, for not wanting to release the album, and a "Free Fiona" campaign resulted, as fans started a petition to have the master tapes released. Someone eventually did leak the Brion sessions online, and it quickly became a classic, if for no other reason than that it was so hard to come by. The music, however, is quite stunning, given Brion's whimsical, carnivalesque flourishes. Apple later told her version of the story, however, claiming that the reason the album wasn't released is because she didn't like the finished product. She then went into the studio again with Mike Elizondo, a known hip-hop producer, and came out with the commercially available Extraordinary Machine. Fans are torn between which is the better album, but one thing that's for sure is that Jon Brion doesn't seem to upset about his album being scrapped. He said his intentions were to release a Fiona Apple disc, not a Jon Brion one, and if she wasn't happy, then she doesn't have to release it. However, he has been riding a wave of praise for his work with Kanye West on Late Registration, so one missed opportunity was quickly made up for.
The most recent artist to have his unreleased material shore up on fansites and file-sharing clients is Elliott Smith. At the time of his death in 2003, he had recorded several hours' worth of music that had yet to see release. Fifteen of those tracks became the posthumous masterpiece, From a Basement on the Hill, but many were still left behind, mostly because they were unfinished demos. Still, among the material that was left unreleased (including some demos dating back to the either/or days) were many great songs. The song "Either/Or" is every bit as wonderful as the tunes on said album, and "Sticks and Stones" is akin to the beautiful catchiness of "Miss Misery." We will sadly never hear another note of new music from Smith, so for fans, including myself, it comes as an interesting gift to stumble across these songs. Smith's family has stated that they find nothing wrong with fans sharing his music with each other, and the fans have done just that, even if some eBay pirates try to profit from such a wealth of music now and then. The rest of us know better than to pay for music that isn't for sale.
After 35 years (possibly more) the bootleg hasn't lost its appeal or its relevance. While live shows will continue to be traded between fans long throughout the future, the unreleased demos and studio takes seem to be the true prize for a collector. Some may voice ethical concerns when it comes to taking music that wasn't meant to be released, but then again, sometimes artists are happier having the music circulate for free, rather than for profit. Whatever the listener's take on the music at hand, there's no denying the excitement of hearing something new and rare from an artist you love, even if it's not something that's meant to ever be heard.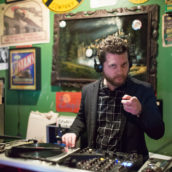 Jeff Terich
Jeff Terich is the founder and editor of Treble. He's been writing about music for 20 years and has been published at American Songwriter, Bandcamp Daily, Reverb, Spin, Stereogum, uDiscoverMusic, VinylMePlease and some others that he's forgetting right now. He's still not tired of it.