Karen O and the Kids : Where the Wild Things Are: Motion Picture Soundtrack
When it comes to adult interpretations of books from our childhood, many people tend to clutch these innocent tales with their fingernails dug deeply into their paper flesh and then frantically dash away like a paranoid runningback. An example was when the hypothesis was presented to produce a cinematic adaptation of Holden Caulfield's naive yet lovable adventures through New York. Swarms of purists (Salinger–the book's author–included) tossed themselves onto Caulfield's metaphysical frame and went deadweight to protect Holden's sacredly innocent musings.
The opposition to a cinematic version of Catcher in the Rye was primarily a sentimental argument; while the film version of Where the Wild Things Are indeed faces a potential swarm of fanboys who feel violated and will claim that Spike Jonze has whored out their childhood to an imperfect and post-consumed-apple world, the book is roughly less than 50 pages, creating a pragmatic dilemma as well. Part of the the antidote to this problem is through Karen O and the Kids' Where the Wild Things Are: Motion Picture Soundtrack, which must walk the fine line between respecting unblemished memories of the book while simultaneously stretching it.
Without the context of a troubled boy who escapes to a mystical island full of "wild things," this soundtrack may seem like nascent fodder found on Ms. O's cutting room floor. However, with the knowledge of the book–as well as the immensely touchy fanbase–in mind, it may be perfect. While Karen O and company do contribute their vocals and chunks of their own respective souls to the soundtrack ("Worried Shoes," "It's All Love"), O's involvement in the soundtrack is sort of like she's objectively tending to a diorama of an African savannah at a museum; the best interest of the soundtrack's ambience is always looked after and protected. Songs like "Rumpus" and "Cliffs" present a gentle equilibrium between Karen O's interpolations and the universal truth of the original story's sanctity.
The unfortunate conundrum that an album like this creates for Karen O and the Kids, is that while they do a sufficient job at keeping the music atmospheric enough so as to not change the "atmosphere" of Sendak's original work, the album is absolutely dependent upon the context of the story, whether it be the book or the movie. And, to some extent, dependent on prior-knowledge as to how prone to scrutiny reincarnations like these are.
Similar Albums:
Yeah Yeah Yeahs – Show Your Bones
Various Artists – See You On The Moon: Songs for Kids of All Ages
Arcade Fire – Funeral
Download at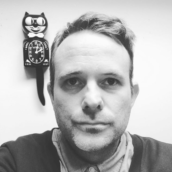 Paul Glanting
If a meteor was just hours away, Paul Glanting would recall that he has been in a Lil Wayne music video and has a 4.7 (out of 5) on Rate My Professor. He is at work on his first novel, Adjunct Megafauna.