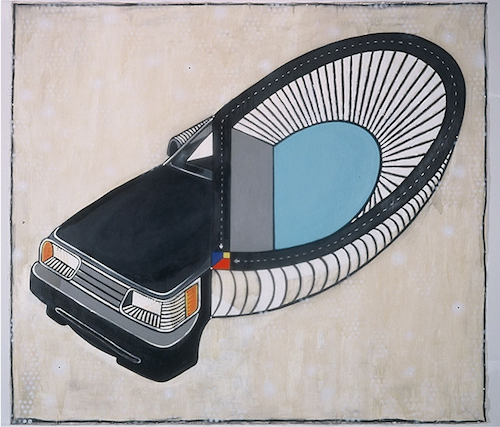 While it's ostensibly a collection of outtakes from his upcoming debut studio album, Word O.K., Kool A.D.'s latest mixtape, Not O.K., sounds a lot like the Bay Area rapper's most cohesive work to date. That's not to insult his previous mixtapes (such as 2012's 51 and last year's 63 and 19), which were scattershot in quality but somehow charming because of it. By contrast, however, Not O.K. is a relatively lean effort that feels like a proper album.
But that's not to say that Not O.K. sees Kool A.D. (real name Victor Vazquez) settling into any one groove. The mixtape continues Vazquez's tendency toward the eclectic, and he dips his toes into the waters of all sorts of hip-hop subgenres. The Toro Y Moi-produced "Fettucini," wouldn't sound terribly out of place on Madvillainy, and that's to both Chaz Bundwick and Vazquez's credit (though that track's guest verse by frequent producer Amaze 88, trying his hand at rapping, is intriguing but doesn't quite land in its delivery). "Cuidado," meanwhile, sounds like Party Supplies' characteristic vintage reappropriation.
"CNN," one of the album's highlights, is chilled-out, Digable Planets-style jazz rap featuring Del Tha Funkee Homosapien and the Planets' own Ladybug Mecca (who is just as smooth as you remember). "Psychotropical" takes that jazz-rap influence and spins it off into chaos. But, weirdly, Vazquez seems comfortable in all of these instances, shifting like a chameleon from song to song. It's a mixtape where THC-infused, Lil B-style stream-of-consciousness raps of "Exotic" can live in peaceful harmony next door to the more philosophical (or pseudo-philosophical) raps of songs like "V."
Despite his proficiency at all these styles, though, it's tough to see how Kool A.D. fits into today's indie hip-hop landscape. He's carved himself a niche that few (if any) other rappers occupy, and that niche runs right down the line between clever and stupid. It's hard to forget the academic stylings of Das Racist, which Vazquez appears to reject on "V:" "Circumstantial, see me pull my own abstract out the backpack / Fuck it I don't even really want that, you can have that." That's just a few lines after he raps in tongues: "Rikki tikki tan rikki tan tan rikki tikki tan rikki tikki tan / Rikki tikki tan rikki tan tan rikki tan rikki tikki tan." It's this fun, postmodern line-blurring that makes Kool A.D. so fun — and frustrating. On songs like "Exotic," he seems to go too far with the jokes, repeating the word "exotic" with a slurred cadence until it grates.
It's hard to tell when he's delivering a thesis or just fucking with us. Are we supposed to examine even his most stupid lines for meaning, or is the joke on us for trying to examine his most stupid lines for meaning? Vazquez embraces this ambiguity — as he rapped on Das Racist's "Rooftop," "We a'ight but media cats think we clever though / Are we? You may never know." The well-structured diversity of Not O.K. might finally see Kool A.D. shedding a little of his characteristic apathy for something slightly more deliberate.
Similar Albums:


Danny Brown – XXX


Shabazz Palaces – Black Up


Joey Bada$$ – Summer Knights