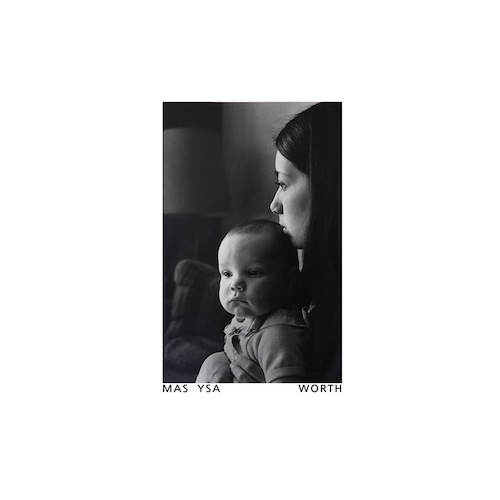 Mas Ysa is the first creatively directed project by 30-year-old Thomas Arsenault, a man who's been entrenched in the bustling Brooklyn avant-garde scene; putting in time at nearby venues 285 Kent (rest in peace), Grasslands, and Zebulon, as well as maintaining a built-in home studio that helped flower records by Laurel Halo and Teengirl Fantasy. In March 2013, Arsenault was evicted from his Brooklyn space and moved a couple hours north to a more quiet, more "sober" life, allowing him the freedom and time to work on some of his own material. On paper it's a fairly romantic story of a late-bloomer who absorbs a countless number of influences throughout his life before finally holing himself up away from social temptations to create his masterpiece. Arsenault's Mas Ysa Worth EP isn't the triumphant storybook ending to that tale (it is an EP after all), but it does provide some glimpses of the greatness we can expect from his full-length debut, due out sometime this year.
To get a taste of that potential, look no further than lead single "Why," a record originally put on Soundcloud to remind friends that he "still existed." Arsenault makes his presence felt with a voice that strains and wrenches with desperation and urgency, emotions that give heft to a track which might otherwise get dismissed as superficial — "you're not that cute" answers the title's question about a failed relationship. But Arsenault touches on more than just the confusion of twenty-something Brooklynites, a new sense of creative purpose and motivation in upstate New York finds its way into lines such as, "If you're up with the light then you're true to your role and your goal." Arsenault is honing in on his new role as a musician as well as defining his sound, which is largely colored by some distinctive synth chords, giving the EP an '80s revival feel, a connection Arsenault has dismissed as unintentional and without nostalgia.
A better connection could be made to recent electro-soul acts such as Autre Ne Veut and Majical Cloudz, artists who have carved out a unique and captivating sound that's eager for new peers. Mas Ysa appears to be helping fill that void; "Shame" is a fast-paced companion piece to "Why" that finds Arsenault's 909 drum machine repeatedly pushed to its limit before giving way to a tranquil ballad. "Years" is another highlight that wades forward without percussion and meditates on time spent in solitude, no doubt another connection to Arsenault's departure from Brooklyn. "Life Way up From" is a slow ballad that contains some exciting elements, but stays too conservatively within the lines to warrant extended listens.
Apart from these four tracks that feature Arsenault's vocals, the Mas Ysa Worth EP consists of five ambient, found-sound pieces that entertain and do a decent job of framing the meatier tracks. There's a distinct, Eno-like feel to these interludes and it'll be interesting to see if Arsenault embraces these sounds for the full-length. In an interview with Pitchfork, Arsenault said that he didn't want to call this release an EP, but Downtown Records was insistent on the label, and for good reason. Worth does everything that a debut EP should do: it provides a few great tracks, shows off the broad yet coherent range of the artist, and most importantly stirs excitement and anticipation for an upcoming full-length.
Similar Albums:


Autre Ne Veut – Anxiety


Majical Cloudz – Impersonator


Gems – Medusa EP