Matana Roberts announces new album, Coin Coin Chapter Five: In the garden…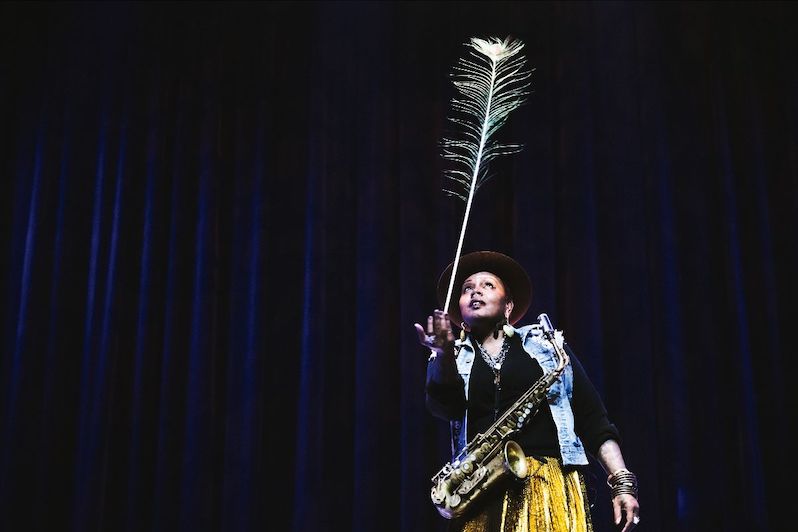 Anna Niedermeier
Matana Roberts has announced a new album, the fifth chapter in their Coin Coin series, which began back in 2011 with Chapter One. On September 29, Roberts will release Coin Coin Chapter Five: In the garden… via Constellation. The album was produced by Kyp Malone of TV on the Radio, and the first music they've shared is the album's opening three-song suite, "we said" / "different rings" /"unbeknownst." Hear it below.
Roberts said in an essay that accompanies the album, "There is something quite rancid going on in America right now, more so than any time I have seen… a growing cohort of ghoul-like humans who seem to think that your body does not belong to you. We have seen some of this before, we knew it was wrong, and we eradicated some of the issues. It wasn't perfect how we did it, but we did it. And yet, like a never-ending train wreck, here we are again. The lack of access to safe and legal abortion services disproportionately affects marginalized and low-income communities, who often lack the resources and support to obtain safe reproductive health care. Reproductive healthcare includes abortion….
"This over-focus and policing of ovaried bodies are getting in the way of the number one killer of American children today: firearms. This bounce around being dangerously shouted from conservative rooftops about trans bodies is just an extension of this reproductive rights fight."
Coin Coin: Chapter Four was featured on our list of the Best Jazz Albums of 2019.
Matana Roberts Coin Coin Chapter Five: In the garden… tracklist:
1. we said
2. different rings
3. unbeknownst
4. predestined confessions
5. how prophetic
6. a caged dance
7. i have long been fascinated
8. enthralled not by her curious blend
9. no way chastened
10. but i never heard a sound so long
11. the promise
12. shake my bones
13. a(way) is not an option
14. for they do not know
15. others each
16. …ain't i. …your mystery is our history