Modeselektor : Monkeytown
Despite their origins in Berlin and a long residency on Ellen Allien's BPitch Control Records, on their third proper album, Monkeytown, Modeselektor stretch the limits of the electronica subgenre germane to both loci and at the duo's heart: minimal techno. In some respects, like the macro-sculpture of Mount Rushmore, they explode it to make new beauty.
The duo of Gernot Bronsert and Sebastian Szary get experimental, and experiential, right from the jump. Opening track "Blue Clouds" works by regularly replacing and repeating layers of sound; a spacious stomp with zippy backmasking and guitar-like synth waves, it suggests driving music for Jetsons hovercars. Thom Yorke, a longtime fan and prior collaborator, turns "Shipwreck" and "This" into Radiohead songs by proxy-like an indietronica Little Jimmy Scott, his glitched tenor and falsetto moments skip alongside their IDM beats.
There are moments on Monkeytown where Modeselektor barely win for losing. "Berlin" weaves the vocals of Miss Platnum into neo-R&B; it sounds a little out of place even in the context of the band incorporating new sounds, but it's still nice to hear them try. Busdriver guests on "Pretentious Friends" and while his whirlwind delivery towers over most hip-hop, here it sucks up most of our energy and interest-it's as if Bronsert and Szary aren't even there. The same goes for "War Cry," with dominant military samples that could have been loaded up by a million different groups.
But then there's the more bracing martial feel in the dyad of "Evil Twin" and "German Clap," where the former's fuzzed-out 1992 Detroit conceits give way to the latter's itchy shiftiness. And much of the latter half of Monkeytown is stuffed with a squelchy tribalism that's curiously refreshing. It's not like Modeselektor renounce their musical upbringing on this album, but it's interesting to see how they're branching off from it.
Similar Albums:
Hot Chip – The Warning
Moderat – Moderat
Apparat – Black Water
Video: Modeselektor – "Shipwreck"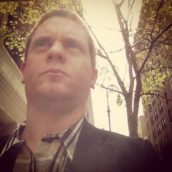 Adam Blyweiss
Adam Blyweiss is associate editor of Treble. A graphic designer and design teacher by trade, Adam has written about music since his 1990s college days and been published at MXDWN and e|i magazine. Based in Philadelphia, Adam has also DJ'd for terrestrial and streaming radio from WXPN and WKDU.