Mux Mool : Planet High School
I'm starting to feel like everyone has heard the same electronic music everywhere before. No matter the equipment, it's still based on the same calculus of attack, decay, sustain, release. Pitch and rhythm are just numbers; adding decimal places only adds to the processing time for rounding, multiplying, dividing your beats or your note lengths. "New" sounds in electronic music are hard to come by, so we seek the next best thing: new arrangements of or references to things already heard before. By that measure, Mux Mool (neé Brian Lindgren) manages to live up to the first half of his name.
He's normally classified as a creator of electronic hip-hop, but his new album Planet High School covers so much ground that it expands the shorthand jargon of "mux": multiplexing, or pushing multiple information types through the same channel. This is more than a supple weave of previously popular sounds, more than just a thousand hints of old turntablists and contemporary MPC wizards. Planet High School may very well be a statement release for the Ghostly International label, their roster of artists exploring and branching off from electro with consistency and excitement not seen since Warp Records approached the turn of the century.
From opening cut "Brothers," which meshes British Invasion organ with sound-of-now drums, Mux Mool creates tracks with the same kind of cinematic qualities that DJ Shadow once defined. Many songs on Planet High School warp and shift about two minutes in before returning to the stone grooves with which they started. In lesser hands that would become formulaic, in Mux Mool's the results are musical Möbius loops.
Better still, unlike Shadow's early cuts Planet High School works not just as standalone art but as justification for Mux Mool's inclusion in the discussion of beats that are redefining urban music. Why couldn't Kanye be rapping over "Hand on the Scantron"? Why didn't The Weeknd or Clams Casino make the horsey clip-clop of "Palace Chalice"? When did "Get Yer Alphabets (Guns)" make Meat Beat Manifesto's sound-collage breaks fashionable again?
And just so you don't think Mux Mool needs everything to be a magic carpet ride in your headphones, he manages moments both pensive ("Baba," "Ruin Everything") and playful ("Cash for Gold," "The Butterfly Technique"). The latter are almost throwaways, but those twists of his about two minutes in on each song make them explode with redemption. It all helps Planet High School race by in a flash, its 45 minutes feeling like four. And it's all evidence that Mux Mool and Ghostly did something — really, many things — quite right.
Similar Albums:
J Dilla – Donuts
DJ Shadow – Preemptive Strike
Com Truise – Galactic Melt
Stream:Mux Mool – "Palace Chalice"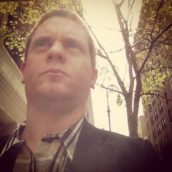 Adam Blyweiss
Adam Blyweiss is associate editor of Treble. A graphic designer and design teacher by trade, Adam has written about music since his 1990s college days and been published at MXDWN and e|i magazine. Based in Philadelphia, Adam has also DJ'd for terrestrial and streaming radio from WXPN and WKDU.