With "Helter Stupid", Negativland culture jammed moral panic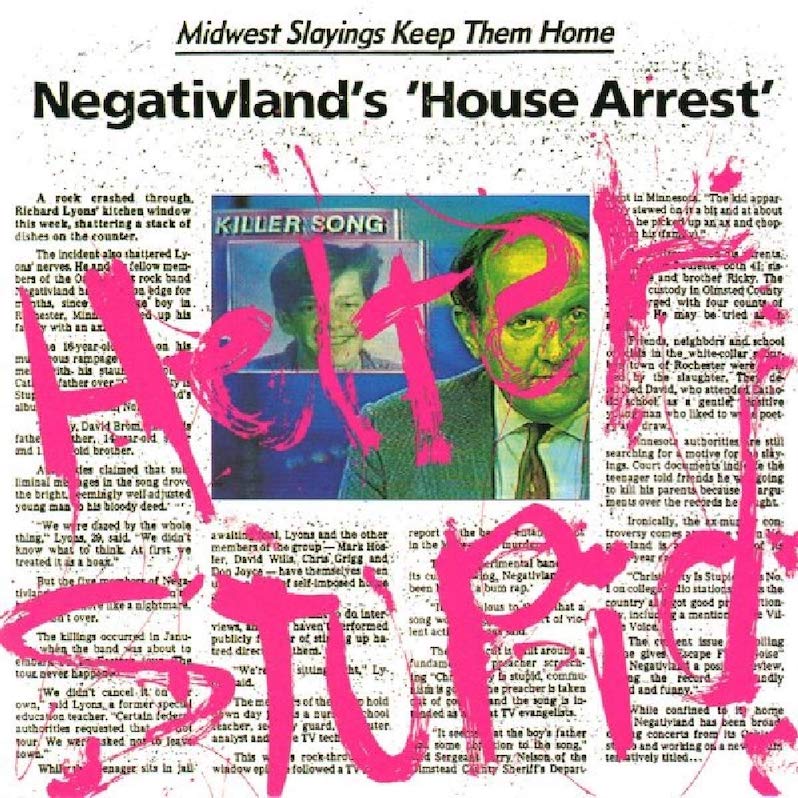 Negativland isn't so much a band as it is a media experiment. They created several of the blueprints for what we now know as the mashup (or plunderphonics), helped contribute to the development of Creative Commons, provoked Island Records into a trademark lawsuit, paired Chumbawamba with The Teletubbies, and pranked Clear Channel.
The term the group's own Don Joyce coined a term for Negativland's intersection of art and social commentary: Culture jamming. In essence, the group's art is a form of protest that disrupts the way we interact with media as a means of questioning its relationships and structures. Sometimes that means recreating a U2 song with a profane rant from Casey Kasem caught on tape, and sometimes it means inserting themselves into the media cycle of a notorious crime.
In 1987, Negativland released Escape from Noise, something of an underground hit that featured the plunderphonic banger "Christianity is Stupid," as well as a sticker that read "CAR BOMB" on the cover, and the band had planned on touring behind the album following its release. Yet after determining that doing so would actually end up losing them money, they decided to cancel the tour. Unrelated to this series of events, just one month prior, Bernard, Paulette, Diane and Rick Brom were found dead in their home in Minnesota, murdered with a timber axe. A report from the New York Times suggested that an argument about music with his father might have been what spurred Brom to commit such a horrific act of violence, a detail that caught the eye of the group's Richard Lyons.
Most artists wouldn't want to have anything to do with that, as the old saw that "all publicity is good publicity" is a flawed analysis at best. But as the group realized they'd have to cancel their upcoming tour, they saw an opportunity to take advantage of a sensational news story for their own dubious gain. So Lyons drew up a press release in which "Federal Official Dick Jordan" had ordered the group to cancel their upcoming tour because of the role that "Christianity is Stupid" had supposedly played in the murder.
"Christianity is Stupid" is a concise, accessible summary of Negativland's hilariously twisted sampladelic head-fuckery in just under four minutes, using only the words spoken by Rev. Estus Pirkle in order to highlight the sheer absurdity of it. Against a roaring heavy metal backing, Pirkle plays on a loop, declaring "Christianity is stupid! Communism is good!", apparently describing an imagined scenario in which these phrases are broadcast in what was then the USSR. It's too funny and overtly satirical to actually sound like the kind of music that might speak the same language as an axe-murderer's demons, but then again it's likely nobody ever thought that Hall and Oates would be asked to comment on a similar situation either.
Some small buzz started to pick up in local publications in San Francisco. And Lyons' press release was, apparently, convincing enough that Bay Area station KPIX actually put together a package investigating Negativland's connection to the David Brom murder case. Most of the news team's sources don't seem particularly convinced that music can actually lead to violence and mayhem, which—given that the Satanic panic had taken flight a few years prior—seems slightly reassuring. Though, regardless, there seemed to be a lack of fact-checking happening, and by and large wasn't a particularly flattering moment for journalism.
It didn't end there. The story had started to receive coverage on CBS News and NPR and in major daily newspapers, the members of Negativland playing the story straight as long as they could. Because, after all, the story is entirely fictional—maybe there happened to be an argument about music in the Brom household, but Negativland had nothing to do with it, despite their claims. In fact, "Federal Official Dick Jordan" didn't even exist. But that didn't stop the band and their fabrications from receiving actual, if inconclusive coverage, which seemed to operate like a game of telephone with a neglected journalism degree. Inevitably, once word got around, people started to believe it. And though they eventually were faced with the ethical implications of using a real tragedy for their own odd publicity stunt, they in turn funneled that back into their own art that, the group says in a Red Bull Music Academy interview, "exposes the whole truth of what we did. Exposes our lie."
Inspired by the bizarre series of events that Negativland helped create, none of which actually involved a murder, the group created "Helter Stupid," an 18-minute sound collage that, in essence, is a commentary on the bizarre connections between music, murder and suicide—a causality that doesn't really exist. It's one of their most intricately layered pieces of cultural commentary, tying together the interconnecting threads of Richard Ramirez and AC/DC, The Beatles and Charles Manson. There are samples of "Helter Skelter," interviews with Ringo Starr and Manson, himself, clips of reedited broadcasts ("Highway to STUPID"), staged phone calls from various media outlets answered by yet another layer of samples, and—naturally—the same preacher from "Christianity is Stupid" just to tie it all back to the hoax that brought it all together. I'd say it belongs in a gallery, but that would almost strip it of its poignancy.
"Helter Stupid" remains Negativland's magnum opus, both for the sheer ambition of its sound collage, as well as the utterly baffling social experiment that the group perpetuated. But they did highlight two frustrating cultural issues that linger to this day, and one that seems to have only gotten worse: 1. The inability of the public to recognize that music alone does not cause violence, and 2. The complicity of the media in perpetuating and disseminating false narratives. It's easy to say that, when Negativland began to spread this hoax, that nobody should have actually listened. Perhaps the problem was that nobody was listening closely enough.
---
Support our Site—Subscribe to Our Patreon: Become one of our monthly patrons and help support an independent media resource while gaining access to exclusive content, shirts, playlists, mixtapes and more.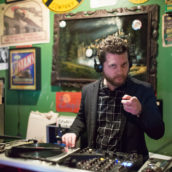 Jeff Terich
Jeff Terich is the founder and editor of Treble. He's been writing about music for 20 years and has been published at American Songwriter, Bandcamp Daily, Reverb, Spin, Stereogum, uDiscoverMusic, VinylMePlease and some others that he's forgetting right now. He's still not tired of it.