I'm still basking in the afterglow of a big music trivia win. Trying to fill a void left by three members of a five-person team, the pressure was on. Luckily, we were triumphant. I owe the win mostly to the fact that the theme of the trivia night was covers. I consider myself somewhat a connoisseur of cover songs. I've written about them on this site, I've compiled my own cover mixes, and I have very strong opinions about who records good covers and which ones are just plain awful or at least unwise. (Jamie Cullum and the Wallflowers, I'm looking in your direction).
Cover bands are usually thought of as bands that try to recreate the magic from one particular band's heyday. We've all heard of the Kiss, Guns `n' Roses and Zeppelin cover bands, I'm sure. There was even a time when cover bands were able to break into the mainstream through the use of a gimmick, i.e. Dread Zeppelin, doing Zep covers in a Reggae style with an Elvis impersonator singing, or the Spock Pistols, a group covering you-know-who, dressed up as Star Trek characters. I know what you're thinking: fucking awesome. Many popular artists have done their own one-off cover songs or even go as far as recording covers albums, but very few cover bands end up hitting the big time. Nouvelle Vague is one of those rare exceptions.
Maybe what sets Nouvelle Vague apart from your average cover bands is that they are more of a `collective' than a band. In fact, on their first album, they had a rotating group of vocalists take on '80s post-punk tunes they'd never heard before, to give each a novel and unique flavor. What also set them apart is that each beloved new wave or post-punk track was done in a bossa nova style. So, for the first two albums, it was at least a novelty to hear "Too Drunk to Fuck" or "Bela Lugosi's Dead" in that manner. But, with their third album, they change things up a bit.
For one, the style is not as restrictive. More and more acoustic instruments are used, giving a few songs a bit of a country tinge. For another, on a few tracks, the original artists make a guest appearance, lending some credibility to the affair. Both of these new developments are put into effect right away as Martin Gore helps to turn "Master & Servant" into a slinky country rock number, similar to their own "Personal Jesus." "Road to Nowhere" is also given an interesting twangy spin, but neither are the best songs on the album. The best duet occurs when Ian McCulloch joins in on "All My Colours," turning a great track from Heaven Up Here into a smoky, sexy and slightly melancholic torch song. Simple Minds' pre-Breakfast Club single, "The American" is also one of the standouts here.
Some songs fall flat here, however. "Blister in the Sun" is not different enough from the original to matter much. "Our Lips Are Sealed" has seen better cover versions done in the past, including guest Terry Hall's original with Fun Boy Three. Gary Numan's "Metal" sounds downright silly in this environment. But, that's the danger with a group whose cover versions are eventually used for the show, Glee. "Heart of Glass" and "Dancing With Myself" were taken directly for the show due to the unique style each cover presented. Thankfully, other songs rise above, including the guest appearance of Barry Adamson on "Parade," the darkly minimal version of "So Lonely" and the sweet, dock of the bay feel of "God Save the Queen."
Similar Albums:
Various Artists – Lounge-a-palooza
The Mike Flowers Pops – "A Groovy Place"
Siouxsie & the Banshees – Through the Looking Glass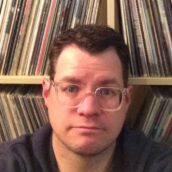 Terrance Terich
Terrance Terich firmly believes that 1985 is the best year for music. He lives near Seattle with his books, movies, and music.