Of Lilys and Remains: An interview with The Lilys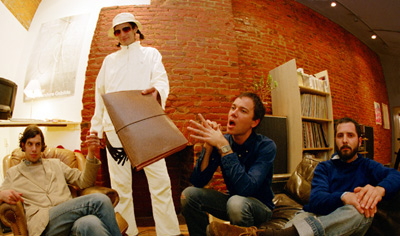 Interviewing The Lilys' Kurt Heasley is intimidating. He's hyper-intelligent, hyperactive and extremely talkative. And he's 6'8″ if he's an inch.
But that isn't to say the man, himself, is intimidating. But after avoiding press for seven years, he has a lot to talk about. And some of us just don't have enough tape to record it all.
Kurt Heasley thinks faster than the airliners that flew above us as I interviewed him at San Diego's Casbah, a small club just down the street from Lindbergh Field. His thoughts travel at light speed, changing subject without transitioning.
As Heasley and I made ourselves comfortable outside by the front door, the long-shanked vocalist began sharing his domestic woes with me. The conversation went from the economic problems in his hometown of Philadelphia to his own need for a new babysitter (he has three kids).
It's this sort of randomness and stream-of-consciousness that governs Heasley's music. The Lilys latest album, Precollection is a marvel of British-influenced psychedelia and social awareness. A step in time forward from the group's Kinks-influenced The 3-Way, Precollection takes a cue from Liverpool bands like Echo and the Bunnymen and The Teardrop Explodes.
A closer examination of Heasley's lyrics will show that there's more to Lilys than meets the eye. Take a song like "Will My Lord Be Gardening," for example, which comes off as a simple love song: "I think the best of you/even the worst will do/even when you do more than you should." But Heasley claims the song is actually about "the acquisition of illegal substances" in the Hunting Park area of Philadelphia.
"It's about loving someone after they get fucked up, I mean fucked…and that's fucked up," Heasley said. "And thinking, 'I still love you…things are gonna change.' I'll go down swinging. I will. I can only build what I can, if I can help myself. Believe me, the burden is for others to even conceptualize taking care of what I can take care of. Deal with the task at hand. Do my interview. Warm up my voice with some tea. Have some dinner. That's it."
Heasley paused while a plane flew overhead.
"And 'you can't come to hunting park without getting married to the wind and the rain and the daaaaark.' That's suuu-per creepy. It's like the Rape of Europa. Zeus comes as a bull. That must have been fun."
One of Heasley's bandmates approaches us with a guestlist question before the lanky Philadelphian goes off on a tangent about DeNiro, God and Catholic guilt.
Getting back on track, we started to talk about the new album's title, Precollection, which is actually a concept that Heasley invented.
"It is the best now ever," Heasley says. "Because recollection would… the tranquility and that state of mind — remember those times? Yeah, right now. Start making it. It's precollection. This is the time — the best now ever. The best concept, if you can get around making your own concept. I think it's pretty universal."
Though the last two proper Lilys full-length have taken cues from British rock bands, The Lilys sound is an ever-evolving one. The band started out as a shoegazer act, sounding like a less woozy My Bloody Valentine on albums like In the Presence of Nothing and Eccsame the Photon Band. Since 1996's Better Can't Make Your Life Better, Heasley has been consistently changing the Lilys style from British Invasion (The 3-Way) to krautrock (Zero Population Growth) to fuzzy Britpop (Selected).
"I'm pretty self-aware of the fact that when you find out what you don't want to do, it makes where you're going clearer," Heasley said. "As I went through one aim, it was like 'oh that came out kinda odd.' But my original concept … it's not that I didn't want it, it's what I went for, but then project three was like ground zero. So project three was project one. And project four was a study of the staff that made project one. Regrouped, fired staff, sued each other. Label stiffed me, because they could. It was gonna get bad fast. So they were telling me that my services were no longer needed.
"At least you can go and make a new and exciting mistake. That's my hope. I'm gonna take care of myself, get back out to the coast. I gotta find a babysitter, too."
Some of the songs on Precollection deal with Heasley's life at home, parenting. One of which, "The Perception Room," examines development and the interpersonal relationships one has with his children, set to a post-punky tune, not unlike Julian Cope's better moments.
"It's about uh…do the robots control you and your children's terrors?" Heasley said. "Do you feed your children the food of your nightmares? I love my children. They act like royalty. They're referred to as the same sovereign entities as they were from the moment of conception.
"After twelve-hour days, seven days a week, I give every ounce of love I have. And every argument that I couldn't get out then I get out at my children. But it's not to them, it's at them. And then I have the balls to explain the situation, especially to a little one. Who didn't realize what the yelling was about. But you can show them. It's just being able to trust."
Heasley then transitioned from his children to his own childhood, sharing an amusing anecdote about his middle school education.
"On my first day I was thrown out for correcting a teacher," Heasley said. "She misquoted Winston Churchill. And she not only misquoted, but she mis-applied it to prove a political agenda. And being from a very loving father and very sternly academic family, I was expelled and he was called in, but he totally backed me up.
"I think she was more scared, like 'why do 12-year-olds know this?'"
As we reached a pause in conversation (a rare occurrence with Kurt), I couldn't help but ask about something I saw on the factsheet I read on Manifesto Records' website: "He keeps a captain's log of his pursuit of adult erotic adventure right next to the tenderness of friendship and forgiveness so painstakingly arrived at and declaimed on this collection of songs."
Okay, friendship and forgiveness — I got that part. But the adult erotic adventure…that one isn't quite as apparent in the album's lyrics.
"Mica (Soul Arts, Kurt's production company) predominantly started doing… I do mostly music and musical theater," Heasley said. "But the people that gave me the money to do this do film." He looks at me with a suggestive grin.
"So I do music for adventurous adult eroticism. I can tell you the difference between recreational and procreational sex, and my kids can too. But they're not George Bush's kids."
Heasley spoke more about MicaSoul Arts, and even pulled up his shirt to show me a tattoo of the company's logo, before pulling a sandwich out of his backpack and talking about how long it's been since he's been doing interviews.
Out of tape and in need of making a phone call, I told him I'd be right back, to which he smiled and replied, "Oh…I thought we were done."
Kurt Heasley writes, records and lives on his own terms. And the proof is in his albums, no two of which sound alike. By the time another one comes out, he could be doing something completely different. But only Heasley knows for sure.
Photo courtesy of Tag Team Media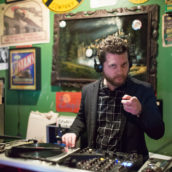 Jeff Terich
Jeff Terich is the founder and editor of Treble. He's been writing about music for 20 years and has been published at American Songwriter, Bandcamp Daily, Reverb, Spin, Stereogum, uDiscoverMusic, VinylMePlease and some others that he's forgetting right now. He's still not tired of it.