Personal Best: Singles of the '90s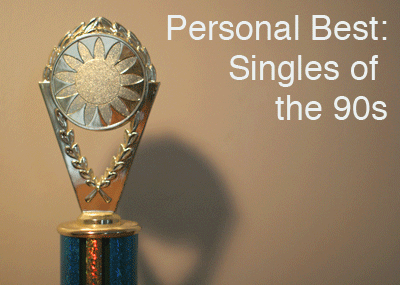 It's become annual tradition at Treble to publish a mid-summer list of some sort. After we first began publishing our opinionated missives in 2004, it was proposed that we compile a list of our favorite albums from the '60s, the summer after, our favorite albums of the'70s, and last year the '80s. So it would only make sense that we follow the pattern thus far and dive into the best albums of the '90s. Yet, that's not what we did. We'll get to those eventually, don't you worry. But this year, we decided to do things a little differently—we chose singles.
Next week will begin our first `best singles' list by counting down the Top 100 Singles of the 1990s. With each Treble writer voting for 100 of his or her favorite singles, we compiled a pretty impressive list. Yet in the process, we ended up with tallies for more than 1000 songs overall. There were some disqualifications on account of not actually being a single. Some were released just after the end of the decade, some just before. And then there were those singles that just barely missed the cut. Hundreds and hundreds of them. There were a few complaints about certain songs' omissions, and each one of us certainly had our own disappointment in seeing one of our favorites lost in the shuffle.
That said, we still want to give credit where credit is due. Before delving into the meat of our top 100 list, we want to take this week to recognize other favorite singles of ours, namely the ones that didn't make it. These are our "Personal Bests," singles so good that we just can't let them slink by without a mention. Looking over them, it's actually quite amazing that some of these didn't make it. Such is the nature of a Top 100 list; with so many good singles to choose from, not everything will make it to the final pool. Though you probably still can't help but think of "Macarena," we hope to remind you of just how well the '90s treated us.
Beck – "Where It's At" (Geffen, 1996)
"Where It's At" isn't traditionally insightful like we expect most important singles to be. Underneath its numerous diversionary devices, it's nothing more than a series of haphazardly arranged, hungover memories clinging to a barely-there keyboard loop. But delusions of grandeur never inspired Beck's best songs—his finest moments have always been linked to his distractibility. Tangentially though, without any measure of control, musical ADD breeds shallow laziness. Beck's recent work is a perfect example. His attempts to recreate Odelay's glories on his last two records have fallen short due to an over-reliance on shoddily integrated production tricks. "Where It's At" is brilliant because its best moments are so organic—every sample fits perfectly in place, every lyric delivered with lackadaisical glee. It manages to be both carefully constructed and seemingly accidental, and this careful balance between concern and haste provides its true power. – Alex Dorf
Download at iTunes
Beck – "Nobody's Fault but My Own" (Geffen, 1999)
Of the many artists who released hit singles in the '90s, Beck had some of the most memorable and idiosyncratic, pioneering a scrappy, hip-hop oriented indie pop sound that would eventually be aped by countless lesser acts. Yet Beck revealed a vastly different side of his musical talents with Mutations and its handful of singles, "Tropicalia" being the most well-known of them. "Nobody's Fault But My Own" was the greatest departure for Beck, a sitar and strings dirge that, I'm quite certain, received little to no airplay upon its release. It was, in fact, a single, just not a very commercially viable one. Not that that matters, it was still the best song on the album, psychedelic and laid back, dark and mysterious. Beck even does away (mostly) with his Dadaist lyricism, repeating his masochistic plea, "tell me that it's nobody's fault/ nobody's fault but my own." The song was later covered by Marianne Faithfull, though I didn't care for it much, especially after hearing Beck perform it live, sitting at the edge of the darkened stage alone, playing it on a harmonium. I'm not necessarily a Beck fanatic, but that moment is definitely in my 5 most memorable concert experiences of all time. – Jeff Terich
Download at iTunes
The Cardigans – "Erase/Rewind" (Stockholm, 1997)
As a teenager, I was in love with The Cardigans. Maybe partially with Nina Persson, but more than that, I had found a quirky little band that were completely the opposite of the pissed off punk rock stereotype to which so many teens cling. After three albums of lounge-inspired kitsch, however, the Swedish outfit tried on a new sound, one that was sexier, more distorted, more `mature' maybe. It was around this time that I had started driving regularly and with "Erase/Rewind," I had a new, groovy song to guide me home on evening drives lit by streetlamps and Mobil signs. The fat beat combined with its sleek atmosphere made a fine companion while cruising along the Southern California highways, those that travel through the less glamorous parts of San Diego and Riverside counties (actually the latter doesn't even have glamorous parts). With such a sexy groove and an irresistible purr, it was that much harder not to be in love with the group's then-blonde frontwoman. – Jeff Terich
Watch Video
Johnny Cash – "Delia's Gone" (American, 1994)
This is the song that signaled Johnny Cash's resurrection into a new era; a song that reintroduced me to the Man in Black. Mi familia and I would always watch his show when I was growing up. He was always like an abuelo figure, a grandfather who sung to me from a far. His words would always comfort me. To me he was faith, truth and strength incarnate, even when he was singing about death and the ex-lover that he killed. You feel it in his voice. Just like when he sung "Folsom Prison Blues" you believe that he actually was in prison, one with the inmates. That's the power of a true artist. Most singers and bands need a roomful of instruments to sound relevant but Cash just needs his acoustic guitar, three chords and you hear the truth. – Adrian Cepeda
Download at iTunes
Cibo Matto -"Birthday Cake" (El Diablo, 1995)
"Extra sugar, extra salt, extra oil and MSG!!"
These are the high-energy, heavily accented vocals from Miho Hatori, one half of Cibo Matto with Yuka Honda. "Birthday Cake" is the first song I heard from the Japanese New Yorker duo that essentially invented food-punk. Most of their initial self-titled EP and debut solo album, Viva La Woman revolved around cuisine. Even the band's name translates to "crazy food" in Italian! When I first heard Hatori's broken English screams, I was immediately taken. Not only did she shout out the above slogan, but also belted, "Shut up and eat! Too bad no bon appetit!" I mean, really, who says that? Most of the lyrics are a bit of a mish-mash with a few bits of insight, a swear and the fun, "it's moldy, mom, isn't it?" But what a ride! – Terrance Terich
Download at iTunes
The Cranberries – "Dreams" (Island, 1992)
I'll probably take a lot of flak for this, but I don't care. Certain songs in your life are unparalleled at invoking a time and place, a memory, a friendship gained or lost. Nostalgia is a dangerous pastime, and sometimes I find myself stuck there more often than I would like, but the perfect combination of familiar scents and vibrations of the inner ear can't be avoided. And if it puts a smile on your face, what's the harm in that? In the mid '90s, Ireland's The Cranberries had a particular knack for creating pop music that felt instantly familiar (and so what if their debut Everybody Else Is Doing It, So Why Can't We? was the first album I ever owned?). Hearing "Dreams" is the catalyst that rockets me back to my childhood, littered with dreams that hadn't even been conceived and responsibilities not yet neglected. The shuddering reverb and sweet siren call of Dolores O'Riordan instills me with the assurance that, "Oh my life, it's changing every day," and becomes much less a guilty pleasure, and more like a mantra the older (and hopefully wiser) I get. I still listen to "Dreams" occasionally, even if now it's on a CD instead of a cassette. In the words of O'Riordan, "All my dreams, they're never quite what they seem," but I'll keep dreaming of those better days anyway. – Mars Simpson
Watch Video
Download at iTunes
Eels -"Novocaine for the Soul" / "Not Ready Yet" (Dreamworks, 1996)
Feeling despair? Well, apparently so is E, aka Mark Oliver Everett, aka the Eels. His 1996 album, Beautiful Freak was chock-full of ditties for the downer in you and none was more accessible, poppy and oddball as "Novocaine for the Soul." Couldn't we all use a little numbing agent for life sometimes? I know I could. The song was the one moderate hit for the Eels, who have since gone on to record several albums to critical acclaim. It's hard not to like the poppy dourness of "Novocaine," much like a lot of songs at the time including Beck's "Loser," Whale's "Hobo Humpin' Slobo Babe" and tracks by Cake, that dog and Weezer. Like a lot of disaffected youth at the time, and even now, E sings of wanting something to `fill the hole' before he `sputters out.' Of course, I don't remember whether this song came out before the booming trend of everyone medicating themselves for every little feeling, but if it was, how prescient! My other favorite track off of Beautiful Freak is "Not Ready Yet," an agoraphobic tale that acts on two levels, one literal and the other interpretive. Again, E taps into shared feelings of the sensitive hive mind like no one else. The literal meaning finds its subject unable to leave his own house, afraid to face the outside world. The other meaning simply involves any kind of `getting back on the horse' from failure, whether through a breakup, a humiliation, or just outright sadness. E emphasizes that no matter how many pep talks or much prodding, you just can't force it. His building despair and rage toward the end of the song is empowering. – Terrance Terich
Watch Video
Download at iTunes
Fountains of Wayne – "Radiation Vibe" (Atlantic, 1996)
PopMatters' George Reisch once penned an article on how Fountains of Wayne are one incredibly mean band, and in some respects, he could be right. The girl in "Lost in Space" probably didn't need to be ridiculed so, but I've always looked at it a different way; to me, Chris Collingwood and Adam Schlesinger seem to identify with the loser, it's as if they're speaking from experience rather than picking on helpless saps. Case in point: "Radiation Vibe." Their debut single, the one that got them on the radio long before "Stacy's Mom," is a litany of shame and misfortune, but there's sympathy behind the verses. Though Collingwood asks "are you alone now/ did you lose the monkey?" he adds "he didn't mean it/ he's just a dumb ape" and later reassures himself about a bad knee-busting football dream by singing "I can still croon/ and make the girls swoon/ isn't that the way life's supposed to be?" The people behind these lyrics may certainly be losers, but at the center, in a chorus that could last 1,000 summers, Collingwood asks "it's a radiation vibe I'm grooving on/ don't it make you want to get some sun?/ shine on, shine on, shine on." Why certainly. – Jeff Terich
Watch Video
Download at iTunes
Garbage – "Vow" (Almo Sounds, 1995)
Though Garbage was a composite of influences ranging from Nine Inch Nails, Depeche Mode and Siouxsie Sioux to Curve and My Bloody Valentine, their sound was essentially what dictated much of the late '90s, and many subsequent alt-rock bands' directions. Around 1997 it was rare not to hear an alternative radio single that didn't use a similar combination of electronics and noisy guitars. And while you could still point back to Garbage's influences, this band of producers and one femme fatale had the inside track on making those influences into perfect, pristine pop songs, the very first of them, "Vow," being the very best. The backward guitar, the symphony of distortion, the classic guitar interlude, and of course vixen Shirley Manson's mission statement: "I came to cut you up/ I came to knock you down/ I came around to tear your little world apart." They were a great singles band, and I could have written about several others as personal favorites, from "Queer" to "Stupid Girl," but this one resonates strongest, not for particularly profound reasons. Still, there is a reason: when I first caught wind of this song, I was absolutely certain it was the coolest thing I had ever heard. – Jeff Terich
Watch Video
Download at iTunes
Girls Against Boys – "Kill the Sexplayer" (Touch & Go, 1994)
In the early '90s, long before Girls Against Boys' short-term major label shift, they were a post-hardcore act in the vein of Fugazi or Jawbox, churning out a menacing dual-bass assault that was as rhythmic and idiosyncratic as it was rocking. As the decade went on, the foursome became synonymous with sexy, indulging into lounge culture and appearing on the cover of Alternative Press in suits and sipping from martinis. Funny, then, that their most infamous single pokes fun at all of it. "Kill the Sexplayer," which was featured in the film Clerks for no good reason I can think of, comically wishes death upon musicians, or rather the "noise" they create. Scott McCloud, in his typical raspy approach, spits "this song is so hip right now, I'm going deaf/ I wanna kill the singer," before offering a rallying cry "strip it down/ take it to the house." Before even being given the chance to show off their sexiness, they give the hip and the beautiful a kick in the pants, ironically offering a slithering, danceable groove beneath McCloud's maniacal mumbles. – Jeff Terich
Watch Video
Download at iTunes
Grant Lee Buffalo – "Mockingbirds" (Slash/London, 1994)
When I first heard "Mockingbirds" on a local radio station, the deejay followed up by asking what the song sounded more like—Zeppelin or Floyd. Doesn't make much sense, really, `cause it's alt-country or something, right? Well sure, but at the same time, its psychedelic, epic tone carries with it both a bit of Jimmy Page and Roger Waters. I hear it now more than I did then, but at the time I was just entering my teenage years, so what did I know? The greatest common thread between these three bands, however, is a penchant for penning classic songs, this 1994 track standing up to the greatest of either of the '70s UK acts. This statement may set off some red flags for sure, but I can honestly say I've listened to this song more times than any of Zep's or Floyd's, maybe even combined. There's a strange combination of joy and sadness in "Mockingbirds," as Grant Lee Phillips sings "salutations at last, down on my knees/ I heard the bugle this morn' blast reveille." It's just those damn mockingbirds, you know, they won't let him shine, and it makes for one of the most gorgeous laments of the Gen-X era, or ever, really. Oh, and that guitar solo? Forget about it. – Jeff Terich
Watch Video
Download at iTunes
James -"Laid" (Fontana, 1993)
For some teenagers, "Laid" was the equivalent of the social studies teacher mentioning Lake Titicaca. Hee hee, a song about sex and cross-dressing! In actuality, to people a little older and perhaps a little more mature, James' song "Laid" was a jangle-pop tune that got stuck in people's heads only second to the La's "There She Goes." Both had soundtrack exposure behind them, with "Laid" becoming a consistent anthem throughout the American Pie films (although the latter two sequels used a cover by Matt Nathanson). The first lines get things hot already with "This bed is on fire with passion and love / The neighbors complain about the noises above." But then things are taken up a notch with its most repeated line, "But she only comes when she's on top." Ooooh-weee T-Shayne! No he di-n't! That's just turrible. Well, he did. And it was slightly controversial with some lyric changes in the music video, but everyone sings along to the final syllable of `pretty' every time. The last verse tells more of the story, however, a tale of stalking and sex obsession, or maybe just a case of continuing to go back to the wrong person. Maybe the sex is just that good. James never made it very big, but vocalist Tim Booth, despite relative anonymity in comparison to his peers, had an incredibly big voice. That voice would also feature in an unlikely yet fruitful collaboration with composer Angelo Badalementi, Booth & the Bad Angel. – Terrance Terich
Watch Video
Download at iTunes
Ministry – "Jesus Built My Hotrod" (Sire, 1991)
I used to be a huge industrial head, as I would listen to bands like Ministry, Rev-Co, Skinny Puppy, Front 242 and Front Line Assembly and mosh to their dark, ominous music at their shows. At this time in my life, I felt really disconnected. I guess that's why I really related to Fight Club when I saw it. Likewise, I would go to these shows and let out all my aggression. Moshing was my own personal version of Fight Club. It was such a release. Looking back it's amazing that I didn't get my ass kicked or killed. This particular song is one that I always love putting on any of my road trip mixes. It's the perfect song to crank up when while speeding down the highway with the windows open and the wind in your hair. You just feel alive with Gibby Haynes' monosyllabic hillbilly gibberish blasting in your ears. – Adrian Cepeda
Watch Video
Download at iTunes
Nas – "The World Is Yours" (Columbia, 1994)
Our actual Top 100 singles list doesn't include any Nas, unfortunately, though not for lack of consideration. Several of our nostalgic writers voted for a Nas track, just not the same one. "Life's A Bitch," "NY State of Mind" and "It Ain't Hard to Tell" all received a vote, but my own personal favorite is this chill, jazzed-out track with production by Pete Rock. It presents Nas as a complicated gentleman, "sippin' Dom P watchin' Gandhi" being just one example of his multi-faceted personality. Though Nas was never a gangsta rapper per se, his tracks were a bit grittier than those by peers A Tribe Called Quest and De La Soul. This track is no exception, as Nas describes "dwellin' in the Rotten Apple, you get tackled, or caught by the devil's lasso, shit is a hassle." Yet there's a twinge of optimism overall, in the way he speaks of how his children won't live the life that he has. It's not so much a motivational speech or a pulpit from which to cast judgment, but rather a thought-provoking reflection that's very real. – Jeff Terich
Watch Video
Download at iTunes
Notorious B.I.G. – "Juicy" (Bad Boy, 1994)
Before his debut's first song even ends, it's easy to trace Christopher Wallace's transformation from hyperconfident, crack-slinging teenager to reigning king of NYC hip-hop. But let's face it – after the barrage of MCs who seemingly refuse to mention anything but past history, this recognition is nothing special. The thing separating "Juicy" from its lesser heirs isn't this acknowledgement, then; it's the way the power of B.I.G.'s past exerts itself over every element of the song. The doubt that lay beneath Biggie's early self-confidence is audible in the beat's withdrawn exuberance and the chorus' tentative optimism, but his delivery shatters any pretense of current modesty. Before "Juicy," Chris Wallace was just another kid brashly following the limousines speeding by. Four minutes and three verses later, he had arrived – and at least for a little while, it was "all good." – Alex Dorf
Watch Video
Download at iTunes
Old 97's – "Time Bomb" (Elektra, 1997)
So the myth goes, that in one of the biggest pop music WTF moments of all time, none other than George W. Bush's people picked out "Time Bomb" as a presidential campaign song. When Old 97's frontman Rhett Miller caught wind of this bizarre happenstance, denied permission and questioned why they would even want to use a song about being with an underage girl anyhow? I've heard the story told, though never actually captured in writing, which makes the rumor all the more juicy, and the song that much more intriguing as a result. The song actually has no political or even inspirational theme for that matter, little more than a participant in the time-old tradition of a song about a femme fatale. Simple though it may be, it's a rip-roarin', foot-stomping country punk rave-up, the hardest rocking tune ever to come out of the alt-country movement, kicking up dust and exploding just like the claymore of a girl in the song. – Jeff Terich
Download at iTunes
Palace – "Gulf Shores/West Palm Beach" (Drag City, 1995)
If I could take only two Will Oldham tunes with me to my desert island, these would be the two. Recorded by Shimmy Disc legend Kramer and released as a 7″ on Drag City in 1995, the airy production matches the subject material and mood of the pieces, letting wistful lyrics unfold lazily over a spacious soundscape that's simultaneously sad yet hopeful. It's hard to simply describe the beauty of these tracks to someone who hasn't heard them, so if you haven't had the pleasure, be sure to search out the versions on the Lost Blues and Other Songs collection rather than the later remakes on Sings Greatest Palace Music. Unfortunately, Oldham never worked with Kramer again, and the stellar group that played on these tracks (his brother Ned along with another set of brothers, Aram and Jason Stith, plus Jack Carneal, all three of whom have played with Anomoanon) never backed him again in tandem either. Even if they had recorded more material together, it's possible that the sparkle would have worn off over the course of an entire album, but amidst all the great moments within the Bonnie Prince's catalog, these two summery gems shine like the Northern Lights in winter. – Michael Henning
Pet Shop Boys – "Being Boring" (Parlophone, 1990)
This is my favorite Pet Shop Boys song, and is also the track that made Axl Rose cry and inspired him to give Tennant & Lowe a bouquet of flowers when they played a show in L.A. during their Behaviour tour. This is the yin to the yang of "Forgiven" by Echo & The Bunnymen. I hear this song as someone looking back at their life, instead of sadness, with a smile on their faces proud of all the people he has met, loved and all the places they have seen visited and lived in their lives. This is one song where the video does the song justice, and actually won best international video of the year. It's such an amazing lyric, "We were never being boring," inspired by a quote from Zelda Fitzgerald. This is a memorable song that has aged in time like a rare wine. – Adrian Cepeda
Watch Video
Download at iTunes
Primal Scream – "Come Together" (Creation, 1990)
This joyous slab of innovative music found rock'n'roll colliding with dance culture in the early days of the UK's then-burgeoning rave scene. This record might not sound so groundbreaking now, but at the time, it showed that mixing the two genres was possible, and in the process, it became a crossover hit. Previously an indie rock and powerpop band associated with the C86 movement, Primal Scream's new approach triumphantly led the way for much to come throughout the 90's and beyond, from sampling (within rock, anyway) to remixing (several remixes of this track were made by some of the top DJ/producers of the day). I'm tempted to throw "Loaded," "Movin' On Up," and "Higher Than The Sun" into the arena as well (the latter features incredible production from The Orb), but "Come Together" best captures the infectious groove and exudes the spirit of inclusiveness that made all of these tracks such a smash in clubs and beyond. – Michael Henning
Watch Video
Download at iTunes
Primal Scream – "Higher than the Sun" (Creation, 1991)
If someone were to listen to Screamadelica today for the first time, they might not wonder what all the fuss was about. But back in 1991, it was revolutionary. Primal Scream started out as a bluesy, guitar driven band, but with Screamadelica, thrust the music mainstream into acid house and rave culture with an indie pop sensibility. Tracks like "Loaded" and "Come Together" are more of a showcase for the dancier side to the album, but "Higher than the Sun" was always one of my favorites with its laid back rhythm and tripped out lyrics. And is it possible that Oasis took its name from the last verse? Maybe. I was into a lot of what is apparently called music from the `C86′ genre, a mixture of psychedelic pop and dance music made popular by NME collections of the same name. Primal Scream, the Soup Dragons, the Charlatans and the Farm all fell into this category and I loved it all, but listening to them today, there's no denying that Primal Scream were the true artists and visionaries that stood the test of time. – Terrance Terich
Watch Video
Download at iTunes
Radiohead – "Street Spirit (Fade Out)" (Parlophone, 1996)
On "Street Spirit" Radiohead showed that they were willing to go beyond melancholy and straight into the belly of despair. Thom Yorke has claimed that it seemed to write itself, that it was as if it didn't come out of him, but in hindsight it seems like the obvious precursor to the depths the band would plumb on OK Computer. "Street Spirit" manages to reach an intense pitch of desultory alienation (which is somehow cathartic) without seeming in the least hackneyed or contrived. – Tyler Parks
Watch Video
Shudder To Think -"Red House" (Sony, 1997)
While Pony Express Record is my favorite album by D.C. band Shudder To Think, it doesn't feature my favorite STT track. It's actually somewhat odd, considering that the song is featured on no less than three Shudder releases. "Red House" was first featured on 1991's Funeral at the Movies, falling just after a cover of Jimi Hendrix's "Crosstown Traffic." But don't let the name fool you, "Red House" isn't another Jimi cover, it's actually an original by the band. The song next appeared on a preview EP for Pony Express Record, highlighting "Hit Liquor." Finally, "Red House" was redone for 50,000 B.C., one of the group's final releases. This tells me that Shudder To Think liked "Red House" just as much as I do, as they kept going to that well again and again. – Terrance Terich
Watch Video
Soul Coughing – "Screenwriter's Blues" (Slash, 1994)
There is a plethora of songs that accurately describe Los Angeles, most notably X's gritty and unapologetic "Los Angeles," or for cheesier types, Randy Newman's "I Love LA." The most entertaining of these Angel city odes is Soul Coughing's 1994 beat narrative of the town, a hilarious and irresistibly clever characterization of the Hollywood stereotype. The quotables here are priceless, M. Doughty delivering vivid descriptions like a bizarre film noir narrator, mentioning "teenagers who are aesthetically pleasing, in other words, fly" and universally tying us all together as he reflects, "we are all in some way or another going to Reseda someday to die." And of course, the omnipresent radio man laughs, because he fucks a model too, but takes the time to remind us, in a very meta- way, "it is 5 AM, and you are listening to Los Angeles." – Jeff Terich
Watch Video
Download at iTunes
Souls of Mischief – "93 Til Infinity" (Jive, 1993)
I haven't checked my `unwritten rule' book, but it seems that naming a song with a year somehow keeps it from sounding dated. Ironic how that works out. The Stooges' "1969" and "1970," Prince's "1999" and even Bowie's "1984" are all classic songs, in spite of having expired dates for titles. The same goes for Souls of Mischief's 1993 statement of purpose "'93 Til Infinity," the greatest song from the greatest album to be spawned from Oakland's Hieroglyphics camp. The East Bay crew provides an interesting twist, though, using 1993 as a starting date, their chillness extending toward the future as they matter-of-factly state "This is how we chill, from 93 til…" With its laid back, heady organ grooves and solid beat, this song is the sound of good times, ones that go on `til infinity, of course. – Jeff Terich
Watch Video
Download at iTunes
Spacehog -"In the Meantime" (Elektra, 1996)
At the time Spacehog was releasing its first album, Resident Alien and single, the American music market was seeing a resurgence in singles and one-hit wonders. I just seem to remember that around the same time, you could also randomly hear on the radio Deep Blue Something, the Toadies, the Mike Flowers Pops and the Rembrandts. In other words, in some ways it was an absolutely awful time for alternative radio. (I do, however, snicker a little at the Mike Flowers Pops version of "Wonderwall"). There was something slightly different about Spacehog, at least enough to distinguish themselves from most of the tripe being spoonfed Americans thus far. They were British, but they lived in New York. They were heavily influenced by T. Rex / Bowie era glam, but had a modern sensibility. No, they didn't really have many hits beyond the infectious "In the Meantime," but not many bands did. Remember, Radiohead's second album took a loooong time for mainstream listeners to finally catch on. "In the Meantime" finds the foursome spinning upbeat and optimistic lyrics about loving their newfound American brethren, but putting it in a way that makes them seem more Ziggy / space alien than visitor from overseas. The Gallagher brothers may have been cocksure in their own way, but how ballsy is it to have a first single that declares, "We love the all, the all of you." And this was all before singer Royston Langdon married Liv Tyler. –Terrance Terich
Watch Video
Download at iTunes
Suede – "Metal Mickey" (Nude, 1992)
There was a time in my life when I didn't care much for Britpop. I must have been preoccupied with grunge still, or some such genre. I found Pulp, Blur and Suede the least accessible in particular for being "too British," though I took to Oasis rather quickly. In time, however, my interest in grunge waned and those three bands from which I once shied away became three of my all time favorites, Suede in particular leaping high on my list for having the most bombastic glam rock stomp. They may have had their videos banned on MTV for homoerotic content, but a song like "Metal Mickey" is all T. Rex swagger and Bowie-esque flair. Written about Daisy Chainsaw frontwoman Katie Jane Garside, and the British punk scene in general, it could easily be mistaken for a song about a strip club ("she's showing it off…all the people shake their money in time"). The excitement is still there, sure, but it's a different kind of excitement, as Brett Anderson sings "Oh dad, she's driving me mad." In this roaring glam rock number, the band returns the excitement with one of the hardest rocking, not to mention catchiest, singles of the Britpop era. – Jeff Terich
Watch Video
Trashcan Sinatras -"Obscurity Knocks" (London, 1990)
I always found it odd that the band with some of the best-written lyrics in pop history never officially made those words available to the public. To this day, most take their best guesses as to the mysteries that are the brilliant witticisms sung in the bewitching Scottish brogue that belongs to Francis Reeder of the Trashcan Sinatras. Cake, the band's first album, was chock full of jangle pop tunes with great lyrics, "Obscurity Knocks" being the yin to the yang of their most successful song, "Only Tongue Can Tell." Lines like "oh I like your poetry but I hate your poems" and "looking at my watch and I'm half past caring" make me smile with delight while I can simply relate to "I know what it's like to sigh at the sight at the first quarter of life." The Sinatras weren't quite as obscure as my other favorite Scottish band from that period, The Silencers, but they weren't exactly household names, either. But the Sinatras did make my first few years of college a little more fun. – Terrance Terich
Watch Video
Download at iTunes
2pac feat. Dr. Dre – "California Love" (Death Row/Interscope, 1995)
Few may realize this, but I am a huge hip-hop fan. I may enthuse on Xiu Xiu's La Foret, but I can also speak the merits of Nas' Illmatic with just as much conviction. For my money, I think hip-hop reached a creative apex in the '90s with the advent of Gangsta rap and the emergence of my all-time favorite MC: Tupac Shakur. From the goofiness of "I Get Around" to the considerably more substantial "Dear Mama," Tupac was as much a poet as he was a charismatic MC. Then came the collaboration to end all collaborations: Tupac and Dr. Dre on "California Love" and in terms of state pride, this song trumps anything else out there. Complete with the Mad Max-ian epic music video by Hype Williams, "California Love" is a straight-up party song that pays tribute to the state that spawned two great artists. Representing Southern California, Dr. Dre delivers in his characteristically laid-back style and is a perfect foil for North Bay-bred Tupac and his more bombastic delivery. And I dare any Californian to listen to this song and not feel some pride for your state because, let's face it, we do know how to party. Perhaps it's worth considering making this the new state song, right Arnold? – Jackie Im
Watch Video
Download at iTunes
Weezer -"El Scorcho" (Geffen, 1996)
While Weezer, aka `The Blue Album,' was a Beach Boys-tinged romp through pop culture references and silly lyrics (in other words, a high school album), Pinkerton was Rivers Cuomo's leap into adulthood. It's as if he realized in the intervening time between albums that life was messy, things didn't always turn out how you wanted, but it could all be beautiful anyway. The album itself was originally supposed to be a some kind of space rock opera, but instead turned into a set of songs loosely having to do with Madame Butterfly. In "El Scorcho," a song that I believe has the most memorable first line of any of Weezer's songs ("Goddamn you half-Japanese girls / you do it to me every time."), Cuomo even mentions character Cio Cio San by name. But this isn't your old school, stuffy opera. This is again packed to the gills with modern references like "I'm the epitome of Public Enemy" from PE's "Don't Believe the Hype" and a nod to ECW, which was apparently taken from a classmate's exposition paper at Harvard. But Cuomo has enough tricks up his own kimono sleeve with yet another highly singable chorus that starts "I'm a lot like you." – Terrance Terich
Watch Video
Download at iTunes
World Party – "Put the Message in the Box" (Ensign, 1990)
World Party is one of the most criminally underrated bands in history. Well, maybe they're not that good, but they're far better than most people give them credit for. Karl Wallinger, the single man behind World Party, split off from a project that was really another one-man band, Mike Scott's Waterboys. Wallinger had higher aspirations than to be a multi-instrumentalist in another person's band, even if that person was a dramatic visionary. So, Wallinger took his Beatles-influenced musical brain elsewhere. After an initial album of British Invasion flavored tunes in Private Revolution, Wallinger scored his most successful album with Goodbye Jumbo. This set of songs didn't just reveal the Fab Four fetish; it also exposed a jones for grass roots folk anthems, Stones sing-alongs and smooth Prince ballads. "Put the Message in the Box" is somewhere between all of these, but mostly falls into the grass roots category. The message is simple, almost as the Beatles put it, and Burt Bacharach; all that the world needs now is love. But that love has to be spread from person to person around the world. So, how do you do that? "Put the message in the box / Put the box into the car / Drive the car around the world / Until you get heard." Ah, if only hybrids existed in 1990. – Terrance Terich
Watch Video
Download at iTunes
World Party – "Way Down Now" (Chrysalis, 1990)
So, apparently everyone has their favorite World Party single. My brother's is "Put The Message In The Box," mine is "Way Down Now" and there's bound to be a writer among us who favors "Ship of Fools" or "Is It Like Today?" This particular single stands out to me for being such a fun and carefree sounding ditty, in spite of its lyrics of a crumbling future. Karl Wallinger's verses come off like the Indian crying alongside the highway, but done so with such celebratory surroundings, you hardly notice the bummer therein. In fact, more than anything, this song is a celebration of rock `n' roll itself, referencing The Stooges' "TV Eye" and in the "woo-woos" of the coda, The Rolling Stones' "Sympathy For the Devil." More than anything, it's the opening pick slide and barroom piano that provide the greatest joys. – Jeff Terich
Watch Video
Download at iTunes