Cornwall's Luke Vibert knows how to spread his musical seed, with more than four-dozen releases and a clutch of important remixes to his name, as well as seven other stage names. He first rose to prominence raving and dubbing his way through the early 1990s as Wagon Christ. In 1995 he made a new pseudonym – Plug – for experiments with the then-rising sound of jungle, or drum 'n' bass. The genre propelled any available funky drummer samples toward the rapid BPM of hardcore techno, and reinforced them with quick vocal loops, weird punctuating synths, and the kind of deep bass that mutated into a staple of today's dubstep.
Plug's work first appeared on the tiny labels Rising High and Blue Planet, but the 1997 re-release of Drum 'N' Bass for Papa answered to a higher authority: Trent Reznor's Nothing Records, backed at the time by Interscope. Yet despite this new big-name support for the genre, and as other huge d 'n' b albums came out within months of Plug's, Vibert let the name go dormant right then, focusing instead on more acid techno for touchstone imprints like Astralwerks, Warp and Rephlex. Fast-forward to the 2010s: Vibert unearths some lost Plug recordings and brings them to his friends at another of those beat-friendly labels, Ninja Tune. The resulting album, Back on Time, revisits a dead genre that sounded life-giving in that moment.
The technology was obviously simpler than what gets used today, yet it made music that sounded deceptively complex. Drum 'N' Bass for Papa was considered a mold-breaker and mold-maker in its day, making change for jungle as Burial did for dubstep. It's not surprising, then, that Back on Time actually begins with "Scar City" and its soulful suggestions of two-step, a transitional genre between jungle and today's arena-sized bass music. The rest of Back on Time settles into a high-energy groove familiar to electronica fans of a certain age, yet filled with nontraditional sounds weaving among joyously breakneck beats – sitar ("A Quick Plug for a New Slot"), abstract tinkling bells ("Yes Man"), timpani samples and sound collage ("No Reality").
Back on Time suggests that Vibert understood how to infuse a sense of joy and playfulness in this music. Few junglists got past their sampled divas' emotion, the importance of getting stoned on the dancefloor, or how hard their jazz loops were. And sure, Vibert relies almost exclusively on shifting palettes of drums in the masterful, more minimal arrangements of "Drum N Bass" and "Flight 78." But there's honest humor here, in the Squarepusher-tweaking "Come on My Skeleton" and the patchwork of Kraftwerk samples, Speak and Spell, and ragga toasters in "Mind Bending," using d 'n' b to celebrate acid house. Luke Vibert may have casually tossed off the Plug name and music, but maybe if drum 'n' bass had followed suit and not taken itself so seriously, the genre would be trading punchlines instead of resting under an epitaph.
Similar Albums:
Spring Heel Jack – 68 Million Shades
Roni Size & Reprazent – New Forms
Squarepusher – Hard Normal Daddy
Stream: Plug – "Scar City"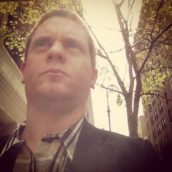 Adam Blyweiss
Adam Blyweiss is associate editor of Treble. A graphic designer and design teacher by trade, Adam has written about music since his 1990s college days and been published at MXDWN and e|i magazine. Based in Philadelphia, Adam has also DJ'd for terrestrial and streaming radio from WXPN and WKDU.