Pump It Up: A primer on soundtracking a workout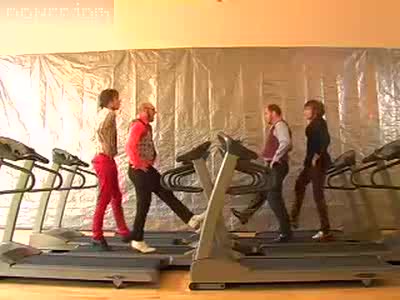 In January, I joined a gym for the first time in my life. It's not that I didn't want to keep myself in shape–far be it from me to wish for extra flab or high cholesterol. But when it comes to working out, I have a short attention span. I always saw spending 90 minutes at the gym as tedious, rather than fun. And let's be honest, a good number of people who go regularly probably get a little bored as well. But I'm sure very few will be surprised when I say that music is a surefire way to keep the experience more enjoyable.
Making a great gym playlist doesn't require a doctorate in music theory, but it does take a little bit of careful planning. Anything with too slow of a tempo is out. Anything that meanders too much is out as well. And anything too quiet is an automatic disqualification. You need dance music. You need rock 'n' roll. Sometimes, you even need metal.
So, with Memorial Day Weekend just around the corner, and the chance to tone up for beach season, here's a primer on choosing the right music for your workout.
Disco Infiltrator
Dance music is the easiest genre to start with when making an exercise playlist, simply because dancing is, in a manner of speaking, another form of exercise. This is why you hear house music at every gym in America, and why 2 Unlimited remain kings of the Jock Jam to this day. However, for the purposes of this exercise (and just as a general rule) I'm avoiding all things Hi-NRG. Instead, let's look to some other sources of thumping bass, cowbell and hi-hat.
LCD Soundsystem is the ideal artist to have on your iPod during a workout, and was even commissioned by Nike to create a jogging soundtrack for their 45:33 series. You can essentially play the group's self-titled album and Sound of Silver end to end and the energy would remain pretty high throughout; only a handful of tracks such as "New York, I Love You But You're Bringing Me Down" and "Never As Tired as When I'm Waking Up" interrupt the otherwise invigorating rush of beats. For that matter, the band's third album, This Is Happening, has pretty much no slow spots. Even the anthemic numbers like "Home" and "All I Want" keep a pretty steady momentum going.
Like-minded groups such as Cut Copy make for a good next step, with singles such as "Lights and Music" or "Hearts on Fire" balancing house and new wave in a way that not only keeps you energized but also keep you from getting bored. It's worth mentioning that 45 minutes on a treadmill or an elliptical machine can be a little tedious without some good entertainment, so it's best to stick with songs that are dynamic enough to keep your interest. Some other good suggestions include Glass Candy, Chromatics, Juan McLean, Kelley Polar, Hot Chip and Hercules & Love Affair.
Now, you might feel tempted to go old school with your disco choices, and that's a splendid idea as well. My personal favorite is Chic-best basslines in the business. But should you be so inclined, Bohannon, Donna Summer and The Bee Gees work as well. And, for the art snobs, Dinosaur L's "Kiss Me Again."
No New Wave No Fun
For a bit more character and quirk, dig into your new wave and post-punk collections for some singles with pep. I actually created a playlist I titled "Neon" that covers this ground pretty well, and features no songs released after 1987 or so. And it runs the gamut from familiar favorites, such as Soft Cell's cover of "Tainted Love," to more obscure inclusions like Section 25's "Looking From a Hilltop." And in between these two poles are a plethora of personal favorites, such as Duran Duran's "Planet Earth," Gary Numan's "I Die: You Die" and New Order's "Temptation." And while I'm on the subject of New Order, there are very few songs in the band's discography that don't make for great workout companions, save for something odd like "Elegia." Otherwise, however, the list is endless: "Bizarre Love Triangle," "Regret," "Vanishing Point," "Round and Round," "True Faith," "The Perfect Kiss," etc.
Of course, sometimes a slightly darker tint can help you to get comfortable in your own, isolated spot among the bustling, after-work crowd. Strange as it may sound, The Cure is a pretty solid choice, particularly in their earlier years. Songs like "Primary" and "A Forest" have kept me going on my most lethargic days, as have some of Joy Division's more upbeat singles, or just about anything from Mission of Burma, Wire or The Chameleons. Just use caution when dealing with bands like The Cure or The Smiths-"Fascination Street" and "What Difference Does It Make?" will work, but "Pictures of You" and "Reel Around the Fountain" won't.
And never underestimate the power of The Jesus and Mary Chain. While some of the songs on Psychocandy may struggle a bit competing with the bass on the gym's PA, the hard hitting drum machine beats from Automatic will most definitely win that battle.
Destroy, Oh Boy!
If you're really serious about having as intense a workout as possible, however, you might want to skip over the dance or pop music and go straight for the loudest, fastest music you have. In most cases, that means punk rock. Do it old school-The Damned, Black Flag, The Clash, X, The Buzzcocks. Or update with some more modern aggressors, like No Age or Fucked Up. On the subject of the latter, their outstanding "Black Albino Bones" is a great addition to your punk playlist, simultaneously catchy and muscular, and a lot of fun for that matter. Although once you get past the minute long flute intro, "Son the Father" is pretty unbeatable for the high impact session as well.
Need even more power than that? Go metal. And likewise, you can mix and match the classics, like Judas Priest's "Breaking the Law" and Motörhead's "Ace of Spades" with some recent beasts like Mastodon's "The Wolf Is Loose," Baroness' "Jake Leg" and any of the sludgy rockers from Boris' Pink. Think twice about adding any Jesu or Sunn0))), though. You may feel less inclined to exercise and more motivated to either become a druid or open up a vein. And neither one of those is going to shed the pounds. So grab for some Torche instead.
Purple Rain
Lastly, if there's one artist you can count on to keep your blood moving, it's Prince, who, coincidentally, is also guaranteed to keep your wedding reception from growing dull. Now, dude's got a pretty extensive discography, so you've got literally hundreds of tracks to choose from here. Maybe thousands, though bear in mind we're excluding the ballads. Perhaps the best place to start would be with 1980's Dirty Mind, because it's packed with jam after jam. The title track, "Uptown," "Partyup," "Head"–all of these will help to boost your energy, not to mention put a smile on your face.
From there, I suppose we'll go chronologically. Add "Delirious" from 1999. Sprinkle in some "Let's Go Crazy" and "I Would Die 4 U" from Purple Rain. Then "Raspberry Beret," "Housequake," "U Got the Look," "Get Off," "Sexy MF" and "My Name Is Prince." That should keep you going for a little under an hour, but this is really just a small sampling of suggested hits. You could literally make one Prince playlist for every day of the week, and not hear the same thing twice.
Whether you're getting funky with Prince, getting aggro with Fucked Up or smirking along with LCD Soundsystem, have fun with it. Do a little bit of each of these, or make your own themes. Whatever keeps you motivated. As long as you've got some good music to keep you company, then your exercise routine will be that much more enjoyable.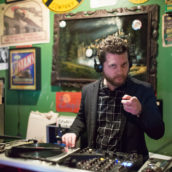 Jeff Terich
Jeff Terich is the founder and editor of Treble. He's been writing about music for 20 years and has been published at American Songwriter, Bandcamp Daily, Reverb, Spin, Stereogum, uDiscoverMusic, VinylMePlease and some others that he's forgetting right now. He's still not tired of it.