Queens of the Stone Age : …Like Clockwork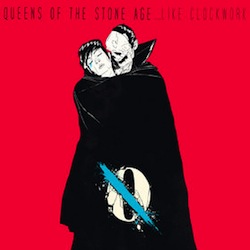 Queens of the Stone Age occupy an area in modern rock music that few (if any) other artists share. Commercially, they're one of contemporary rock music's bigger success stories, with millions of albums sold, Grammy nominations and sold-out world tours. But in spite of this success and elbow rubbing with rock royalty, QOTSA is still very much at heart a workingman's band. The cloud of pretentious fuckery that tends to hang over other such well-established alt-rock bands is nowhere to be found in the Queens camp. In essence, they're the most popular indie(-ish) rock act of the last ten years. But with …Like Clockwork, their first album since 2007's Era Vulgaris, the band doesn't so much offer a killer album from beginning to end as one that's just a set of 10 really good songs.
Go ahead. Let that last sentence sink in for a moment. You don't need to reread it. I'll be the first to say that …Like Clockwork is good, but it's nowhere near the greatness that they've achieved in the past. So, how did this happen? Well, a fairly large portion of the blame can be laid at the feet of the hype machine. Think about all the shit you've read about this album in the past year. First album in SIX YEARS!!! Dave Grohl drumming again!!! Elton John guests on the album!!! The list goes on and on. Few albums have seemed so hotly anticipated in recent memory (except this one), and to be fair to the Queens, no one could live up to the hype.
Again, that's not to say that …Like Clockwork isn't a solid album, because it is. There are familiar elements throughout the record that will make any longtime fan excited. The sunburned rock of "I Sat By The Ocean" will be instantly familiar to everyone, and the same can be said for the blistering "My God Is The Sun" which is reminiscent of any vintage QOTSA track. …Like Clockwork also features some pleasant, if not downright unexpected surprises. The dreamy, atmospheric verses of "Kalopsia" threaten to lure the listener into a state of breezy euphoria, until the razor sharp guitar and wall of noise percussion of the chorus snaps that same listener back to reality. But perhaps the biggest surprise on …Like Clockwork is the gut-bucket funk rock of "Smooth Sailing," which combines a cacophony of raunchy bass, flirty guitars that sound like they've had too much to drink, and two of the best lyrical one-liners of the year. In a nutshell, the track is fucking brilliant and easily the highlight of the set.
But where …Like Clockwork succeeds, it also falls short. With just 10 songs, clocking in at a combined 45 minutes, it feels more akin to a slightly longer EP than a cohesive, full-length album. It's also features some of the slowest material the Queens have ever conjured up.  The slow-burning, classic-rock tinged "The Vampyre Of Time And Memory" is a great cut, but feels really out of place, especially planted right between two of the albums more uptempo tracks. Similarly, the rollicking "Fairweather Friends" which features Elton John, Trent Reznor and Mark Lanegan, suffers from the pressure of its bookends, not its actual content. Really, it's more a case of bad sequencing than bad songs, but it does affect the flow of record as a whole.
That being said, with …Like Clockwork, the Queens Of The Stone Age have returned to claim their rightful place at the head of the rock and roll dinner table. No one is more deserving of that position than Josh Homme and whomever else he decides to bring along for the ride. They truly are the biggest band that no one's heard of, or depending on your viewpoint, the smallest band that everyone's heard of. Whatever the vantage point, …Like Clockwork is strong enough to serve as a starting point for new fans and a satisfactory addition to an already glowing discography.
Similar Albums:


Queens Of The Stone Age – Era Vulgaris


Nine Inch Nails – With Teeth


Vaz – The Lie That Matches The Furniture