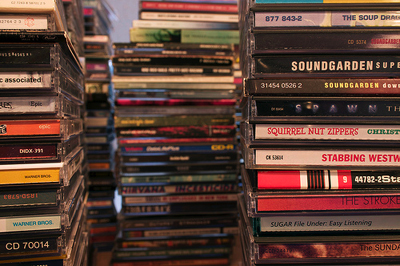 The number of CDs that gather on the furniture at Treble headquarters is quite massive. In fact, it's downright intimidating. They spread like bacteria, sprawling across every surface and taking over every square inch of open area. Eventually, they may win the battle, but for the time being we're fending them off as best we can—with reviews.
Now, given what resources we have, it's practically impossible to try to review everything that comes our way. In fact, it's almost pointless to even try. We do want to be able to have the luxury to listen to some albums more than once, after all. But some albums unfortunately get lost in the shuffle, buried under piles and hidden in corners. And these hidden gems can frequently offer music more enjoyable than a lot of the higher profile albums that come our way. So, in the interest of giving a little extra time to the underdogs, here are some quick reviews of some of the lower profile releases crossing our desks lately.
Misc. – Happiness Is Easy (Badman)
It's probably no coincidence that the title of Misc.'s new album Happiness Is Easy is also the title of the first track on Talk Talk's classic album Colour of Spring. Misc. shares a trait or two in common with the pioneering post-rockers, namely evocative and atmospheric song structures and a shared affinity for the abstract. Yet Misc. does come considerably closer to writing pop songs, as evident in pretty, accessible songs like the stunning "A Little While." Dylan Magierek, the primary songwriting talent behind Misc. is masterful at crafting intricately arranged, yet melodic instrumentals on par with the likes of Mogwai or Explosions in the Sky, yet by adding the earnest vocals of Daniel Ahearn to the mix, Happiness Is Easy steps out of the post-rock realm, pushing it that much closer to…uh, rock. Whatever genre it happens to fall under, it's quite good.
The Twang – Love It When I Feel Like This (Arena Rock)
I can't help but cringe a little when I read a description of The Twang as "like the Happy Mondays snorting The Clash." But it's clearly not the band's fault that NME's praising them in such absurd terms. Nonetheless, The Twang's album Love It When I Feel Like This certainly has a touch of Madchester groove in its sunny, psychedelic pop anthems. But the group's sound owes less to The Clash than the arena ready earnestness of UK heroes Manic Street Preachers. While "Ice Cream Sundae" is a loose, billowing tune that builds up into a majestic pop standout, "The Neighbor" is a strange, Cockney rap-rock concoction. It's a little awkward, but becomes more endearing as the song progresses. Yet single "Either Way" is where the group hits their stride, easing into a lazy, Sunday afternoon nostalgia trip with glossy guitars and gorgeous melodies. In many ways, The Twang's debut album is like a trip back to the early '90s, but that's not such a bad thing when you consider the group's inspirations.
1090 Club – Natural Selection (SideCho)
Billings, Montana isn't exactly known for its musical activity, though the Big Sky state has produced at least one semi-famous musician in The Decemberists' Colin Meloy. Yet Montana foursome 1090 Club proves that there is most certainly some musical activity going on in Billings, and musical activity worth hearing at that. The group's second album Natural Selection is a moody and intense set of melodic and melancholy rock tunes driven primarily by piano and violin. Yet, they're definitely rock songs. "Happiness," in particular, stands out for its forceful chords and swirling effects, ultimately exploding into a soaring, emotional chorus. Thanks to some production aid from Steve Fisk, Natural Selection sounds crisp and vibrant, yet the group's raw intensity comes through, which would truly be a shame to cover in studio gloss.
Golden Boots – The Winter of Our Discotheque (Park the Van)
Right off the bat, I'm amused by the pun in Golden Boots' album title, The Winter of Our Discotheque, and without having heard a note, I'm halfway won over by the bizarro psych-Americana band. However, upon hearing the first, gurgly synth notes of "Heatwave," I'm with Golden Boots 100 percent. Their acid-fried alt-country splits the difference between The Flaming Lips' exploding confetti pop and Beck's more organic sounding records, such as Mutations. Quite frankly, that's not a bad place to be, and as such Golden Boots stir up a lot of fun throughout these ten tracks. The lazy chug of "Easy Lie" struts with an easy groove, while the weirdo psych-pop of "Country Bat High II" is reminiscent of Of Montreal prior to Kevin Barnes' raiding of Prince's closet. Come to think of it, there are a lot of Elephant 6-style tunes happening, in fact "Black And Blue" could almost be mistaken for Olivia Tremor Control, were it not for the production clarity. There's no real discotheque fodder here, but that's clearly beside the point. Golden Boots may buck convention to some degree, but when it comes right down to it, they're writing some great pop songs, be they straightforward or littered with odd effects.
This Town Needs Guns – Animals (Sargent House)
It's pretty straightforward: This Town Needs Guns' album is called Animals, each song on the album is named for an animal, and each of those animals appear on the front cover. But exactly how those animals correspond to the actual songs is a bit of a mystery, as the earnest math-pop on this album seemingly has little to do with chinchillas, lemurs or pigs. Regardless, one doesn't need to understand the zoological implications to be mesmerized by Tim Collis' rhythmically complex finger-tapped guitars or Stuart Smith's breathy vocals. Animals is quite an impressive outing, reminiscent of a less synth-driven Minus the Bear, or perhaps Joan of Arc without the dick jokes.
Deaf Judges – All Rise (EC Ruins!)
Deaf Judges are a fairly new hip-hop group, having formed in late 2006 in Athens, Ga., though their style is clearly one that takes significant cues from early '90s giants like Wu-Tang Clan. In fact, imagine Sage Francis rhyming over RZA beats and you come pretty close to Deaf Judges' sound, though producer Cubenza lays down a pretty diverse array of beats for Rorshak, Produce Man and Louie Carlysle to rap over. "Space Cadet Setlist" kicks off the record with a fierce and cinematic opening statement, while "Night Court" rides some deeply distorted bass throbs. Yet the Molly Hatchet and Kentucky Headhunters-referencing "Deaf Sentence" combines some '70s funk samples with Prefuse 73-style glitch. All Rise is a pretty stunning album musically, if not necessarily lyrically, though the three emcees are quite skilled. That the group has shared stages with RJD2, Three 6 Mafia and Elf Power just goes to show how broad their aurally stimulating appeal can be.
Sleeper – Behind Every Mask (Mush)
The artwork to Sleeper's Behind Every Mask is cluttered with electronic musical devices and images of female anatomy, from the shapely, shadowy figure on the front to what appear to be a woman's hips and legs in some kind of messy blob of creamed corn or mashed potatoes. The electronic device aspect is pretty easy to figure out—this album is constructed from samplers and synthesizers, effects pedals and more effects pedals. But where the shapely women come in is a bit more cryptic. There's nothing particularly sexual about Behind Every Mask, yet there's most certainly a sleaze factor in its foreboding fuzz symphonies. Nonetheless, there's something a bit sterile about the activity therein. Behind Every Mask is a cold and distant album, one that seems to have very little to do with human interaction at all. That isn't to say it doesn't have some genuinely interesting moments, they're just scattered among material a bit too icy to form any sort of attachment to.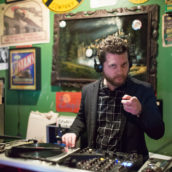 Jeff Terich
Jeff Terich is the founder and editor of Treble. He's been writing about music for 20 years and has been published at American Songwriter, Bandcamp Daily, Reverb, Spin, Stereogum, uDiscoverMusic, VinylMePlease and some others that he's forgetting right now. He's still not tired of it.