Rhiannon Giddens : there is no Other
It is easy when discussing folk to imagine, ultimately, a white guy strumming an acoustic guitar. And while there are certainly many such artists who elevate the "white guy strumming an acoustic guitar" to high art, Bob Dylan chief among them, there are far too many who do not and render the enterprise as automatic parody with bad moaning vocals and similar open position chords hammering on the ears song after song after song. This is an especially upsetting debasement when it comes to figures like Rhiannon Giddens, who makes such lush and emotionally evocative and dramatic folk music, leaning on banjos and acoustic guitars and double bass just as much as any other country-folk artist but managing to generate a near-chamber music feeling, like the stern, flat Europeans of continental oil paintings of old lurched free from their moorings, lyres and Spanish guitars and cellos in hand, and set about replicating American folk music.
Giddens, it turns out, is just as virtuosic a classical musician as she is a folk musician, fitting given that both are driven more by dynamic mastery of instruments rather than something as crass as the pure power of the rock umbrella of genres or pure texturalism of ambient or experimental work. She bends that keen dynamic ear not only to her own instruments, from clawed banjo to her rich and sonorous vocal which so perfectly marries the rough landscape of the American wilds with the concert halls things like highlands folk and British folk songs seem to elevated themselves to, but also with her collaborators. On there is no Other, Giddens enjoins herself with Francesco Turrisi, Italian jazz pianist and multi-instrumentalist, another virtuoso rising from a world equally as known for being dynamically demanding. There is little in the way of jazz on this set, save perhaps the more classically- and folk-inclined sets that labels like ECM have been dealing with in the past few decades (especially in their increasingly rich Nordic performers). But despite being outside of his comfort zone, Turrisi proves more than a capable partner to Giddens, having a keen enough ear from years of improvisational work and knowledge enough of the various moods and timbres of jazz to fit the somber and aching mood of these pieces.
On "Trees on the Mountain," Turrisi gets to sit at the piano, delivering a stirring, cold and dramatic performance that maintains tension via restraint, holding a fragility over the piece like staring out a frosting window to a sweeping field of unbroken snow, awaiting some crack of a footfall to signal the return of someone long lost you know won't be coming back. This typifies the timbre of these songs well, erring to a wintry sense of the fragile and the yearning, songs that feel like they exist in the middle of life ruminating on its looming end rather than songs which perhaps rejoice or gaze back. The songs seem to unspool backward in time as the set continues, starting close to country-folk as we know it before unravelling into Italian folk songs with an intense Mediterranean flavor, certainly feeling almost more Grecian than Italian, to the post-Civil War proto-blues about racial pain, and the borrowed British folk songs those of the Piedmont and Appalachia sang before their local permutations gave them that distinctive American flavor. The intent seems to be one of historical unification, not so much rejoicing of each of these styles as full objects of their own but as facets of one greater fragmenting body of the folk music tradition of Europe and the Americas.
The album on that mark is certainly missing things like indigenous American folk music or broader surveys of European folk, but this doesn't feel like a sinking criticism; after all, the sweep of the album feels less like a deliberately conceptualized survey or family tree and more one of constellations of loosely related forms delivered in similar manner to highlight that which makes them similar rather than what makes them separate. On that mark, there is no Other is certainly successful, managing to make these disparate approaches to the overly-broad world of "folk music" feel pleasantly related to one another, contributing to the same set of aches, desires, impossibilities, dooms, and brief pleasures of humanity, no matter on what shores it is found. It doesn't universalize experience in that cheapening way which blunts the edges and smooths the cracks of the individually-lived life but instead peers inside for the motes of experience which it can see mirrored in other places and other times and seeing those mirror images feels not isolated by pain and the tempestuousness of desire but instead connected to the overarching dramas of being.
This is not to mention the gorgeousness of the recording and mixing of the instruments, which maintain a clarity and sense of fullness from front to back. The piano glistening as light caught in a crystal just as hand drums have the warm fleshy thump and twang of bending skins, and banjos and guitars retain that necessary roundness and slightly deadened sound of aging strings that anyone who loves both will recognize immediately as a well-loved instrument.
Ultimately there is no Other plays out like a well-written ranging novel, pacing across history and the span of the planet to find not something as crass as the universality of heartache but the more specific innard of that, the way we fold our hands when upset, the way it feels when rope digs into your arm, the way winter makes you remember things that won't come back compulsively, and those other smaller, more finite recurrent aspects of humanity. It is a reach and beautiful set of folk songs that serve as a banner of the beauty and art of the form than the average white dude with an acoustic guitar could ever hope to. The gentility of the gospel standard "He Will See You Through" that they end on, Giddens voice against a gentle chiming mid-voiced pedal tone and chiming piano arpeggios, little stirrings of strings in the background, tentative and heartfelt, summarizes the album well, sending the album out with the same mottled mix of sorrow and fragile hope that suffuses the material in full.
Similar Albums: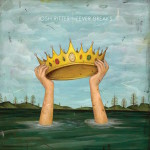 Josh Ritter – Fever Breaks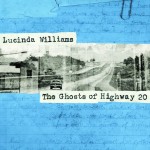 Lucinda Williams – The Ghosts of Highway 20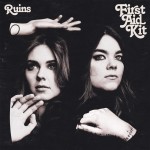 First Aid Kit – Ruins
Langdon Hickman
Langdon Hickman is listening to progressive rock and death metal. He currently resides in Virginia with his partner and their two pets.