Roman Candle : The Wee Hours Revue
It's one thing to write and record great songs, it's another task altogether to get those songs heard. Nearly four years ago, Roman Candle, a North Carolina alt-country tinged band made up of brothers Skip and Logan Matheny, Skip's wife Timshel, guitarist Nick Jaeger (yeah, like that's not similar to a certain rock god), and bassist Danny Kurtz, released Says Pop their debut album on Outlook Records, a label put together by a former Denver Broncos pro football player (yes, really). No offense to the player, I'm sure he's a great guy with great taste, but the album just wasn't getting listeners. Aided by the dB's Chris Stamey, Roman Candle is getting a second chance at stardom. The Wee Hours Revue is actually a reworking of their debut, Says Pop, with one additional track. The compositions have changed slightly (according to them, I haven't actually heard the original) and the tracklisting has been mixed up, but the songs are essentially the same. Even though it's been four long years, a brand new recording and a brand new label, this is definitely a case of `better late than never,' as The Wee Hour Revue is an album that's worth the wait.
It's almost too easy to call Roman Candle alt-country, though most reviews, including this one, will throw the term around. Sure, there's some harmonicas, barroom pianos, some twang and even a banjo or two, but that would tend to mean that Dylan and Springsteen are alt-country as well. Instead, they inhabit some of the same areas that those artists do, inspired by both folk and bluesy rock and roll. Their organic rock fusion has been compared to the likes of Neil Young and Ryan Adams, while the Wallflowers invited them to be their opening act on tour. Roman Candle create boisterous rock and roll that's impossible to dislike, and at the center of it all is singer / guitarist Skip Matheny, with a voice that exudes youth, energy, soul, passion and wisdom all at once. Like most bands, it is the voice that can make or break it for the rest, just ask Jeff Tweedy. Skip's voice is the kind you want ringing in your ears long after the album ends.
"Something Left to Say" finds Matheny mourning after a breakup, saying that `it's hard to fit a lot of years in a Friday night," and that he's `half-singing "Tears of a Clown"' over a plucked banjo. "You Don't Belong to This World" is certainly a catchy song, owing itself slightly to Semisonic's "Closing Time." The true gems come around the middle of the album including the renamed "New York This Morning," (which was once "I Wish I Was in New York") sounding like a mashup of Otis Redding and Bob Dylan, and being a fitting lonely tribute to the city that never sleeps. "Help Me If You Can" is reminiscent of more great singer / songwriter material such as tracks by Aimee Mann, and includes the great line, "Some people fall in love and some people go to jail / And some folks sit alone listening to Blood on the Tracks." Doesn't that just say it all about society? Thankfully, I have only fit into two of those categories.
"Winterlight" is another stellar track with near hip-hop drumbeats accompanying piano and harmonica. I can picture the song as a live favorite when the guitar and drums take over during the bridge and the song becomes an invitation to a handclapping jamboree. It takes some bands years and years to write a song as good as "Winterlight" and Roman Candle got it on their first attempt (and four extra refinement years). "Merciful Man" is another keeper, a bit slower and breathier, showing a more intimate side to the clever and rocking combo.
The Wee Hours Revue may have been over four years in the making, but think of it as fine wine or a good cheese, it needed to be aged, and now it's ready for consumption. Roman Candle's story is a lesson in believing in your dreams. Not everyone can be `discovered,' but talent always wins out in the end. So, break out the fireworks, Roman Candle has arrived.
Similar Albums:
Jason Collett- Idols of Exile
Drive-By Truckers- A Blessing and a Curse
Bob Dylan- Nashville Skyline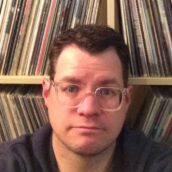 Terrance Terich
Terrance Terich firmly believes that 1985 is the best year for music. He lives near Seattle with his books, movies, and music.