Taste Test: An indie rock food products review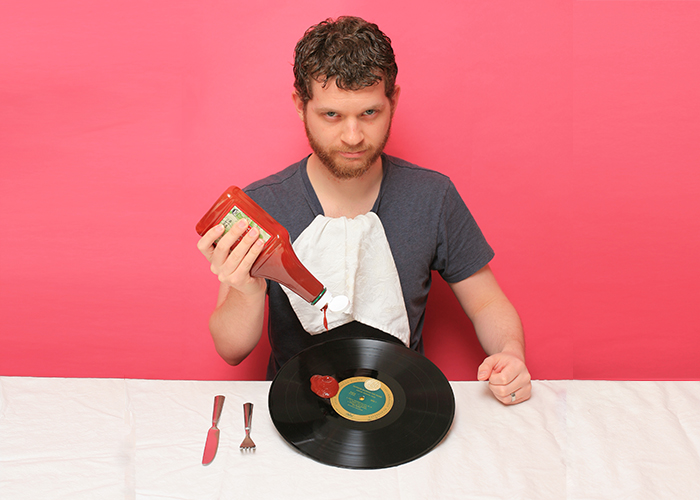 Every band needs merch. It helps pay for gas and food on the road, it offsets some of the expenses of being in a band, and if it's cool enough, acts as its own kind of marketing tool. Increasingly, however, more bands are putting their personal stamp on edible or drinkable items. A lot of bands have their own beers — Mastodon, Mötörhead, Frank Turner, Iron Maiden and The Hold Steady, to name a few. Tacocat has their own flavor of ice cream in Seattle. And for a while, you could get homemade chocolates from Xiu Xiu. We've been intrigued by this idea for a while, to the point that we couldn't help but set out on an excursion to taste some of the delicacies that our favorite musicians have been cooking up for us. In this taste test session, we dipped our spoons into some pasta sauce, spiced up our appetizers with some hot sauce, washed it down with beer and finished up with some coffee.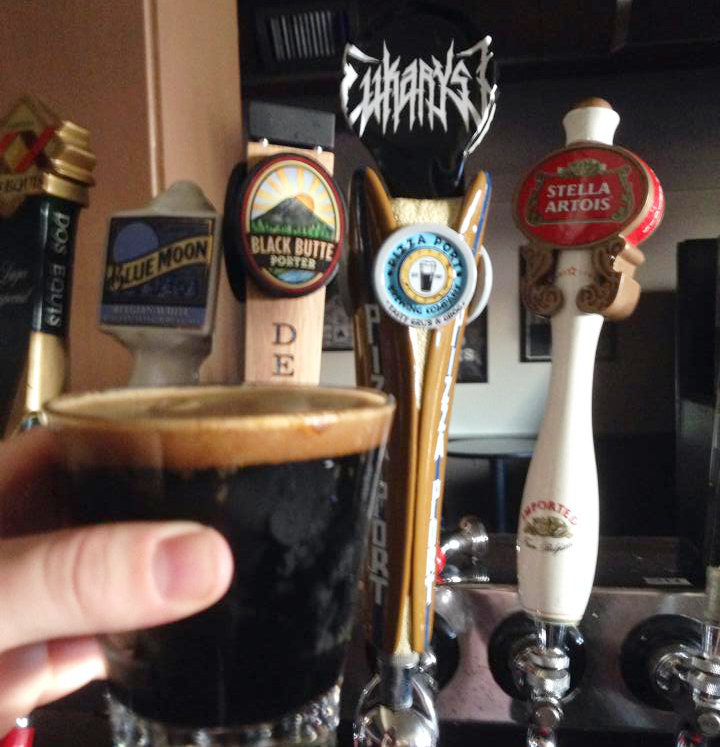 Pizza Port Eukaryst Imperial Stout
J: Eukaryst isn't as widely known as the other artists on this list; they're a death metal band from San Diego, a town not really known for its death metal. But that said, they're actually quite good, boasting an epic sound that has the accessibility of Carcass or Skeletonwitch. Accessibility being a relative term when it comes to death metal. Like local favorites The Burning of Rome, Eukaryst has their own namesake beer, which is — like their music — dark, heavy and intense. Even when poured on tap, it's meant to be served in a smaller pour than your typical pint. Frankly, a pint of this stuff would get you pretty darn hammered. But at least you'd be getting drunk on the good stuff.
C: This beer is not for the weak. It packs a serious punch, both in flavor and alcohol content (11 percent). The initial sweet, boozy flavor is followed up with just a hint of a tanginess. The brew was aged bourbon barrels, which you taste right away. In fact, you can smell the bourbon flavor before you even take the first sip. I'd have it as a nice "after-dinner beer, " almost like a beer aperitif. You certainly shouldn't be pairing this with a salad on a summer day, though.
Note: This is only available on tap. We had it at Soda Bar in San Diego.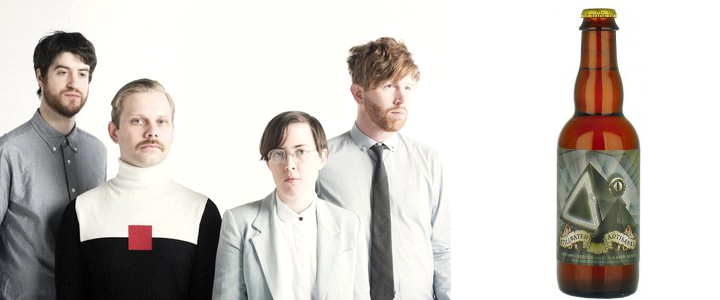 Stillwater Sensory Series v.1 – Lower Dens
J: Lower Dens' Nootropics is a highlight from 2012 — a krautrock-informed psychedelic pop record with some solid hooks and layered melodies. The most natural pairing would probably be a drink with a larger sense of mystique, like an absinthe. But Lower Dens collaborated with Stillwater on their own beer, which is a lot more accessible than absinthe. It's light and refreshing, with some mild spice notes to it. It's highly drinkable; while it's not available as widely as PBR, you could easily fill your cooler with this beer at a party and please both your beer snob friends and your "I'll drink anything" party animal buds as well. But who invited them, anyway?
C: Even though this beer is made and distributed by a reasonably well known craft brewer, I felt like I was drinking a home brew. The label even looks like it was printed on a home inkjet printer. For those drinkers that get turned off by the big, bold flavors that a lot of American craft brewers are into, this beer is for you. It's a very light ale with mild flavors. The beer pours beautifully with a golden color and a nice head. Though it's brewed with hibiscus, I mostly notice the wheat flavors. A solid choice for a summer brew at your next picnic.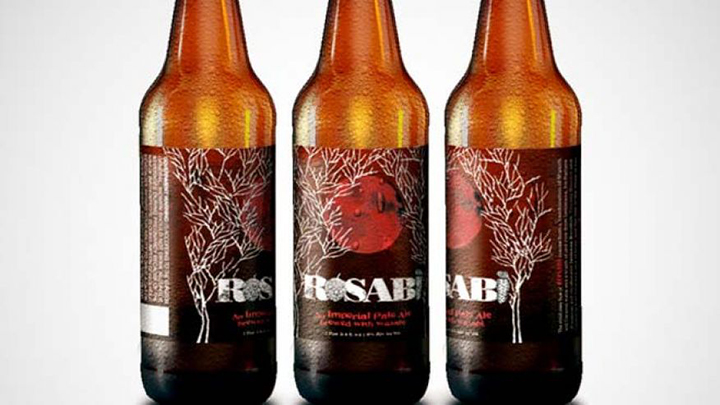 Dogfish Head Rosabi
J: Here's another pairing that seemed interesting to me. Dogfish Head collaborated with experimental vocalist Julianna Barwick on a special brew, which was released in conjunction with a special EP that features not only Barwick's vocals, but sounds of the brewery as well. (Pretty cool, right?) So when you get a brewery with a reputation for great-tasting and innovative beers, and match them up with an equally unconventional artist, what you get is a beer that stands out from most others. Barwick helped choose the ingredients, which include red rice and wasabi. It's not necessarily like tasting a beer brewed with jalapeño or habañero, however — the wasabi is subtler. You can definitely taste it, but it's not an overpowering flavor. Frankly, the floral, rosy, ever-so-slightly wasabi'd beer is basically delicious.
C: This was definitely my favorite of the beers sampled. Right away, you notice the impact of the red rice in the beer's color, which is a gorgeous rosy golden hue. The hop flavor is bold but not overpowering and is complemented by a nice floral fragrance. A beer with wasabi sounds like it could be painful (potentially too much zing to actually taste the beer), but that's not the case at all. I kind of wish I had another one in hand right now.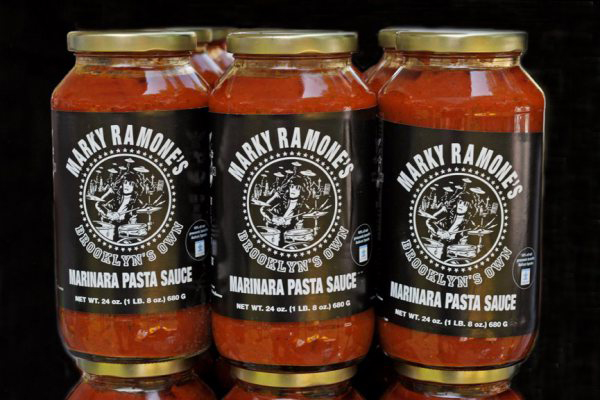 Marky Ramone's Brooklyn's Own Pasta Sauce
C: This was the product that I was most excited to try. I mean, Marky Ramone? Pasta Sauce? The beers I get; you drink lots of beer while watching bands (at least I do). But what would inspire a nearly 60-year-old punk legend to make pasta sauce? And what would it taste like? Spoiler alert: It tastes great.
First off, the packaging it terrific. And there are plenty of amusing tidbits on the label, like a recipe for baked eggs that is described as "drumlicious." We tried the sauce with some spaghetti alone and again with meatballs and Parmesan cheese, and I was immediately struck by the flavor. You get fresh tomatoes and lots of garlic, but what makes it really good is what you don't taste: sugar and preservatives. There aren't either of those in this sauce, and it makes a difference. The natural flavors of the tomatoes, garlic, onions and basil all come through cleanly, which is delightful.
J: Everybody loves The Ramones. Everybody. If you say you don't, then you — as Treble contributor Stephen Chupaska once said (about a different band) — then you have no capacity for joy. And if you say you like punk, but don't like The Ramones, then I'll tell you where you can stick that 'tude. You don't come into my house and tell me you don't like The Ramones…
OK, sorry, I'm getting a little worked up and I'm supposed to be talking about the sauce. Basically: What Candice said. I generally have lukewarm feelings about most pasta sauce in a jar, because it tastes like corn syrup. It's ketchup with flecks of oregano in it. Nobody wants that on their pasta, do they? I don't. So, thankfully, Marky Ramone's sauce bears no resemblance to Ragu. It has a fresh, savory flavor with herbs and garlic. It's simple and straightforward, and tastes exactly how you want pasta sauce to taste. I don't know if I'd say it's punk, but given the prevalence of saccharine in both mass-market pasta sauce and major label pop-punk, then come to think of it, it just might be.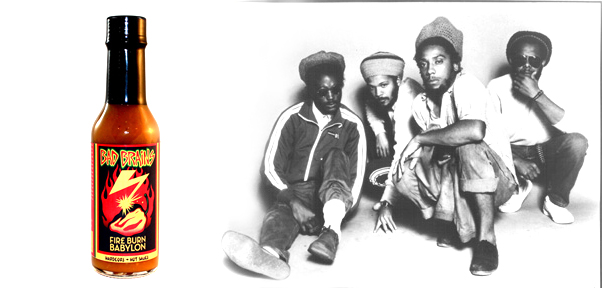 Bad Brains Fire Burn Babylon Hardcore Hot Sauce
J: Bad Brains is one of the greatest hardcore punk bands of all time. If not for the weird placement of a few awkward-fitting dub tracks (couldn't have been a separate 7-inch?), their 1982 debut might be the best hardcore album ever. (The actual best hardcore album is perhaps a trifecta of Zen Arcade, The Shape of Punk to Come, and Converge's Jane Doe.) Anyhow, the sauce the D.C. group slings is dubbed "Hardcore Hot Sauce," and as such I went in expecting something pretty brutal. And it's hot — there's no getting around that. But it's not so much the heat that stands out as its fruity flavor, which adds a unique stamp that most other hot sauces don't have. That's pretty important, when you get down to it. Hot sauce needs to be hot, but if there's not much flavor beyond burning the surface of your tongue, then what's the point? I've suffered a lot for spicy food, but only when it was worth it. I imagine I'll be making my way to the bottom of this bottle in due time.
C: The fun thing about doing these reviews is that each product really surprised me. I'm not sure what preconceptions I had of each product per se, but whatever they were, each tasting gave me something totally unexpected. This hot sauce was no exception. Most hot sauce, no matter how spicy, always comes off a little smoky to me. Not this one. Instead, the first flavor notes are more of a tangy vinegar taste, with a little bit of fruitiness from the papaya. But it also packs quite a punch. As someone who likes quite a bit of heat, I thought it walked the line nicely between mouth-punchingly hot and still edible. Give this unique sauce a try.
Interesting side note: the label was designed by Shepard Fairey, and our shipment arrived with a hand-signed note from Darryl Jenifer.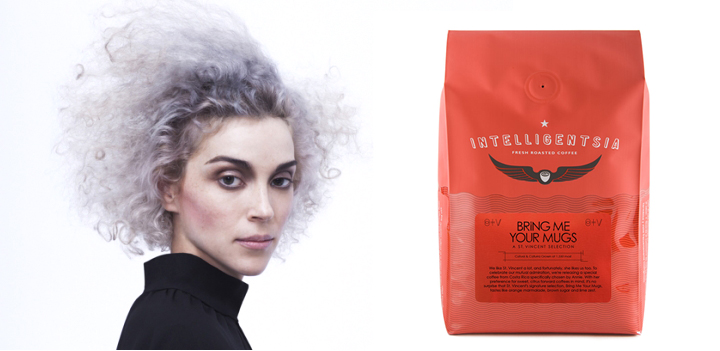 Intelligentsia Coffee "Bring Me Your Mugs" – A St. Vincent Selection
C: This was the one product that Jeff and I disagreed on. Intelligentsia says it chose these beans (from the Dota Cooperative in Costa Rica) because Annie Clark enjoys more "fruit-forward, bright coffees," and boy, is that what you get with this brew. The beans are light in color, which should have been my first clue that this coffee was not for me, but I was drawn in by the delicious aroma. It ground unevenly, but I blame our poor-quality grinder for this. When I took the first sip, "bright" and "fruit-forward" are definitely what came to mind… but in a kind of overpowering way. Can something be too bright? It was for me. I missed the deep, dark flavor of my usual roast. I'm so sorry, Annie. So very, very sorry.
J: I think I need to preface by saying I drink a lot of coffee. A lot of coffee. I'm not a man of vices. The closest I come to having any are binge record shopping, beer and coffee. I don't smoke or do drugs — I just drink a lot of coffee. And as a result of this, I tend to be a little particular about what I'll drink. Starbucks is usually a last resort — the blonde roast is bland, and too many other coffees on their menu are overroasted. And I once had an existential crisis when there was nothing left in a nearby grocery other than Maxwell House. But I appreciate a range in my coffee — much like I do in my musical tastes. So it was refreshing to get a much brighter flavor out of "Bring Me Your Mugs" than I was expecting. It's more acidic than my usual breakfast coffee, with some strongly pronounced notes of citrus — bold without being overly bitter.
It's kind of a fitting companion to St. Vincent's newest album, actually — there's a brightness about it that's invigorating and unexpected. But it still gives you exactly the jolt you need.