The 90 Minute Guide: Halloween Party!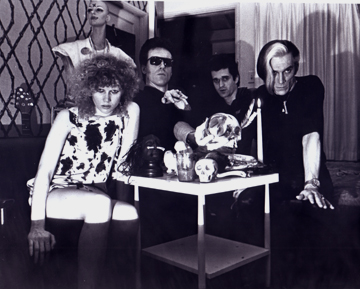 We've done the scariest songs ever. We've done murder ballads. But up until now, Treble hasn't compiled its own list of the best Halloween party songs. We were thinking now would be a great time to do that, just so we don't seem as creepy and antisocial as we've let on in the past. (Really, we're not). No, this year, we're all about having a spooky good time, but we're avoiding a lot of the expected Halloween standards—"Thriller," "Monster Mash," "Somebody's Watching Me," "Ghostbusters"— in favor of some great, underrated but highly recommended ghost jams. Play this next Saturday and we guarantee your shindig will be where all the monsters are going to want to hang.
Happy Halloween!
Side One
Bauhaus – "Dark Entries"
There's a 99.9 percent chance you will hear some Bauhaus on Halloween, and with good reason. This is the band that wrote "Bela Lugosi's Dead," after all, and whose frontman Peter Murphy hung upside down like a bat at Coachella. As much as we love "Bela," however, "Dark Entries" is manic and creepy enough to get the party started faster, with Daniel Ash's descending riffs and Murphy's ominous vocal performance. It's essentially an instant Halloween party for those with a punk rock streak.
Tom Waits – "Cemetery Polka"
There are ghosts and ghouls and unsavory characters throughout most of Tom Waits' career, and "Cemetery Polka" basically combines all of those elements into one silly and spooky two-minute jig. Its depiction of various "aunts" and "uncles" with addictions to hookers and pills, and jobs playing accordion, is like a more adult version of Disney's Haunted Mansion. Why this never became a standard like "Monster Mash," I'll never know.
The Birthday Party – "Release The Bats"
Nick Cave is one creepy mofo, and was even more so during his days with his demented post-punk act The Birthday Party. His howls and grunts in "Release the Bats" may convince any listener that the Australian singer is part beast himself, but the song's abrasive rockabilly beat is enough to inspire plenty of drunken revelry among costumed partygoers. Now everyone shout in unison: "BITE!"
Suicide – "Ghost Rider"
Suicide is responsible for writing what's essentially the scariest pop song of all time: "Frankie Teardrop." But play that ten-minute nightmare at a party and you might put an unexpected halt to the festivities. "Ghost Rider," meanwhile, is still eerie and a bit disturbing, but a lot more fun. Its hyperactive drones will get the goblins dancing and leaping around, while Alan Vega's narration of the infamous flaming-skulled anti-hero will wipe your memory clean of Nicolas Cage's portrayal of the haunted biker.
Sonic Youth – "Halloween"
Alright, so, this may be a bit weird for those expecting "Thriller," but Sonic Youth's "Halloween" is an underground classic. Nonetheless, there is something very, very unsettling about this track, with its atonal rumblings and Kim Gordon's vulgar shouts. The way it builds, however, one almost expects a homicidal maniac to come rushing in as the song reaches its climax. It's not Halloween without a good scare, right?
Bad Brains – "Fearless Vampire Killers"
Punk rock and Halloween go together like coca-cola and pop rocks, so no October 31st mix is complete without a few three-chord throwdowns. And if you're the type who has reached the end of his rope at the endless stream of dreamy Hollywood vampires (Twilight, True Blood, Vampire Diaries, et al.), then this should provide adequate catharsis. Also: pairs well with Lost Boys on mute.
TV on the Radio – "Wolf Like Me"
If there's anything those vampire serials have taught us, however, it's that vampires and werewolves are natural born enemies. Why? I have no fucking clue. I'm still waiting for a reasonable answer, but regardless, TV on the Radio's mega-catchy werewolf jam is a Halloween essential. It's fun and supernatural, and just a great song all around. Come to think of it, it's a very thinly veiled song about carnal desire, so, really, it makes perfect sense that those uptight abstinence vampires would have a problem with these lycanthropic lotharios.
PJ Harvey – "Meet Ze Monsta"
Polly Jean Harvey may sing, "I'm not running/ I'm not scared," but on this highlight from 1995's To Bring You My Love, she conjures up some vicious, unholy blues that sounds quite intimidating. And yet, it's damn sexy. The way she sings, "big…black…mon-soon," is quite seductive. Yet this song just doesn't sound quite right until the moon is out and the spirits begin to prowl.
Mekons – "Big Zombie"
By the mid-80s, Leeds punk legends The Mekons had mastered an increasingly country-influenced punkabilly sound, albeit one with lots of accordion. So, given their sound and their sense of humor, it only made sense that they would come to celebrate the undead with a big, blazing hoedown of a tune. No disrespect to the Man in Black, but this song should have been playing in the trailer for Zombieland, rather than a remixed Johnny Cash tune. It hops and skips, hoots and hollers, as Jon Langford sings of roaming the highway before reaching the grin-worthy, singalong chorus of "I'm just not human tonight."
Andre 3000 – "Dracula's Wedding" (featuring Kelis)
In the past decade, a few eccentric hip-hop artists have released their own miniature "Thrillers," Gnarls Barkley's "Boogie Monster" being a particularly fun one. A few years prior to that, however, fellow Atlanta resident Andre 3000 turned out his own haunted house party with "Dracula's Wedding," a quirky commitment-phobic tune from the perspective of Dracula himself. Mr. Benjamin sings "You're all I've ever wanted but I'm terrified of you/ My castle may be haunted but I'm terrified of you" over ooky-spooky harpsichord and contrastingly cartoonish Moog glurps. Andre seemed to rectify that fear later on in UGK's "International Player's Anthem," but for a time he channeled that angst into something as sugary and satisfying as a bowl of Count Chocula.
Gun Club – "Ghost on the Highway"
I'd like to say no Halloween is complete without The Gun Club, but I'm well aware that most Halloween parties won't be playing any tracks from Fire of Love this October. That doesn't mean they shouldn't, however. Gun Club's Jeffrey Lee Pierce had a strange and harrowing singing style, frequently sounding as if spirits were compelling him to howl his torrid tales. Just about any song from the group's first album is an All Hallow's Eve essential, but if one stands out as just a little bit more ghoulish than the rest it's this bluesy, fiery tune, filled with some of Pierce's most devilish howls and awesome guitar riffs. The song accelerates from its revved up beginning to its riotous chorus, but its consistent level of intensity suggests that the ghost is never all that far behind.
The Cramps – "Human Fly"
Halloween is definitely incomplete without The Cramps, and while every Halloween party should be playing Gun Club, there's a better chance you'll hear The Cramps at some of the spook-outs you attend this year. Poison Ivy's descending guitar riffs at the opening of "Human Fly" mimic the sound of little insect wings, while Lux Interior (R.I.P.) vamps like the weird and sexy bug that he is. It's nowhere near as gross or disturbing as Cronenberg's version of "The Fly," but that's probably for the best. This one's a lot more fun.
Gravediggaz – "Diary of a Madman"
Gravediggaz approximate what it might sound like if Wes Craven were to start a hip-hop group. While many of the gangsta rappers of the early '90s painted a pretty gritty and violent picture, Gravediggaz took it a bit further by adding a lot more splatter to their storylines. The violence was borderline comical at times, but in "Diary of a Madman," the closest thing they had to a hit, Gravediggaz delivered a diary entry from the criminally insane, complete with eerie samples backing their deranged confessions. It's a bit over the top, certainly, but then again, so is Nightmare on Elm Street.
Side Two
Tom Waits – "What's He Building?"
It seems that in every neighborhood there is that one house – a bit dilapidated and unkempt, not very well lit, shrouded by an overgrown yard – where everyone is afraid to Trick or Treat. Usually just an elderly person who lives alone, maybe a bit of a curmudgeon…but, for some reason, imaginations run wild and kids often end up scaring themselves and their friends with made-up tales of disappearances, witchcraft, or other sinister occurrences. On "What's He Building?" Tom Waits satirizes similar middle-class suspicion, channeling the fear of the unknown amongst those who should know better by now into a web of speculation and paranoia. The ambiance of the song is masterfully crafted; featuring enough creaks, clanks, bumps and moans for any Halloween sound effects tape, the tension and terror is palpable. And while it starts out sounding like unfounded rambling, with his accusatory, guttural drawl and increasingly troubling allegations Waits starts to chip away at your resolve and make you feel a bit uneasy: "What's he building in there? / I'll tell you one thing, he's not building a playhouse for the children." Paranoia is a powerful thing.
Justice – "Phantom"
"Haunted House" is a term that's been applied to masked Swedish electronic duo The Knife, but the term seems particularly apt for this song by French disco duo Justice. Only in this case, the apparitions are more likely to be getting down and having a drunken blast. With sinister, distorted grooves and a few haunting loops, Justice makes a badass dance track that's as fun as it is fiendish. Maybe it's not that scary, but you don't usually call a song "Phantom" for nothing.
M83 – "Graveyard Girl"
Really, there's nothing scary about this song. It's a bright and sunny track, reminiscent of 1980s new wave classics like "Pretty in Pink" or The Cure's "In Between Days," with traces of The Cocteau Twins and My Bloody Valentine as well. But in conjuring up these sounds of John Hughes movies, Anthony Gonzales likewise brought to song the feeling of being a teenager, albeit one who kicks it with Death and worships Satan. It's a sweet little ode to the most gothic of goth girls, and not the slightest bit cheeky. If only all Satan-worshipping girls seemed this dreamy.
The Pixies – "Dead"
There's something awfully unsettling about Joey Santiago and Black Francis' squealing slices of guitar in "Dead." Its atonal shriek stalks like an unholy creature of the night, only occasionally pausing for an opportunity to invite in a melody or two. Meanwhile, Black throws out some Bible-referencing lyrics and bleats the song's title as if he were afflicted with Tourette's. Yes, something very strange is going on here, indeed.
Clap Your Hands Say Yeah – "Satan Said Dance"
The Prince of Darkness is a mysterious and powerful figure, often personified as a businessperson of sorts, brokering the "Faustian" deal as it has come to be recognized in literary terms. Cough syrup or holy water alone won't get him to vacate the premises either, you'll probably need an exorcist to get him good and gone. And let's face it, sin never really goes out of style. So when Satan compels you to move those feet and shake that ass, it's probably going to happen. Clap Your Hands Say Yeah even made a kickass disco-rock single out of the idea, making the title refrain not a request but a command. Alec Ounsworth's nervy, shaky vocals always sound a little bit uneasy, but he sounds eerily calm singing Satan's name, while a backup chorus shouts in response "Said Dance!" Try your hardest not to comply, it's quite futile.
The Specials – "Ghost Town"
It opens with spooky and campy old time horror movie organ, before easing into a groove that's equal parts dub, Morricone and haunted house soundtrack. Of course, the reality behind the song was a bit scarier—the violence and decay in Coventry, where the band originated, was so pervasive that nobody wanted to go out at night. Although the song applied to the UK as a whole, its crumbling economy and the Thatcher age: "No job to be found in this country/ Can't go on no more/ The people getting angry." It's still a chilling song 28 years later, and made for a perfect addition to the brilliant Shaun of the Dead. And after seeing the global economy tank in the last two years, it seems more apt now than ever.
Misfits – "Astro Zombies"
I've heard people suggest that the best Halloween playlist one could make is two Misfits albums back to back, on repeat. It's hard to argue with that. The ghouls, the makeup, the melodies, the camp value—everything you need for scary debauchery is in a Misfits song. This one in particular, in which Glenn Danzig sends his team of undead creeps to destroy the earth is even, sort of, a love song. At the very least, you get that impression as he asks, "Who am I doing this for, hey, me or you?" I'm flattered, but really, you…uh…shouldn't have?
Pink Floyd – "Lucifer Sam"
Pink Floyd was at their most mischievous when Syd Barrett was at the helm. It was a relatively short-lived period, but it produced the group's most interesting and bizarre compositions, such as this, which invokes the name of the Dark Lord himself. Now, the song doesn't make a whole lot of sense, but there is a bit of evil in its surf-inspired guitars and acid-fried organ drones. Its vintage psychedelic sound makes for a fine enough Halloween soundtrack, but Barrett's bizarre verses make it all the better.
Girls Against Boys – "Disco Six Six Six"
There's an old joke about a guy who finds out he's going to Hell and becomes quite distraught, only to be told he shouldn't worry because all his friends will be there anyhow. Less reverent types can probably relate, or at the very least appreciate the humor behind it, and Girls Against Boys definitely seem to fit that mold. In spite of the ragged clothing, flames and pitchforks, the River Styx is probably just lined with nightclub after nightclub, flowing with booze, casino games and some noisy music. Throw in a few half-naked devil ladies and you've got a Coop poster in the making I suppose, but this song is fun and fiendish, even for those not entirely willing to commit to the full gamut of hedonism.
Viva Voce – "From the Devil Himself"
Songs about greed in the record industry are a dime a dozen, just ask Clipse, Tricky, Cracker…the list goes on. For Viva Voce, the tale of the predatory executive and the haunted artist takes on a different sort of narrative, recalling Robert Johnson and his meeting with the devil at the Crossroads. It's got an upbeat and dirty groove, hand claps aplenty, and middle fingers as far as the eye can see: "You were sent from the devil himself to me/ And I'll see you in hell before we're through/ `cause I got nothing to prove to you." And yet it's still fun enough for the monsters to sing along, "hey now, you're gonna get your blood sucked out."
Wolf Parade – "It's A Curse"
Okay, well, why not close out the party with one more song about zombies? And one that rocks pretty hard at that. As the Canadian four-piece hammers out some supernatural hooks, Dan Boeckner narrates an oncoming visit from a group of skin-eaters: "Just the other night/ Body twisted in a pattern/ You know they stare at the light/ They are too dead but the body don't mind." There may be a deeper meaning somewhere in there, as most zombie or vampire songs tend to contain, but it's easy to overlook when a song is this much fun.