The 90-Minute Guide: New Wave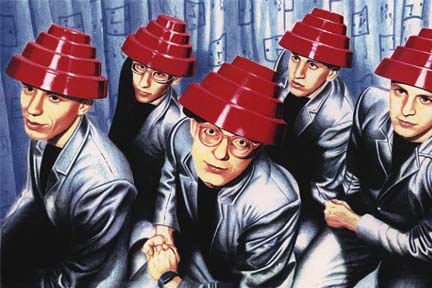 A few months ago, when we were going over the tallies for Treble's best albums and songs of the year, it struck me that many of the year's best artists released records strongly reminiscent of my favorite new wave records. Santogold (who now goes by Santigold), Cut Copy, M83, Ladytron and Neon Neon all released some of the best new wave records I've heard in years. Of course, this got me thinking about the genre as a whole, and just how fertile the new wave era was for talent.
When I hosted a radio show in college, I devoted one three-hour block to new wave and post-punk music, doing my best to discern between the two. This, of course, started some debate over what could be classified as new wave, and what could be classified as post-punk. Historically speaking, new wave was punk, at least at first. But as time went on, from the late '70s into the early '80s, new wave came to represent punk rock's ascent into mainstream pop songwriting forms. It was almost contradictory, how punk rock bands were starting to become what they initially rebelled against. But this was not pop music by numbers. Even the biggest hitmakers were carving out unique stylistic paths.
New wave represented a turning point in music, a renaissance for pop bands reared on punk rock, Krautrock and glam. Even the most precious of new romantics were blazing adventurous paths beneath all the eyeliner. In creating this installment of the 90 Minute Guide, I had to make some tough choices. After all, it's hard to compress this particular movement into 90 minutes. But as I hinted earlier, post-punk is another matter altogether, and a movement that had some crossover with new wave, so that, too will warrant its own guide in the weeks to come, as will punk. But for now, new wave.
Side One
Elvis Costello – "No Action"
There's no more appropriate way to start any new wave mix than with the man who best combined its punk rock roots with its perfect pop future: Elvis Costello. While My Aim Is True was his first album, and a pretty spectacular one at that, it wasn't until this leadoff track to sophomore effort This Year's Model that we really got to hear the punk rock energy set into motion. "No Action" is two minutes of buzzing organ, taut, clanging guitars and Costello's own bilious snarl, "Every time I hold you, I just wanna put you down." That it's a perfect pop song just drives the point home of why music nerds hold Costello to such high esteem, particularly while he was with the Attractions. And like many of the other artists represented here, new wave was really just the beginning.
Download at

Duran Duran – "Planet Earth"
For quite a while, Duran Duran were viewed as teen idols first, and a rock band second. Nevermind the fact that they were true innovators, marrying the glam rock of Roxy Music, the disco funk of Chic and the synth pop of The Human League for a prime blend of bubblegum pop and serious chops. They were awfully pretty, however, and because of that we have them to thank for coining the term "new romantic," which comes from this very song. John Taylor's bassline drives the song, snapping with a funk that does Nile Rodgers proud, while Nick Rhodes' ethereal synth cuts through the rawness with an otherworldly sheen. Sure, they lived the lives of playboys, but that doesn't take away from just how incredible their first few albums were.
Download at

Adam and the Ants – "Antmusic"
On the subject of "new romantic," Adam Ant took the idea to a theatrical extreme, donning warpaint and pirate garb while transitioning from an abrasive punk sound to a drum-heavy sound that's come to be recognized as an Ants staple. "Antmusic" is their mission statement, an introduction to a new form of music with a brash and confident delivery: "unplug the jukebox and do us all a favor/ when that music's lost it's taste, then try another flavor…antmusic!" Truth be told, Adam & The Ants essentially were a genre all their own, though they weren't the only ones to wear makeup and odd costumes. They just did it better.
Download at

Prince – "Head"
Prince, like a good many other artists in this here 90 Minute Guide, is not a new wave artist per se. He's not really any one thing, other than Prince. Like David Bowie, he's morphed so many times over the course of his three-decade career that you almost have to divide into eras to make sense of it. But early Prince, pretty much up until Purple Rain was new wave at its most adventurous. He played a deep, synth-driven Minneapolis funk that was dangerous, androgynous and dirty. And this song — a highlight from 1980's Dirty Mind — is that idea to the nth degree, a song about seducing a soon-to-be-married woman with the promise of cunnilingus. Damn, this grooves.
Download at

English Beat – "I Confess"
The English Beat is most commonly regarded as a ska band, but in spite of their deep reggae influences, they were a pop group at heart. And they wrote some of the most well-crafted pop songs of the '80s, including, among many others, "Mirror in the Bathroom," "Save It For Later" and "I Confess," which is their most soulful hit, similar to late Jam or The Style Council with its piano hooks and classic sensibility. Yet Dave Wakeling's lyrics are, as the title would suggest, drunken confessions from a down on his luck bastard who with desperation and resignation sings, "I've ruined three lives/ and didn't care till I found out that one of them was mine."
Download at

Gary Numan – "I Die: You Die"
Gary Numan had a bit more success in the UK than he did in the states. In fact, you're more likely to find someone across the pond who knows a Numan or Tubeway Army song other than "Cars" than you are on this side of the Atlantic. It's a shame, really, because Numan's prior and subsequent output (before he started to sound too much like a British Prince) is actually quite stunning pop. He could wield a Moog better than anyone, best evident in this 1980 single, which features a hook even mightier and, dare I say, catchier than that of "Cars."
Download at

The B-52's – "52 Girls"
Athens, Ga.'s unending lineage of contributions to pop music pretty much begins with The B-52's, a band who, to this day, has essentially no equal. Quite frankly, they were weird. Really weird. With a sound that combined garage rock, science fiction and surf music, not to mention the wacky fashion and B-52 hairstyles, The B-52's were and still are one of a kind. They never sounded more off the wall than on their self-titled debut, however, which featured this scratchy gem, a track that isn't nearly as famous as their hit "Rock Lobster" (which I almost picked but would have made this longer than 90 minutes, btw) but rocks just as hard.
Download at

Devo – "Gut Feeling/Slap Your Mammy"
Devo's funny hats and peculiar uniforms may have made them gawk-worthy on TV, and when they claimed to come from "the future" on American Bandstand, they likely just confused more people. Their Brian Eno produced debut Q: Are We Not Men? A: We Are Devo! is what made them legends (that and the video for "Whip It"). Still cultivating the synth pop sound that they would soon popularize in the United States, Devo were more of a spastic punk-pop band in 1978, writing wiry, progressive and abrasive rock songs such as this epic, with its odd meter, incredibly long intro and Mark Mothersbaugh's acid-tongued, neurotic howls: "something about the way you taste makes me wanna clear my throat." Its inclusion in The Life Aquatic With Steve Zissou is further evidence that the soundtrack was better than the movie.
Download at

The Jam – "That's Entertainment"
Mod revivalists The Jam may have initially been more of a punk band than anything, but by fourth album Sound Affects, the group had fully embraced pop, borrowing from the Beatles on "Start!" and penning a glorious ballad with this single. Essentially a laundry list of everyday occurrences in lower class life in Britain, there's a cynical bite to it, just like any of Paul Weller's best. And legend has it he wrote the song in ten minutes after coming home drunk from the pub. Now that's an entertainer.
Download at

Blondie – "Heart of Glass"
Blondie did what few bands of their kind dared to do in the late '70s, namely embrace disco. After all, they were as snotty and obnoxious as any other punk band in 1977. What set them apart was a willingness to evolve and to experiment with new styles. They did it with hip-hop when they released "Rapture," but even before that they set a bittersweet pop song against a funky dancefloor beat with Parallel Lines closer "Heart of Glass," which has aged remarkably well. Maybe it has something to do with not being in a Swiffer commercial. Nonetheless, it doesn't require too much hard thinking to figure out that a platinum blonde diva like Deborah Harry (and five dapper chaps—sorta like Robert Palmer in reverse) deserves at least one glorious crossover pop hit to her name.
Download at

Side Two
Talking Heads – "Born Under Punches (The Heat Goes On)"
Talking Heads initially gained notoriety for being one of the only bands in the New York punk scene in the late '70s that didn't use distortion. In fact, the spare, clean sound on Talking Heads '77 still sounds unusual for that very reason. That was just the beginning, however. By 1980's Remain In Light, they had evolved in a way that saw them incorporate dance music, funk, ambient, African rhythms and pure pop into their already unique style. "Born Under Punches (The Heat Goes On)" is the most radical of the band's pop experiments, managing to incorporate all of the above into one intense, awe-inspiring six minute pop song. In a way, this almost seems too advanced to lump into one category, but I suppose that was the exciting thing about new wave—it really was a new frontier.
Download at

Stranglers – "(Get A) Grip (On Yourself)"
Part of me thinks that The Stranglers probably should be included in the 90 Minute Guide to Punk, but another part of me thinks that they were too arty, too prog, too just plain weird to really fit in with that crowd. That they could swing from the garage sleaze of "Peaches" to the ethereal pop of "Strange Little Girls" to the baroque "Golden Brown" is a good indication of how wide their pendulum swung. Their best pop single was "(Get A) Grip (On Yourself)," a dizzying mix of bubbling synthesizers, squealing saxophone and marching punk rock beats. Best of all was the band's sense of humor, best displayed in Hugh Cornwell's line "begged and borrowed, I admit I even stole/ but the worst crime I ever did was playing rock and roll."
Download at

New Order – "5 8 6"
The obvious choice for a New Order song on a new wave mix is "Blue Monday," which is the band's signature song, and breakthrough '80s hit. I realize the same case could also be made for "Bizarre Love Triangle," but I'll stick with my original thought. But "5 8 6," named for the chord progression of "Ecstasy," also from Power, Corruption and Lies is like the twisted evil twin of "Blue Monday," with loops cut and paste in the middle of a progressive dance track that maintains an accessible melodic sensibility, even in the midst of its chopped-up Kraftwerk-gone-disco throwdown. I could probably write a novel on New Order's music, let alone an entire 90 Minute Guide of their own, but for now, this song represents the era's most compelling and most successful experiments.
Download at

Split Enz – "Six Months in a Leaky Boat"
You rarely see Split Enz's Time and Tide included on any "best of the '80s" lists, which is unfortunate, not only because New Zealand loses out on representation, but also because, quite frankly, it's an outstanding record. In particular single "Six Months In a Leaky Boat" stands out for its unforgettable melody and swirling synthesizers, but even more so, it's one of a few new wave hits that uses the settling of their homeland as a metaphor for depression. Furthermore, Tim Finn even calls New Zealand by its Maori name—"Aeotearoa"—which is a fun bit of trivia on its own. It's a sophisticated and touching song, not to mention one with a bit of history attached, revealing that some of the best music of the '80s (and since) has come from down under.
Download at

Orchestral Manoeuvres in the Dark – "Souvenir"
About six years ago, not long before Treble launched, my brother mentioned that he thought OMD was a horribly underrated band. And here we are, five years into this here Web zine, and even we haven't written much about the UK synth pop group. Their 1981 album Architecture and Morality is arguably their strongest, though others have made the case for Organization or Dazzle Ships. But A&M is a bit less abstract and concept-driven than the latter and brighter and more vibrant than the former (though it does have the classic "Enola Gay"). This track is a standout from that album, a subdued and mysterious synth ballad fit for a slow dance.
Download at

Human League – "Empire State Human"
The obvious choice among Human League albums to highlight is Dare, a perfect synth pop album if there ever was one. Before that, the band recorded some truly dark and sinister music. Some of the tracks on Reproduction are outright scary. However, its single "Empire State Human" is actually kind of silly, with lyrics about people turning into buildings and whatnot. Nonetheless, it's a mesmerizing and hypnotic song, extremely catchy and certainly unique. It's not hard to understand why this song isn't as well known as "Don't You Want Me," it's just a bit too weird. It's also brilliant.
Download at

Aztec Camera – "Oblivious"
New wave wasn't all punk guitars and big, analog synthesizers. In fact, in Glasgow, a group of post-punk acts (some of whom will be featured in a 90 Minute Guide to come) were opting for a melodic jangle pop sound. Aztec Camera is the most famous of these, who had a number of hits, including a cover of Van Halen's "Jump" and this track, a stone cold classic that even managed to end up on local station 91X's listener's choice Top 500 about 10 years ago, in spite of a formatting shift that saw them playing more Disturbed and Breaking Benjamin in recent years. Still, this song is a smart pop gem, one that has aged better than most. I'm actually waiting for the moment that High Land, Hard Rain gets its own deluxe reissue, though I'm not holding my breath.
Japan – "Swing"
Japan was the artiest of new romantic bands, their albums like Gentlemen Take Polaroids and Tin Drum showing off a band that was as abstract and as foreign as they were accessible and seductive. Duran Duran was even influenced by the band to the extent that Nick Rhodes was a dead ringer in appearance for frontman David Sylvian. Gentlemen is arguably the band's best album, the breakout long player that found them breaking free from their early glam rock sound and into an icy and sexy new wave approach. "Swing" is a notable standout from that album, an exotic and danceable treat that's one of the most adventurous tracks of its time.
Download at

Sparks – "Beat the Clock"
The first adjective that most would assign to Sparks probably wouldn't be "new wave," but that isn't to say they didn't put out some of the genre's best material. No. 1 in Heaven in particular finds the Mael Brothers playing some of their best synth-driven tunes, albeit backed with some glam rock muscle and Russel's operatic falsetto highs. "Beat The Clock" was even remixed in the late '90s, made to sound even more like Erasure (with whom the band has collaborated), but the original is the preferable version, driven by hard-hitting beats and a vintage keyboard sound. It's also one of the catchiest things the band has ever written, though it has some good competition throughout their long discography.
Download at

Talk Talk – "Living In Another World"
While quite a few artists whose careers launched during the new wave era have gone through numerous sonic transformations up through the present, few made as dramatic a shift as Talk Talk did. While their final two albums, Spirit of Eden and Laughing Stock, were the blueprint for post-rock, their 1986 effort Colour of Spring is the last album of theirs that could still be classified as a `new wave' record while still showing some early signs of the innovative, challenging music to come. "Living In Another World" is an example of what they did best, layering a dense sonic strata of soulful funk rhythms, atmospheric organ and subdued guitars that was accessible, even catchy in a way, but still miles from familiar. And soon enough, they'd be on a plateau all their own.
Download at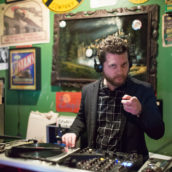 Jeff Terich
Jeff Terich is the founder and editor of Treble. He's been writing about music for 20 years and has been published at American Songwriter, Bandcamp Daily, Reverb, Spin, Stereogum, uDiscoverMusic, VinylMePlease and some others that he's forgetting right now. He's still not tired of it.