The 90 Minute Guide: Post-Millennial Pop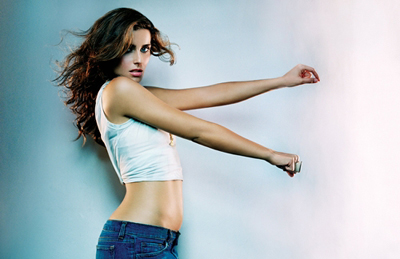 Sometime before tabulating our year-end lists, something snapped. Maybe it was too much indie rock, maybe it was the revelation that as an editorial board, collectively, we love Justin Timberlake, or maybe we were all a little too drunk on Holiday Cheer. Hard to say, but one thing led to another and here we are, assembling our first 90 Minute Guide as a team, this one with an emphasis on pop. Not power pop, a la Big Star or The Raspberries, or Elephant 6 style pop (you may recall we already tackled that one some time ago). No we wanted to do POP. The kind you actually hear when you turn on the radio. The kind that theoretically is being played on MTV. The kind that the rockists of the world love to hate.
Now, rockist is a pretty obnoxious word, mainly because its definition is loose and stirs up witch hunts like scenester McCarthyism. But `poptimism,' a sort of critical concept that arose in its aftermath, is just as silly, that being a knee-jerk reaction and embrace of everything that pop culture dictates. See, we love rock, as we love hip-hop, as we love dance music, and as we love pop. With any style of music, however, there are those who are the cream of the crop and there are those who don't quite make the cut. So we chose carefully, but viscerally, going for the pop singles that deliver a maximum of aural pleasure, while sifting out those that grate. And to keep it to a fairly limited number, we restricted our findings to those released after 2000. If we hadn't, this could have been packed with Hall & Oates, Billy Joel, Ace of Base, you name it. In any case, this is one of the most fun projects we've worked on in a while.
Side One
Beyonce – "Crazy In Love"
I can more or less pinpoint my ascent toward full-on pop love with this bangin' R&B jam. Credit it to Rich Harrison and his irresistible horn hook. I can also throw some credit toward Jay-Z, who can more or less guarantee the level of quality of a top 40 hit by his very presence. But really, Beyonce Knowles is the charismatic personality here, shaking her bootylicious thing and making the rest of us fall crazy in love with her, at least for a few minutes at a time. Every time that horn starts blasting and our girl hits the mic, it gets me feeling so crazy right then. Fast forward four years and Barack Obama's dancing (sort of) to this joint on Ellen. He already had my vote, but publicity like that only helps his cause. – Jeff Terich
Watch Video
Download at

No Doubt – "Hella Good"
There was a time, back in the '90s, when No Doubt was still considered "alternative," for whatever the classification is worth. When "Don't Speak" became a crossover hit, that stopped being the case, and if the video made anything clear, it was that the media was really only concerned with Gwen Stefani anyway, even if their drummer wore a diaper on stage. The group's fourth album Rock Steady was the last final holdout before Gwen went the solo diva route, but whatever vestige of ska-punk or whatever they were trying to pull was all but salvaged, and in its place, pure pop, the crowning moment being "Hella Good." A tribute to NorCal slang, or so the story goes, "Hella Good" is full of dirty synth grooves and sexy throbs. If only just for one song, that goofy Orange County band had matured into a full-on dance powerhouse, making it that much easier to forget about "Just a Girl." – Jeff Terich
Watch Video
Download at

Phantom Planet – "California"
You know you've got a hit pop song on your hands when it's used as a theme for a television show. Remy Zero would probably tell you the same thing thanks to the usage of "Save Me" for Smallville. But, when your song is used for the most watched teenage show in the new millennium, and then it's parodied on The Simpsons, you've just got to say hell yeah! I'm not a big fan of The O.C., but despite the saturation of "California" by Phantom Planet, I'm still a huge fan of the song. It's just so damn catchy! It's as if OK Go got off their treadmills and wrote a song while just a bit tuckered out. It's not necessarily bouncy or dance inducing as most pop songs, but as Kylie Minogue suggested, you just can't get it out of your head. So, let's go to Knott's Berry Farm to pick up some jam, and kick it old school on Bigfoot Rapids. Flume style! – Terrance Terich
Watch Video
Download at

Kylie Minogue – "Come Into My World"
Do you remember that in the '80s, a little Aussie pop princess made a small splash with a slightly cringe-worthy cover of "The Locomotion"? Who knew that same Aussie pop princess would make an even bigger splash in 2001 with her breakthrough album Fever and that inescapable single, "Can't Get You Out of My Head"? Where "The Locomotion" was all safe, bubble-gum pop, the songs on Fever hinged on Kylie Minogue's sex appeal and the smooth sheen on Euro-pop. Working with Dance veteran, Cathy Dennis on a handful of tracks, Fever was the perfect pop record. While "Can't Get You Out of My Head" took storm, I fell in love with another song. Just as sensual, just as hypnotic was Kylie's "Come Into My World." It's a light and breezy song, perfectly capturing Minogue's limited vocal range. She sweetly coos to her lover to "take these arms that were made for lovin'" and "these lips that were made for kissin'" but boldly proclaims, "I need your love." There are tinges of innocence, but Minogue isn't a 16-year old pop ingénue; she's a woman and "Come Into My World" is wildly seductive. Combined with Michel Gondry's sublime video, this was a song that completely captures your attention. – Jackie Im
Watch Video
Download at

Rachel Stevens – "Some Girls"
For reasons that don't entirely make sense to me, Rachel Stevens never really blew up in the United States. As you may recall, she was the good-looking one in S Club 7. Oh, you don't? Well, whatever, that's not important. Her solo career is the interesting part, that former `band' of hers was just a co-ed Spice Girls anyhow. On "Some Girls," Stevens takes the "Strict Machine" route, going for electrified glam-pop that buzzes and pulses with robotic sexual energy and a hook that will never, ever leave your head. Look, just try to forget this: "Some girls always get what they wanna wanna/ all I seem to get is the other other/ dreams of number one last forever ever/ and the champagne always tastes so much better better." That repetition stays with you for a long time thereafter, but it's more of a blessing than a curse. Any excuse to hear this again works for me. – Jeff Terich
Video
Download at

Black-Eyed Peas – "Hey Mama"
Let us contemplate, for a second, the shimmy. For the most part, I have not seen a good shimmy from a man. Women, generally, don't have a problem performing a good shimmy; perhaps it's the whole "women have breasts" thing. Not that some men don't have breasts, but breasts of the female variety are often more substantial (except when compared to "Bob" in Fight Club). It was during my clubbing days when "Hey Mama" blared from the speakers that I witnessed some widespread shimmy action – it was as if the third single from Elephunk possessed every set of shoulders in the room into a shake-shake-shake frenzy. Inhibitions be damned and existence of breasts (temporarily) a non-issue, as the shimmy cannot be contained when the Black Eyed Peas tell us to get on the floor, because it's the shit that makes us groove with the big sound pump-uhs and the girlies with the plump lump lump-uhs. There are more ingenious rhymes where those came from, but do yourself a favor and give it a go. And don't even try to resist the shimmy. – Anna Gazdowicz
Watch Video
Download at

Junior Senior – "Move Your Feet"
I don't know what it is about Scandinavia, but chilly Northern European states have a particular knack for writing delicious pop ditties. They also have a way with spacious, ominous post-rock, so truly, they are a region of contrast. Denmark has produced groups such as Mew and Under Byen, but it's also home to the super energetic, sexually ambiguous new wave duo Junior Senior. Their 2003 single "Move Your Feet" was something of a smash in UK and Europe, while becoming a small hit in the US as well. It's a simple song, all synths and disco basslines, sounding like something Prince would have produced in the'80s, only with a bit of Daft Punk's electro-funk to back it up. It's impossible not to love this song, and I'll challenge anyone who will freely speak such nonsense. And if nothing else, is that the most adorable music video you've ever seen or what? – Jeff Terich
Watch Video
Download at

Annie – "Chewing Gum"
Depending on who you ask, most would tell you that the best song by Norwegian songbird Annie (Anne Lilia Berge Strand if you wanna be formal) is her Pitchfork singles chart topping "Heartbeat." And to be honest, that's a damn great song. For pure bubblegum chewing satisfaction, though, nothing beats "Chewing Gum," a bubbly, sugary song with the most appropriate title ever. The rubbery, stretchy synth hooks bounce back and forth, while Annie's voice is airy and light, sounding deceptively sweet before dishing out a straight up diss to some clown-ass scrubs: "You think you're chocolate, when you're chewing gum." Sure, there have been harsher disses, but none are as danceable as this perfect, individually wrapped serving. – Jeff Terich
Watch Video
Download at

Gwen Stefani – "Hollaback Girl"
I spent most of summer 2005 with a bodacious blonde who shared 98 percent of Gwen Stefani's perky DNA. We ate lots of orange sherbet and clapped our hands said yeah at the perfect pair of tights. (What? She wore them.) Oddly, killer blondes don't like each other and mine took exception to "Hollaback Girl" and my affection for it. It was the least pop-centric period of my life but I didn't care. 'Listen to that synth section,' I gushed. 'It's like New Order's still good.' (Bernard Sumner and Peter Hook worked on a song for Love Angel Music Baby but it wasn't so hot.) Nimbly blending playground ethics, bleacher-bum bravado, and swizzle-stick cheer, Stefani somehow bottled a season's worth of sensations even though half the country thought she was being, y'know, racist: 'i ain't no Harlem black girl.' Anyway it ain't a hit 'til someone screws up the words. – Anthony Strain
Watch Video
Download at

Britney Spears – "I'm a Slave 4 U"
Believe it or not, I was tipped off to Britney's first really interesting single through the website of spastic post-hardcore group The Dismemberment Plan. If you've ever spent any time reading Travis Morrison's blog, you'd know the guy has a serious jones for pop and R&B. And, of course, I didn't want to believe it at first. But maybe, given the Prince glyphic theft and that snake performance at the VMAs, there could be something to this song after all. It's minimal beats have a slither of their own, and Britney even gave something of a real vocal performance beyond her earlier, sassy teen voice. There was actually a rift among Treble staffers about which is the best Britney song. Most say "Toxic," one said "Oops I Did It Again," but me, I'm sticking with this one. – Jeff Terich
Watch Video
Download at

Side Two
Justin Timberlake – "My Love"
Yeah, some people still can't accept Justin Timberlake as a legitimate artist. Those people should probably ignore this mix altogether, or pay special attention to what we're saying, because they probably need to lighten up a little, or at least realize that the Red Hot Chili Peppers are committing musical crimes far worse than any former boy banders. Timberlake may have started out in N*Sync, singing mall pop, but by the time he released his solo debut Justified, that boy had become a man, and a damn talented one at that. Just one album later, on FutureSex/LoveSound, his talent had flourished from Michael Jackson inspired grooves to raunchy, Prince-like sex jams, interspersed with some awe inspiring ballads at that. "My Love" was an interesting combination of the two, with a vocal better fit for a ballad. Yet Timbaland does his magic with the synthesizers and the beats, and turns that ballad crunk. The additional rap by T.I. is just icing on the cake, coming together wonderfully and setting the bar pretty high for the Billboard charts to follow. – Jeff Terich
Watch Video
Download at

Kelly Clarkson – "Since U Been Gone"
This song takes a while to get going, but once it does, lookout! This is the first song from any of the American Idol contestants that I ended up listening to all the way through. Kelly says it best right in the second verse, "I even fell for that stupid love song." I don't care about the lyrics. I don't even care that it's an empowering breakup song. I just like that she belts out this semi-rock pop song that makes you want to dance through an abandoned mill Kevin Bacon-style. Too bad there's not an abandoned mill near me. Plus, I'd probably hurt myself. – Terrance Terich
Watch Video
Download at

Amerie – "1 Thing"
We already knew that producer Rich Harrison was capable of making that perfect pop track. Anyone who listened to Beyonce's undeniable "Crazy in Love" heard that Chi-Lites horn sample and promptly thought, "This song is fucking great." Where "Crazy in Love" was all about the horns, Amerie's "1 Thing" is all about the drums. Not just any drumming, but drums that snap back and forth, drums that you can practically feel those hands hit the skins. Drums that hark back to old school funk records; drums that current pop records can only dream about. Harrison enlivens the track with those drums and adds in guitar stabs and sexy synth washes for good measure. Amerie's voice may not be a powerhouse, but her airy vocals are just what the song needed. Amerie and Harrison just about burned the house with "1 Thing." – Jackie Im
Watch Video
Download at

Robyn – "Be Mine!"
Remember that blonde, Swedish teen pop star in the late '90s who released the hit single "Show Me Love" (not to be confused with Robin S. who had a hi-NRG hit with the same name)? She disappeared for seven years and then came back, stronger than ever with a self-titled release on her own independent Konichiwa imprint, referencing a Wu-Tang Clan/Chappelle's Show joke no less. With electronics cranked up and her diva vox as powerful as ever, Robyn proved to the world, and a shit ton of hipsters, that the time off only made her stronger. In this song, she sounds sweet, yet mournful and even a little bitter as she laments "you never were and you never will be mine." And still, the song is upbeat, even joyous sounding. That seems to be the trick to writing a great pop single—no matter how bummed your lyrics might make you out to be, never let them overcome a good hook. – Jeff Terich
Watch Video
Download at

Fibes, Oh Fibes! – "Can't Be So"
When I heard that Treble was running a pop 90 Minute Guide, I began to lobby semi-persistently to get Fibes, Oh Fibes on the list. I know it's unconventional and borders on being out of place in this group of songs, but I have a deep-rooted interest in "Can't Be So," so I pushed for its inclusion. So who or what is Fibes, Oh Fibes you ask? An all male group (boy band) from Sweden that aims to play music in a style representative of everything that's allegedly bad from the American pop of the past (think Spandau Ballet). They do all that and more, it's just that their brand of homoerotic soft rock hasn't caught on at all stateside. With questionable lyrics ("Most people that I meet they talk just to have an opinion/ When I climb on stage music makes up our religion") and a contagious chorus ("No, no oh oh oh, it can't be so,") coupled with elaborate piano and electronic textures, you're left falling in love with the song almost immediately. Forego your pretension and fall head over heels for a falsetto-driven piano-pop anthem from six overly manicured dudes from Sweden? It can be so and I know this much is true. – Tyler Weir
Watch Video
Download at

Nelly Furtado – "Maneater"
I've always had a soft spot for Nelly Furtado, even when she was singing light and fluffy hippie pop. Still, the songs weren't half bad, particularly "Shit On the Radio," which had a killer chorus. Leave it to Timbaland to bring out Nel's true potential on her third album Loose, and the sweaty, dirty, grinding single "Maneater." Sure, there's the Hall & Oates reference in there, but what really drives the song is those insane, sick-ass synthesizers, thanks to big Tim behind the boards. Furtado nails the femme fatale cautionary tale with a vampy angle of her own. When she hisses, "you wish you never ever met her at all," with her sly feminine breathiness, it makes you wonder who she's really talking about after all. – Jeff Terich
Watch Video
Download at

Timbaland – "The Way I Are"
Leave it to the ghettoest-blaster in pop-hop to ransack the hustler's economy and make a hit that glamorizes being broke. Yeah, it's the beat, which is shiveringly good, but the sly repudiation of tired hip-hop excess in "The Way I Are" makes it the hit it are—er, is. Well, stripping for a tip: that's pretty hip-hop, but elsewhere Tim and his paramour Keri Hilson basically make kissy-faces and promise not to pre-nup, which would be hella hip-hop if you capitalized it: Pre-Nup. At its worst "The Way I Are" is a thick, agreeable dance track. At its best it's basically a boy (with his pockets inside out) standing in front of a girl. Or maybe I've got that backwards? Best, worst: I can't decide. (But is it hip-hop? Oh, shut up.) – Anthony Strain
Watch Video
Download at

R. Kelly – "I'm a Flirt"
Flirters unite. What does it mean when the King of R&B crashes our post-2000 pop best of? That he's pretty damn talented. R. Kelly has had to evolve to remain relevant in the post-bump-n-grind era. With his past few hits, Kelly has asserted himself as one of the best of all time and a master of innovation. From "I'm a Flirt (Remix)" and "Real Talk" he was propelled to the top of the 2007 heap and for good reason. "I'm a Flirt (Remix)" is as triumphant as it is obvious. I mean, we know from history that R flirts. Flirts and more. So as the game of flirting goes, often it's a fine line between catastrophe and pleasure. A line I'd be inclined to more freely walk if I met more of the criteria: "A dog on the prowl when I'm walking through the mall"- Most definitely. "A platinum type of guy"- For the past year my hair's had some blonde streaks, does that count? "I'm black, handsome, I sing plus I'm rich and (I'm a flirt)"- Hmm. That's a bit subjective. If he slipped tall in there I'd be that, the rest not so much. Though he gets an assist from T.I. and T-Pain, it's Kelly who's at his best on this track. Kells continues to make music that's refreshing and proves that he's not just a one-dimensional artist. What he has in "I'm a Flirt (Remix)" is something to throwback in everyone's face. He's back in the clubs, no longer trapped in the closet and that's good for R and us alike. – Tyler Weir
Watch Video
Download at

Rihanna – "Umbrella"
It's funny how a couple of us here have had our admiration for particular pop singles met with disbelief, disgust or even embarrassment. When I admitted to liking Rihanna's ubiquitous "Umbrella," my girlfriend looked at me as if I had completely lost my marbles. We very rarely disagree on music, but this was one of those cases, most likely due to the chorus, the extra syllable in "Umbrella" and that hiccupping "ey, ey, ey." Maybe it's a little silly, but hearing this song, I feel like I'm on top of the world. Those synths are empowering, just straight up heavy. And moreover, it's a song about fidelity, a fairly rare thing in popular music these days. Rihanna doesn't shy away from the sex kitten image, but in this case, she's more than that. She's in it for the long haul, for better or for worse, yadda yadda yadda. And it's just a song, after all, but hearing this, for me, is like a B-12 shot. – Jeff Terich
Watch Video
Download at

Britney Spears – "Toxic"
It's possible that I hit the dance floor during this song a dozen times before I released that it was, in fact, Miss Britney Spears. Let's blame, perhaps, the fact that I disdainfully remembered Britney more in the context of "Oops! I Did it Again" or "Sometimes." Or, let's blame the fact that if you throw my lack of accurate Britney recognition in with my just-turned-21 obsession with rum and Diet Cokes (ugghhh), you get, apparently, some major obliviousness. Either way, however, I was and forever will be a huge fan of the infamous dance-pop-on-crack tune of 2003. "Toxic" was Britney that we hadn't heard before, picking up from the grittier side that started with "I'm a Slave 4 U" and developing a synth-pop monster of a single that actually won Spears her first-ever Grammy award. The shrieking hooks and hyper-electrocuted chorus make for a dance anthem that's absolutely and completely impossible to resist. If you are actually able to not participate in the "Toxic" booty-shakin,' then more power to you – or, just ask the bartender for another rum and Diet. A crazy night and even crazier hangover will surely ensue. – Anna Gazdowicz
Watch Video
Download at