The Baptist Generals : Jackleg Devotional to the Heart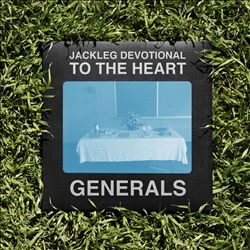 Buy at iTunes | Buy at Insound (vinyl)
The ten years between The Baptist Generals' releases did more than just remind fans why they fell in love with this indie-folk outfit from Denton, Texas in the first place. They allowed singer/guitarist Chris Flemmons to update his sound for a new era. No Silver/No Gold's low-fidelity production didn't necessarily highlight the best of the duo (at the time; founder/drummer Steven Hill left in 2007). With Jackleg Devotional to the Heart, Flemmons, along with a host of supporting musicians, delivers the same high-quality songs but this time the performances speak for themselves.
Jackleg begins daringly with a simple instrumental, "Machine en Prolepis," that introduces some of the sounds to be expected on the rest of the album: big acoustic guitars, fat percussion, and the less common guitarron and waterphone. The next track, "Dog That Bit You," is one of the most accessible on the album, but the composition is complex and shows the care that was put in to every aspect of this album.
Flemmons's nasal delivery is strikingly similar to that of Tim Delaughter of The Polyphonic Spree, from nearby Dallas, and it's not unreasonable to conclude the Spree influenced the ambitious arrangements found on Jackleg. "My O My" begins with a lovely string section before giving way to guitar and vocals. The rest of the bad joins in gradually, and the subtlety is effective, as if the listener is being seduced without knowing it.
While the bigger, fuller songs represent the boldest departures, the more stripped-down ones prove to be the most earnest. "Clitorpus Christi," a song that would have fit nicely on the Generals' last effort, has a simple yet majestic melody. "Oblivion" is also simply arranged, but even with that, Flemmons' dares the musicians to follow along with his stream-of-consciousness structure. "Morning of My Life" offers sincerity that is likely to win it a spot over the closing credits of a Judd Apatow movie.
With Jackleg Devotional to the Heart, Flemmons has written a love letter to a powerful muscle, appreciating the mechanics of the aortas, ventricles, and veins, and expressing that emotion through the tones of the variety of instruments as well as the lyrics and melodies. The hope is that he found love in the process of writing and recording enough that the next devotional won't require another 10 years to complete.
Similar Albums:


Bonnie "Prince" Billy – The Letting Go


Beck – Mutations


Phosphorescent – Here's to Taking It Easy