The Best Record Players for Every Budget of 2023

A fascinating statistic emerged in 2023: People are still buying vinyl in large numbers, but not everyone who's buying records actually owns a record player. This feels more like an opportunity than anything—playing records is less about convenience than closer and more attentive listening, and setting up a turntable will only enhance your listening experience. But finding the right turntable takes a bit of effort—there are countless models on the market in varying shapes, sizes, materials and levels of fidelity. As the first of a series of gift guides we've put together on Treble this year, we're offering our recommendations based on our own research, that help to narrow down the search, whether you're seeking something simple, more advanced, or even portable.
In years past, we'd put together gift guides composed of a little of everything, odds and ends, this and that. This year, we're doing a more thorough series of gift guides focused on home audio, band merch, items to listen to on your home audio systems, and of course a little bit of everything else. So let's get started this week with our roundup of the best record players for every budget. Whether you're looking for a first-time player for a friend or family member, a new deck for yourself or perhaps an upgrade to the next level. All you need is vinyl! (And if you need some recommendations, we've got some suggestions.)
Note: When you buy something through our affiliate links, Treble receives a commission. All items included are independently chosen and evaluated by our editors.
Best Entry Level Turntables
Audio Technica AT-LP120XUSB
($349)
A standard for a reason, Audio Technica's AT-LP120 line of turntables have been on the market for nearly 15 years, originally viewed as a substitute for the Technics 1200 line—which was discontinued for nearly a decade beginning in 2010. The AT-LP120s are more affordable, however, which in part accounts for its popularity. A great all-around record player for every day use along with a good starter direct-drive turntable for beginner DJs, the AT-LP120XUSB—originally introduced in 2019—features an improved built-in preamp for better sound quality, and it comes packaged with an AT-VM95E cartridge, which can be upgraded with any VM95 stylus. Plus, with its USB connection, you can record audio directly to your computer, which is handy if you happen to have any rare, not-easily-digitized vinyl. More than anything, though, it's a sturdy, reliable and versatile deck that offers a great listening experience right out of the box.
---
Sony PS-LX310BT
($249)
A personal note: The first turntable I ever bought was a refurbished Sony belt-drive player from Best Buy during my senior year of high school, when affordable record players were a little harder to find outside of higher-end DJ gear. Sony is still offering affordable entry level belt-drive turntables, naturally, and the PS-LX310BT is a more technologically advanced version of its classic player. It features Bluetooth connectivity for wireless versatility, as well as wired connections, and much like its competitors, it also has USB connectivity for digitizing your collection if you so choose. It's easy to use, sounds great and has a sleek, updated look for aesthetic appeal. Whether it's your first record player or you're just adding a new one to the household, Sony's turntable is a great addition.
---
U-Turn Orbit Plus
($349)
Audiophile turntables tend to demand a fairly high price, and depending how serious you are about your listening, the sky is truly the limit. But U-Turn is one company helping to bring audiophile quality sound to buyers on a budget, and the Orbit Plus is a prime example. Their Orbit belt-drive series goes up in down slightly in price with variations in model, but this is a great middle ground, with an acrylic platter, high performance OA2 gimbal tonearm, and Ortofon OM5e cartridge. It both sounds and looks great and offers a high performance option with a friendly price tag.
Best Portable Turntables
Victrola's The Journey
($59)
More than 100 years after introducing their gramophones to the market, Victrola continues to pair sound with visual aesthetics in their current line of record players, which ranges from vintage-looking models to more modern, technologically advanced turntables. As a portable record player, The Journey isn't intended for more advanced audiophiles, but it provides something that higher end component systems don't—you can bring it with you! A weekend trip to the beach or the desert calls for some vacation vinyl spins, and The Journey folds up into a simple and aesthetically pleasing suitcase in blue, black, turquoise or teal. It contains built-in speakers for convenience, as well as bluetooth functionality, plus it likewise has RCA Aux-in to connect to external speakers for higher fidelity use. As a first-time turntable for newcomers or a travel option for more serious vinyl heads, it's a worthwhile and low-cost player.
---
Numark PT01 USB
($129)
Another low-cost portable option for vinyl spins on the go, the Numark PT01 is a great value for the price—affordable but with a great deal of versatility. It plays at three different speeds (33, 45 and 78) and features rotary knob controls for pitch, tone and volume, plus it can be run on batteries, just in case the idea of an AC adapter didn't make it portable enough. Plus the stylus is replaceable, and the player will fit in just about any shoulder bag, which makes it a much more versatile and modern upgrade to the more vintage portable turntable concept. Num
Best Mid-Range Turntables
Cambridge Audio Alva ST
($599)
High end audio doesn't have to be complicated. Cambridge Audio's Alva ST is proof enough of that, a turntable that delivers a great sound out of the box. A fairly straightforward belt-drive record player, the Alva ST features bluetooth connectivity, die-cast aluminum platter, British-made one-piece tonearm and 24 bit/48kHz high resolution streaming quality. It's simple yet versatile, sounds and looks fantastic and with little need for adjustment. All you need are some records to get started.
---
Fluance RT85
($499)
Canadian company Fluance designs and manufactures audio components, specializing in smaller affordable speakers. But moving into making record players as well has proven fortuitous, bringing a strong mid-range belt-drive turntable to the market with the RT85. Their flagship turntable, the RT85 is a relatively lightweight and simple turntable, user-friendly and high quality. As with most belt-drive turntables, it's better for casual home listening than for budding turntablists, delivering high-quality sound that owes some credit to being packaged with a great stylus, the Ortofon 2M Blue. Though a bit higher in price than an entry-level turntable, the upgrade is more than worthwhile for the clarity and depth of sound it offers.
---
Pro-Ject Debut Carbon EVO
($599)
Austrian-based Pro-Ject has, since 1991, made a name for itself with its audio component products, now best known for its sleek and simple yet high performance turntables. Its Debut line has become a popular mid-range option, which Turntable Lab cites as its best-selling hifi turntable. Part of the reason is that, for the price, it offers a higher quality listening experience than most entry level models, which comes down in part to materials and design, like its carbon fiber tonearm with integrated headshell. It doesn't come with a built-in preamp, so it requires an external preamp, which some listeners will prefer—some built-in models can add some subtle hum or distortion. But with a relatively easy setup, the high quality materials and design of the Debut Carbon EVO provides higher fidelity with minimal fuss.
---
Denon DP-450 USB
($699)
As a longtime brand in home audio, the Denon name carries some familiarity, so it shouldn't come as much surprise that they're still putting out high quality turntables this many years down the line. Their DP-450USB turntable is an upgrade from the prior DP-300F line, and like many of its competitors, features USB connectivity to offer the best of both analog and digital. It features a built-in preamp ("equalizer"), which some listeners prefer not to use—but the benefit is you can actually turn this feature off if you strictly use an external preamp. And with minimal setup, it offers a great depth of sound and frequency just a few minutes after you take it out of the box. Not to mention it's one of the most visually dazzling turntables on the market.
---
Victrola Stream Carbon
($799)
Victrola's range of turntable is one of the widest, including both budget-priced portables and higher-end designs, including the Stream Carbon, which is integrated with Sonos wireless connectivity. Developed in partnership with Sonos, the turntable is the first to be compatible with the wireless system, and is compatible with all generations of Sonos speakers. That alone is a big plus, especially for those already set up with Sonos. It likewise has RCA connectivity for wired speakers, plus its higher quality materials, sleek design and upgraded cartridge make for an overall pleasing experience both sonically and aesthetically.
Best Higher End Turntables
Pro-Ject X1
($999)
For those ready to take the plunge into a higher end hifi experience, look no further than Pro-Ject's X1. While all the turntables on this list can turn anyone's living room into a top-notch listening lounge, the X1 brings up the fidelity to a level of clarity and precision that sets it apart. It's made of heavier, sturdier materials, hand-built with wood MDF body, carbon fiber and aluminum tonearm, and acrylic platter, and comes outfitted with a high performance Sumiko Olympia cartridge. With greater mass, it prevents vibration and has a nearly inaudible motor. Those seeking to move up to the next level from the Debut Carbon EVO would do well to try out the X1.
---
Technics SL-1200 MK7-S
($999)
A legendary name in DJ turntables, Technics' 1200 series was there when hip-hop began, a player of choice for early DJs who experimented with scratching techniques. Though the player came off the market in 2010, Technics relaunched the series a decade later after with some adjustments and improvements to the original model. The MK7 performs much like the original 1200 but with a more precise motor and more of a dampened platter to reduce distortion. It also features removable cables and wider pitch adjustment, not to mention being a few pounds lighter. But with its greater clarity of sound and versatility, it's an ideal choice for those seeking a more interactive role from their turntable.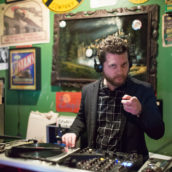 Jeff Terich
Jeff Terich is the founder and editor of Treble. He's been writing about music for 20 years and has been published at American Songwriter, Bandcamp Daily, Reverb, Spin, Stereogum, uDiscoverMusic, VinylMePlease and some others that he's forgetting right now. He's still not tired of it.