The Flaming Lips : The Terror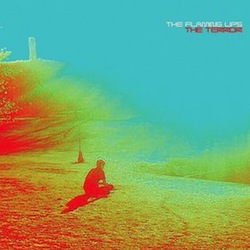 On the surface, the past three years have been inordinately celebratory for the Flaming Lips, a band for whom absurd and surreal displays are the norm. Just a few short months following the release of the strangely, ominously dark Embryonic, the band covered Pink Floyd's Dark Side of the Moon in its entirety, with the help of Henry Rollins, Peaches and Stardeath and White Dwarfs (whose leader Dennis Coyne is the nephew of the Lips' Wayne Coyne). Next came a series of peculiar novelties, including a live recording of The Soft Bulletin on USB drive, encased in a marijuana-flavored brain inside of a strawberry-flavored gummy skull. In 2012, the band recorded an album of collaborative tracks titled The Flaming Lips and Heady Fwends, which featured guests ranging from Nick Cave to Ke$ha. On June 27 and 28 of last year, the band broke the Jay-Z-set Guinness World Record for the most live shows in 24 hours. And to top off an already unbelievable streak, the La Jolla Playhouse debuted the stage production of Yoshimi Battles the Pink Robots in November, which might have made a certain music critic cry. We're not going to talk about that.
Indeed, held up against just about anyone else's half-decade, The Flaming Lips haven't stepped out of what might appear like an extension of the massive birthday parties they throw at their live shows. But just like an old photograph of a party, a look closer into the background reveals a memento that everyone would prefer to forget — a parental spat, a drunk uncle, some scary-ass clown or just the birthday boy or girl crying out of exhaustion and overstimulation. The group's Steven Drozd underwent a brief relapse into drug use last year, and Coyne separated from his partner, Michelle, with whom he had been involved for 25 years. Such personal turmoil has always been fair game for Lips material in the past (see: "The Spiderbite Song"), but with The Terror, their 13th album, the sense of despair and isolation that has always lurked beneath the surface now seems more overwhelming than ever.
There's no getting around it — The Terror is a dark record, even by the standards of a band whose most life-affirming song is one that reminded the listener that all of their loved ones are going to die. The gist here isn't that far off. The Terror, as Drozd describes it, is the "internal feeling you get that you and everyone you know is going to die." That weight doesn't just cloud the album, it casts an inescapable pall, each song caked in ominous minor key effects and very few hooks or choruses to speak of. It's space age in a way that feels like it's never going to change course and return back to earth; it drifts outward, mirroring the fear and loneliness at the center of the album, and which threatens to consume whomever will allow it.
For how much of a bummer that sounds, however, The Flaming Lips are better suited than most to take on 55 minutes of crippling depression and bleakness and turn it into musical triumph. To a certain degree, The Terror is a natural outgrowth of the abrasive, difficult sounds of Embryonic, but taken to even further extremes. Hardly any track here works as a single, for instance, though in its menacing sounds and grayish hues, it finds unexpected sources of beauty. Much like Portishead's stellar Third, The Terror clings to menace where once the band would have fought defiantly to keep it at bay. Songs like "Turning Violent" and "Always There In Our Hearts" build from bassy, throbbing synths into noisy scratches of guitar. Meanwhile, the 13-minute centerpiece "You Lust" progresses in different movements, opening via Silver Apples-style keyboard pulses and Coyne's lyrical challenge, "You've got a lot of nerve/ A lot of nerve to fuck with me," and descending into a whispered interlude of repetitions of the phrase "Lust to succeed."
Either as a reaction to the chaotic booms and scratches that erupt throughout, or in spite of them, Wayne Coyne seems more diminished and frail than usual. Typicallly never anything less than a joyful or charismatic frontman, his performances on The Terror stand in stark contrast to all we've come to know about him. Rather than guide the tracks so commandingly, more often than not he seems lost and adrift, chanting "You're not alone/You are alone" on the bluntly defeating "You Are Alone." And even in the title track, in which Coyne seems to stare fear in the face, his falsetto sounds more frightened and weakened than usual as he sings, "At last we'll stand by the terror/ It helps us take the controls." There are moments where he cuts through the despairing fog, delivering a performance similar to his distant chants on Embryonic in "Look… the Sun Is Rising," though this newly frail and vulnerable side of Coyne can be just as powerful and affecting, as on "Try to Explain," wherein his climactic plea "Try to explain why you're leaving" arrives as the album's most heartbreaking moment.
It's a fairly significant turn of events to hear a man who once confidently roared, "I know you won't let those robots defeat me" to end an album by repeating the word "overwhelmed" over and over again. But it's not necessarily out of character. The Flaming Lips, no matter how joyful or empowered, have always been quick to acknowledge the pain on the other side of that celebration, whether via thinly veiled ballads about heroin addiction, or parables about the pressure of saving the human race from disease. The Terror is more internalized and exposed, despite the massive and harrowing arrangements that consume Coyne's wounded pleas. Despite the mighty and often breathtaking shell that they've wrapped themselves in, the Flaming Lips can't escape revisiting a theme they once expressed so eloquently — some things are just too heavy for Superman to lift.
Similar Albums:


The Flaming Lips – Embryonic


Portishead – Third


Liars – WIXIW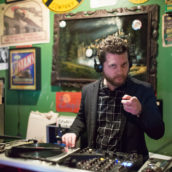 Jeff Terich
Jeff Terich is the founder and editor of Treble. He's been writing about music for 20 years and has been published at American Songwriter, Bandcamp Daily, Reverb, Spin, Stereogum, uDiscoverMusic, VinylMePlease and some others that he's forgetting right now. He's still not tired of it.