The Phantom Band : Checkmate Savage
The legend about the origin of The Phantom Band's name stems from the group's pattern of changing their name for each gig, disguising themselves while performing, taking Ivy League university pseudonyms (i.e. Greg Yale, Richard Princeton) and a general habit of elusiveness. In fact, it goes beyond mere costuming, taking it well beyond Clinic or Daft Punk levels toward near anonymity—even the fliers for Checkmate Savage's release depict multiple permutations of Hall & Oates. And yet, there's nothing spectral or apparitional about the band's music. It's muscular and expansive, multi-faceted and powerful. If anything, The Phantom Band is more like a Frankenstein's monster. It's big and it's fearsome, with its many parts culled from various sources. And yet when the beast walks on its own, it's not the individual components that stand out, but the giant itself, neck bolts and all.
The monster that The Phantom Band unleashes on debut Checkmate Savage, however, is not a hideous thing, but rather a mesmerizing and affecting piece of art rock magic. The Scottish group's approach blends the repetitive grooves of krautrock with the avant blues of Captain Beefheart, and finds a connection between the quirky space pop of Super Furry Animals and the gothic soul of Nick Cave. It's an unlikely combination of influences, but what it yields is far more intriguing than the sum of its predecessors. It's the first great debut of 2009, and an enviable way for a band to begin their recorded career.
Leadoff track "The Howling" kicks off with a bassy synth loop, reminiscent of Neu!'s motorik hypnotism. Before long, however, that krautbeat turns to bluesy rock jam, albeit one with squeaking synthesizers and a catchy, soulful choral refrain from singer Rick Anthony, as he croons "there will be ghosts on the day that we die, howling, howling!" "Folksong Oblivion," one of only three tracks here clocking in at less than five minutes, rides a sinister, abrasive guitar riff while fired up organs blaze beneath. Much in the same way that "The Howling" starts off, "Crocodile" opens with a scratchy, meditative jam, slowly building toward a climactic breakdown four minutes into the song, finding an explosive middle ground between Can and The Beta Band.
While The Phantom Band can ride out a jam for an extended period of time, as on "Crocodile," they're proficient pop songsmiths, as evident on the swamp rocker "Halfhound," which teeters between dark riffs and an earnest, subdued chorus. If the album were to produce a hit, and that's a big `if' here, it'd most certainly be "Left Hand Wave," a robotic pop tune with hypnotic synth sounds and Rick Anthony's Gary Lightbody-like croon combining to make the best anthem Radiohead never wrote. In fact, it's almost like "Where I End and You Begin" mashed up with Boards of Canada, which is a very good thing. Nine-minute epic "Island" takes a diversion away from abrasive prog rock sounds to glide into a sweet, gospel-inflected ballad, reaching a stunning peak when the group begins to sing in unison, their voices rising toward a mighty climax. "Throwing Bones," come to think of it, would make another solid candidate for a single, maybe even a better one than "Left Hand Wave," as its bluesy riffs and upbeat progression build toward the band's catchiest moments, including a bizarre doo wop vocal harmonization.
The Phantom Band give good reason to feel optimistic about 2009. This Scottish sextet, without fanfare, ushers in a debut album incredibly accomplished and well-crafted, and in January no less. This kind of album shouldn't be a band's first, it should be a fifth or a sixth, and yet, this first, unexpected blast is one of the more amazing things to be released not only in this young year, but in the last quarter or two as well. Makes you wonder just what else this intriguing group is capable of.
Similar Albums:
Super Furry Animals – Love Kraft
Nick Cave and the Bad Seeds – Dig, Lazarus, Dig!!!
Yo La Tengo – I Am Not Afraid of You and I Will Beat Your Ass
MP3: "Folksong Oblivion"
Download at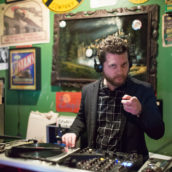 Jeff Terich
Jeff Terich is the founder and editor of Treble. He's been writing about music for 20 years and has been published at American Songwriter, Bandcamp Daily, Reverb, Spin, Stereogum, uDiscoverMusic, VinylMePlease and some others that he's forgetting right now. He's still not tired of it.