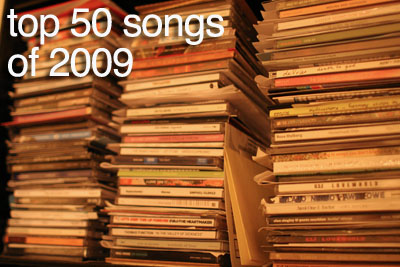 And that's that. Just a couple more weeks, and we'll be looking into the mouth of 2010, a thought that's a little intimidating and pretty exciting at the same time (unless you believe in that Mayan calendar doomsday stuff). Before we get there, we took inventory, examined the best music of the past year, pitched, debated, swapped, shared, extolled, exclaimed and voted. There certainly was no shortage of great songs in 2009, in addition to a number of newly-coined genres that we're not really going to get into right now. But if there is a common thread between everything here, it's that all of these songs made us feel something, from grief to joy, or perhaps just the overwhelming urge to dance. As the best music should. We probably could have made much longer lists, but we have to draw a line somewhere, so here's our top 50.
"I think I love you, I think I'm mad"
St. Vincent – "Actor Out of Work" (4AD)
[Single; from Actor]
The object of Annie Clark's affection in "Actor Out of Work" is also that of her scorn. He's a supplement, a salve, a crutch, a weakness, a lousy, base guilty pleasure with a heavy emphasis on "guilty." In a far less guilty manner, however, Clark drives the point home by laying her tirade on top of Actor's most scuzzy and distorted rock song, a two-minute banger full of noise and electronically-tweaked saxophone. And yet, in its final 30 seconds, it begins to twinkle and glimmer, and likewise she begins to soften: "I think I love you, I think I'm mad," she laments. Maybe she is, maybe she isn't, but damn does it feel good. – Jeff Terich
"More, give me more, give me more"
Fever Ray – "If I Had a Heart" (Mute)
[single; from Fever Ray]
"If I Had a Heart" kind of scared the shit out of me on the first couple of listens, and I wasn't sure how much I liked it until I saw the whacked-out, bone-chilling video for the first time. Karin Dreijer is definitely probing the limits of her dark side on this one, mutating her voice into the ominous depths introduced on Silent Shout, but implementing all the more dread by setting it adrift in a desolate landscape of drones and pulsing bass. There is something magnificently off-putting when her girlish, "normal" voice enters the picture, like an Alice in a severely more-fucked-up Wonderland. The rest of the album never really gets all the way out from under the long, ink black shadow issued in its wake, which is part of its allure. Give me more, indeed. – Tyler Parks
"That's just the devil, come to petrify your soul"
Here We Go Magic – "Fangela" (Western Vinyl)
[single; from Here We Go Magic]
This one gets in your head like sand down a chute, all scratchy and abrasive. Stopping your tongue or your front teeth from dashing out that interlocking percussion, "Inna-Gadda-Da-Vida"-style, would thrill Humbert Humbert with its difficulty. So shut up, and don't be thrilling Humbert Humbert okay? Really though, "Fangela"'s wonderful click-clackiness and forest-call choruses are appropriate in cabs and canoes, by yourself or with your worst enemy; there weren't too many better tracks to bond to on first dates or after last drinks. Just don't let that gaunt, terrifying handborn video keep you up at night.
Or your tongue-and-teeth drumming keep up someone else. – Anthony Strain
"Consider this your debt repaid"
The Decemberists (ft. Shara Worden) – "The Wanting Comes In Waves/Repaid" (Capitol)
[from The Hazards of Love]
I don't know how many rock bands out there have said in the past, "We need to start this song with a harpsichord," but then again, there aren't many bands that would create a chamber rock opera revolving around an ancient folk tale. This song would rank high on my list in just its pre-slash version, "The Wanting Comes in Waves," but what threw it over the top for me was the post-slash piece, "Repaid." For those who hadn't been exposed to the goddess that is Shara Worden, the Decemberists did the indie world a favor and rectified that situation. Worden DOMINATES this song. In fact, it's fair to say, she dominates the entire album. Her powerhouse of a voice not only overshadows an already great album, it marked, for some, an appearance that shouted out the presence of a considerable talent. Think about the first time people heard Jeff Buckley, or Antony, or Tina Turner. Yeah, she's that good.
Of course, I could go on about the little mini story of the song, in which the central obstacle to the main character's love is presented, his guardian, the Queen (as played by Worden) wanting to protect him from the world, and threatening punishment for his weakness. I could go on about how this fits into the larger allegory, and how it fits into the Decemberists' oeuvre. Truly, on this album, the Decemberists had outdone themselves. But really, it's all about Shara Worden. There, I said it. – Terrance Terich
"Get `em like Jake the Snake on mescaline"
DOOM – "Gazillion Ear" (Lex)
[from Born Like This]
Hip-hop snobs insist DOOM is done. But diction snobs don't. The valleys and eclipses of that surreal staccato are too contextual to excerpt; it's enough for me that a Ph.D. in indiscreet street hagglin' would seem safely out of reach for the majority. Ditto DOOM, who continues as laureate of this kind of epic speed-rap. Language addicts know there aren't many who can match him. – Anthony Strain
"Old glasses clinking and a new board is blinking"
Animal Collective – "What Would I Want? Sky" (Domino)
[From Fall Be Kind EP]
On top of the waves of critical praise, a significantly expanded fanbase, and a fairly massive world tour, experimental pop wizards Animal Collective decided to cap off 2009 with yet another stunning achievement. Fall Be Kind collects some leftovers from the Merriweather Post Pavilion sessions as well as some newer material, and while all of it is excellent, the breezy "What Would I Want? Sky" is perhaps the most impressive offering. Noteworthy for containing the first ever Grateful Dead sample to be officially licensed, this track first unfolds patiently with a three-minute crescendo of lethargic gurgles of electronics, ethereal ambient noise, gallops of percussive clanks, booming bass, and richly layered vocals. The tension is ultimately pushed to a breaking point before the song transitions into the chopped and flipped "Unbroken Chain" loop. Original lyric "Willow sky / Whoa I walk and wonder why" is shortened to "sky, whoa I walk" and, through the power of suggestion, sleekly transformed into "What would I want? Sky." The next half of this transcendent anthem is (appropriately) like a brief trip through the clouds, floating along with help from Avey and Panda's beautiful vocal interplay, tender, moving melodies, and some of the best lyrics in this band's entire catalogue. A truly perfect sendoff at the end of what has been a monumental year for Animal Collective. – Derek Emery
"Nature Makes Us All Complete"
Flaming Lips – "Silver Trembling Hands" (Warner Bros.)
[from Embryonic]
Thump thump thump thump—the locked-down drum and bass groove; the hootin' and hollerin'; those found sounds: with "Silver Trembling Hands," one of the first three tracks to surface from Embryonic, The Flaming Lips announced a return to the acid-fried weirdness of their early years—albeit with a new knack for plundering krautrock's hypnotic rhythms—after a decade long detour into blissful symphonic pop. After 2006's disappointing At War With the Mystics, a hodgepodge of half-baked ideas and the Lips' first misstep in almost 20 years, here was proof that the band had no intention of drifting off into ELO territory. Sonically ominous and lyrically opaque, "Hands" functions as a link between the acid-taking punk rockers the group once proclaimed themselves as, and the quirky songwriting geniuses my generation has grown up with. "She forgets about the fear/When she's high." We do, too. – Eric Friedman
"We will never stop"
El Perro del Mar – "Change of Heart" (The Control Group)
[single; from Love Is Not Pop]
The guys from Studio lent their production talents to three of Sweden's most sublime songstresses this year. Dan Lissvik produced Victoria Bergsman's Taken By Trees album, East of Eden, as well as putting down a punchy Balearic remix for Fever Ray that pulled Karin Dreijer out of the droning gloom and dropped her squarely on a well-sunned beach. But the best of their work came out of the auspicious collaboration between Lissvik's partner, Rasmus Hägg, and Sarah Assbring, that soulful and windswept dog of the sea. "Change of Heart" was the high-water mark on Love is Not Pop, an album that found Hägg creating just the right atmosphere for Assbring's voice to float through. "Change" is a mesmeric little nugget of melancholy, spare but dressed up with all the right flourishes, its reverb-carved depths set off nicely by a buoyant bassline which pulls it ever-forward into a long night of confusion. Sweet and sorrow in perfect measure. – Tyler Parks
"Sign up all your relatives"
Volcano Choir – "Island, IS" (Jagjaguwar)
[single; from Unmap]
Like much of Unmap, "Island, IS" is far from perfect. For one, Justin Vernon's incomprehensible lyrics veer further off the map, so to speak, from the cryptic musings found in his work as Bon Iver. In For Emma, Forever Ago, they brimmed with meaning and felt enigmatic even when at their most puzzled, while here, they come off as but obtuse lyrical exercises. But if the song trips over itself at times, it uses that rampant momentum to gather fresh speed, not so much regaining its composure as discovering new strides all the more inspired because of their awkwardness. Rather than particular substance, the lyrics were chosen for how they roll of the tongue or break that momentum through glottal pauses, enjambment or simply alliteration. Jangling guitar samples collide with one another, all kept in pace by skewed percussion and then given lift by Vernon's feathery falsetto. Volcano Choir may not have the gloss that Bon Iver did, but it seems that Vernon has found his perfect foil with bandmates A Collection of Colony of Bees, and "Island, IS" marks the pinnacle of that partnership. – Dustin Allen
"Let's get to France so we can French kiss some French girls"
Japandroids – "Wet Hair" (Polyvinyl)
[from Post Nothing]
I almost didn't know what the rest of Post-Nothing sounded like because I was tempted to repeat this little gem infinitely. This song doesn't have a hook. This song is a hook, boiled down to its very essence and delivered with two unspoken yet unmistakably clear instructions:
1) Shout along with this fucker as loud as you can.
2) Repeat.
When a melody is this undeniable, it doesn't matter if it sounds like it was recorded to cassette in your parents' basement, and it's all the better for its juvenile lyrics about bikinis and French-kissing French girls. Despite this year's abundance of perfect pop morsels ("My Girls," "1901"), this song may emerge as my most-played track of 2009. I mean, for Christ's sake, I have a playlist on iTunes consisting of "Wet Hair" alone, set to repeat. I guarantee you I'm listening to it right now, as you read this. – Eric Friedman
"Where did you lie? It's the trees that are burning"
Akron/Family – "Everyone Is Guilty" (Dead Oceans)
[from Set `em Wild Set `em Free]
It takes about a minute for the opening '70s A.M. disco guitar cycle to reach some kind of conclusion, but when it does, man do things turn around. It almost seems as if this song were calculated to last six minutes, and to change every minute on the minute. After the intro, "Everyone is Guilty" transforms into a chant like Animal Collective, or some of the tracks we heard on Love is Simple. Then, after two minutes, we take another left turn, with some crazy prog. At three minutes, well, a little after, we change up yet again, to an Abbey Road-era churner / mixed with Stonesesque vocals, a la "Sympathy for the Devil." Then, at 4:30, the whole thing comes right on back to the beginning before heading into a horn and string coda that, if it can be said of any piece of this song, is the least expected turn. It's an exhausting little musical journey, but worth every changing minute. – Terrance Terich
"Like stars burning holes right through the dark"
Passion Pit – "Sleepyhead" (Frenchkiss)
[single; from Manners]
When I reviewed Passion Pit's Manners in July, "Sleepyhead" dominated the tone of the review and it's not hard to see why. A spectacular, dizzying arrangement of falsettos, chipmunk-speed soul samples, and hooky synths, "Sleepyhead" is catchy and giddy fun. Sitting with headphones on doesn't do the song justice. The pounding percussions ask – no, demand jumping and clapping among a crowd of other skinny-jean clad kids. Coming to the cathartic climax, you might even start jumping alone in your apartment. Lead Pit Michael Angelakos has crafted a song that is so wildly infectious (even commercials can's escape its grasp) and sublimely melodic that it's hard for any other track to match it. – Jackie Im
"I'll forgive and forget, before I'm paralyzed"
The xx – "Crystalised" (Young Turks-XL)
[single; from XX]
The xx are more about economy and intimacy than razzle and dazzle, but with "Crystalised," they proved that by ratcheting up their sinister energy, they could create a work of unparalleled post-punk sexiness. There's a quiet intensity about it as Romy Madley-Croft and Baria Qureshi trade sinewy, discordantly harmonized guitar riffs beneath Croft and Oliver Sim's overlapping, intersecting confessional. And yet, there is a little bit of that razzle dazzle saved for the end, as Sim and Croft sing their lines simultaneously, creating the best kind of cognitive dissonance. The song's wiry guitar and skipping beats may be reserved for only the scant passing of a chorus, but that's just fine; a little goes a long way. – Jeff Terich
"You know it makes my heart beat"
Röyksopp – "Happy Up Here" (Astralwerks)
[Single; from Junior]
A spry, sprightly introduction to Junior, the Norwegian dance duo quickly get down to the business of erasing the bitter taste of 2005's The Understanding. Full of submerged female breathiness and synth lines that haven't pinged like this for Röyksopp since the days of "Remind Me" and "Eple," you half expect a comic-book BOING! to pop out of your speakers. – Adam Blyweiss
"As apocalypses go, that's pretty good"
Destroyer – "Bay of Pigs" (Merge)
[single]
Dan Bejar has never shied away from indulging his penchant for the grandiose, but his latest, a self-proclaimed "ambient disco" track which clocks in at over 13 minutes, takes things to a whole other level. After a few minutes of analogue atmospherics, Bejar enters with aplomb, confessing, "Listen I've been drinking, as our house lies in ruins/ I don't know what I'm doing, at the park or at the pier, watching ships disappear in the rain." As the song continues, he recollects scenes, people, quips, "Come to think of it, please remove your antlers," all of it set in a warm atmospheric gauze, finally taking some shape with the entrance of a kick drum and then for a time swinging with strummed guitars before returning into the mists from which it came. These drunken reveries, emitted from a moment of calm, are particularly at home in this incarnation of Destroyer. After the relative straightforwardness of his last full-length, it is promising to see Bejar off exploring the fringes of his palate, following his muse confidently where she may go, vomiting in an English garden or into the storm of old but resonant memories. – Tyler Parks
"The wormhole is empty"
Mastodon – "Divinations" (Warner Bros.)
[Single; from Crack the Skye]
Much of Crack the Skye revels in meticulous, meandering prog passages to help convey its equally cryptic concept – something about galactic travel, wormholes, Rasputin and other gothic, overly (nearly laughably so) serious metal apocrypha. Most of its seven tracks even sit comfortably above the five- to ten-plus-minute mark to get their point across. While "Divinations" may not be the album's centerpiece, it's undoubtedly the band's crowd-pleaser, resting at a digestible three-and-a-half, replete with Brent Hinds' signature vocals, V-neck doom metal licks and a howling chorus radio-bred converts don't have to hold their breath for. Whatever concessions Mastodon may have made, though, "Divinations" is hardly a cribbed, Black Album handout and arguably stands as their best, most forward-thinking track yet. Crossbreeding an ethereal banjo intro with heaving power metal, then bleeding into a steroid-induced Dick Dale solo, this is Mastodon at both their tightest and most guttural. – Dustin Allen
"Once I had a child, he was wilder than moonlight"
Fever Ray (ft. Van Rivers and the Subliminal Kid) – "Here Before" (Mute)
[b-side, "Stranger Than Kindness"]
Van Rivers and The Subliminal Kid (DJ Spooky) collaborated with Karin Dreijer on four of the songs from her solo debut, but the best and most haunting track they dreamed up together is a cover of Vashti Bunyan's serene folk ballad, "Here Before." Beginning and ending with an unnerving sample of Weddel seals mothers with their pups, their version takes the otherworldly lucidity of the original and magnifies it tenfold. Twirling synth-arpeggios spin off again and again from the lyrics about old-soul children who enter this world behaving as if they have been here before. Their version maintains the gentle wonder of the original but bathes it in a different color and quality of light altogether. It is strange and natural, odd and oddly comforting, much like those kids one runs across now and again whose eyes sparkle with a mysterious wisdom, untraceable and fascinating, depthless and without surface. – Tyler Parks
"Bitte orca, orca bitte!"
Dirty Projectors – "Useful Chamber" (Domino)
[from Bitte Orca]
The bigger story may have been that The Dirty Projectors were able to channel Mariah Carey to make a monster single, but merely two tracks later, the Brooklyn group proved themselves equally adept at fusing Björk style ambient hop with Led Zeppelin. By and large, the song is a gentle one, with Amber Coffman and Angel Deradoorian's vocal harmonies providing a soft and serene bed for Dave Longstreth's romantic verses (seriously when did these guys become Casanovas?). When he sings "I'm caught up in a storm that I don't need no shelter from," his poetry serves as much as a statement of enchantment as it does a foreshadowing of the impending chorus, which is easily the most riotous, most explosive moment on the whole damn album. Frankly, I don't understand the meaning behind the shouts of "Bitte orca, orca bitte!", but shit, there's conviction in those wails, those riffs, that monstrous thwack. Analysis doesn't apply here; it's best just to abandon all scrutiny and shout along. – Jeff Terich
"Between the stacks in the library"
The Pains of Being Pure at Heart – "Young Adult Friction" (Slumberland)
[Single; from The Pains of Being Pure At Heart]
There were good reasons to be skeptical about The Pains of Being Pure at Heart: that twee band name and the crush of writers and blogs praising them, chief among them. Yet the effervescent pop of "Young Adult Friction" would win anybody over, and did so for me the first time I heard it on a mix CD. Taking all the best elements of garage pop and girl group melodies, "Young Adult Friction" was at once familiar and utterly awakening. Clearer than the fuzz of the Vivian Girls, less distorted than No Age, The Pains of Being Pure at Heart creates joy out of simple three-chord melodies, effortless and natural – it's a track that seemed custom-made for flirtatious dancing. "Young Adult Friction" is the sum of great pop songs but it never comes off as calculated or studied, rather the jangle of the guitars, the perfect splash of the high-hat and the fantastic vocals (particularly by keyboardist Peggy Wang-East) culminate to a breathtaking anthem. Consider me a skeptic no more. – Jackie Im
"I wish I had a pizza and a bottle of wine"
Girls – "Lust For Life" (True Panther Sounds – Matador)
[single; from Album]
For a breakout band like Girls to lift an Iggy Pop title for their flagship song would be, for most, setting the bar unreasonably high. That frontman Christopher Owens hurdles it with such ease is not so much a testament to his epic songwriting, though, as his knack for catchy, guileless charm. Instead of Iggy's lecherous nightclubbing, the song's video – either version of which ranks among the year's best – depicts a soft-core sexuality that seems to be less about debauchery and more about soaking up Cali sun and laying into a few green bong hits. (Yes, even when a guy's hard-on serves as a proxy mic.) If only for Owens' wobbly phrasing, Elvis Costello is a more apt reference point, though less cocky and infinitely sadder. More than anything, the many ripe young breasts, happily shameless androgyny and '60s hand-crank camera blemishes are just a diversion from his lyrical catharsis. Lines as seemingly polar as "I wish I had a father/ maybe then I would have turned out right," and "I wish I had a pizza and a bottle of wine," fall so naturally into one another that they idly draw a straight line between childhood trauma and youthful ignorance without so much as a hint of pretension. This isn't lust; this is just fucked up trying to feel a little normal. – Dustin Allen
Video (Extremely NSFW)
Buy at iTunes
[pagebreak]
"Come on over, we're having a party for you"
YACHT – "Psychic City (Voodoo City)" (DFA)
[Single; from See Mystery Lights]
I do not like music made by, for, or about children, earnestly or as a joke. My minor problem with most of the chillwave bros is they sound exclusively like the kind of
overbright third-grader who can't stop chewing his crayons, lost in a single protean thought. On that basis I should hate "Psychic City." The vocal's desultory; bass chords get plucked like there's time to kill; whole measures disengage into wallows of unimpressivement. But if Claire L. Evans sounds deplenished it's as though by a pleasure so intense it's no longer real. Odd repetitions of key words (baby baby, darlin' darlin', over over, live live) are like mulled mantras. "Psychic City" itself is a lullaby, yes, but it's also like if you gave kids mushrooms and just turned them loose. Like, if that were legal I mean. Don't worry, I don't have any (kids). – Anthony Strain
"I do…"
Joy Orbison – "Hyph Mngo" (Hotflush)
[Single]
As dubstep continues to evolve and push itself further into the indie world's collective consciousness and beyond, new artists continue to craft new niches in the increasingly blurred space between dubstep, house and garage. London's Joy Orbison (a.k.a. Peter O'Grady), one of the most exciting producers to erupt from this scene in '09, fits in nicely with the emotive bent of dubstep currently being helmed by Burial. Less murky and claustrophobic than a typical track from his aforementioned forerunner, "Hyph Mngo" begins modestly with simple metronomic percussion and faint drones that sound as if they were emanating from the depths of a cave. All quickly fades as O'Grady begins to methodically interlock layers of sound – subtly warped synth chords, chopped-up female vocal loops, a brisk boom-bap, and of course prominent, buzzing bass. Infused with intense melancholy, the song also remains remarkably energetic and dynamic, its dense construction balanced with enough breathing room to ensure repeated listens. "Hyph Mngo" stands out against a flood of new dubstep as a club banger not just for the dub heads. – Derek Emery
"Ladies get in line, let me see your bestest wine"
Major Lazer (ft. VYBZ Kartel) – "Pon de Floor" (Downtown)
[Single; from Guns Don't Kill People, Lazers Do]
Built on a foundation of sampled yells, topped by an indecipherable patois sorta-chorus from guest toaster Vybz Cartel, "Pon de Floor" could be everything one might hate about dancehall and other clubcentric forms of reggae. Major Lazer's steady hand, however, guides it towards the realm of the catchy and infectious late on Guns Don't Kill People, Lazers Do. – Adam Blyweiss
Video (probably NSFW)
Buy at iTunes
"I believe in gentle harmony"
Passion Pit – "The Reeling" (Frenchkiss)
[from Manners]
The `00s (what exactly are we calling this decade?) were not very kind to unabashed sincerity. Sure, the Alternative Press-bred emo kids ran amok with their over-emoting and bad high school poetry, and while this approach proved popular (I can't be the only one with a box full of albums that became embarrassing upon reaching college), those bands were never cool. Irony was cool. Minimalism and postmodernism. Calculated indifference. But wearing your heart on your sleeve? God forbid. Michael Angelakos chased every emotion to its indulgent conclusion on "The Reeling," Passion Pit's first single after the enormous amount of buzz generated by 2008's Chunk of Change EP. Massive synthesizers. A children's choir. That falsetto. "Here I am, oh here I am, oh when will someone understand?" Is it cool? I don't know, but it is really, really fucking good, and that shit had better start counting for something. – Eric Friedman
"Burning all the gold that held me inside my shell"
Mastodon – "Oblivion" (Warner Bros.)
[Single; from Crack the Skye]
High-concept prog-metal that cites theoretical physics and a famous Russian mystic as two of its primary lyrical concerns is not the sort of thing you'd expect to find amongst Yeah Yeah Yeahs and Grizzly Bear in one's record collection, yet here we are at the tail-end of 2009 and now it's far more common to find indie rock fans snatching up the Relapse and Southern Lord discographies. Maybe it's the whole irony thing, but hopefully it's because this decade has produced some unthinkably brilliant metal (see also: Sunn O))), Isis). So yeah, "Oblivion?" It's Mastodon at their most accessible, and if any contemporary metal band has earned the right to reach out to a wider audience, it's this one. When accessible means sounding like a Layne Staley-fronted Black Sabbath that still kicks the shit out of anything else you've got on your iPod, no one's complaining. – Eric Friedman
"It took half your leg and both your lungs"
Neko Case – "People Got a Lotta Nerve" (Anti-)
[Single; from Middle Cyclone]
Initially, "People Got a Lotta Nerve" seems cute. Neko Case uses phrases like "I'm a man-eater" and "an elephant never forgets." What she really means is that an elephant will hold a grudge and gore you with his tusk. No really. The animals are taking revenge, and their captors are going down. A killer whale squashes a trainer at the bottom of a Sea World tank, the cops come, bullets are fired. It's an awful fucking mess. And yet, the song is just so gosh-darn jangly and fun. Maybe "cute" isn't the right word, but with the right amount of Byrds-style guitar, pristine songcraft and cleverly phrasing, Case certainly makes tragedy a lot easier to listen to. – Jeff Terich
"The city never sleeps/ better slip you a Ambien"
Jay-Z (ft. Alicia Keys) – "Empire State of Mind" (Roc Nation – Atlantic)
[Single; from The Blueprint 3
I'm probably supposed to say something about the World Series, but I'm not going to. Besides, according to Jay-Z, he " made the Yankee hat more famous than a Yankee can." Jury's out on that, I suppose, but here's what I do care about: "Empire State of Mind" is that one powerful, iconic Jay-Z song on The Blueprint 3 that most of the others couldn't or just didn't bother trying to be. It's an inspiring and superbly catchy portrait of New York City, one that can even bring a smile to the face of this California kid. Even if it comes a bit too close to a tourism brochure, it's Alicia Keys that really sells it, belting out the claim "I'm from where dreams are made of, there's nothing you can't do." New York can be a pretty unforgiving mistress, but after hearing Jay and Alicia tell it, I'm ready to believe it's anyone's for the taking. – Jeff Terich
"You gotta weigh what he said to help shape the way you play"
Animal Collective – "Brothersport" (Domino)
[Single; from Merriweather Post Pavilion]
How do you end an album like Merriweather Post Pavilion? Perfectly. Having listened to this record as many times as I did this year, it's hard to imagine it sequenced any other way. According to Animal Collective, when they told Merriweather producer and engineer Ben Allen that they had settled on "Brothersport" as the album's closing track he simply said: "Man, that's ballsy." And it is, especially when evaluating the record from a pop music perspective. Lucky for us, Animal Collective's approach to music lends itself to making bold choices. The soaring pillar of elation that is "Brothersport" has felt inspired in all contexts – as intense live piece, hype-inducing leaked track, or captivating album closer – but especially overwhelms after the experience that is Merriweather Post Pavilion. From the bouncy opening encouragements of "Open up your / Open up your / Open up your throat," to the explosive swirl of arpeggios, synth loops, thunderous percussion, and pulsating bass, to the song's final immersive wall of sound crescendo, "Brothersport" is a stunningly hypnotic gem and one of the best moments on one of 2009's greatest records. – Derek Emery
"Shake it like a ladder to the sun"
Yeah Yeah Yeahs – "Zero" (Interscope)
[Single; from It's Blitz!]
Either explicitly or subliminally, this song is about sex. Certainly, "Zero" is open to interpretation; Karen O singing "you're a zero" could just as easily be some tough love or an insult. But she sings it with such joy and such vigor it's hard not to hear it with a touch of celebratory glee. Then there's an invitation to don leather. Add in those thick, mesmerizing layers of synth and the atmosphere instantly becomes a sensual and intoxicating, if a bit hyperactive one. Against the pulse-racing beat, Nick Zinner turns out a magnetic, strobe-flashing riff as the song reaches its ecstatic, awesome climax. Of course, this only happens after Karen earns her O with her escalating, breathless cries of "crying, crying, crying, oh, ohhh/ can you climb, climb, climb higher?" Oh my. – Jeff Terich
"We all need someone to tell us when to go"
The Very Best – "Warm Heart of Africa" (featuring Ezra Koenig) (Green Owl)
[Single; from Warm Heart of Africa]
Throughout the last half of this decade, there's been no shortage of influence from African music, particularly in the apparent rediscovery of Afrobeat and Highlife artists active during the musical renaissance of the '60s and '70s in West Africa. So, it's especially fitting that the Malawi-born Esau Mwamwaya – an actual African in a sea of Western imitators – would find his project with fellow Londoners Radioclit, simply called The Very Best, propelled toward the top of such a movement. Also fitting then that The Very Best would sample "Guitar Boy" by Sir Victor Uwaifo, one of the finest Highlife guitarists ever, and recruit one of the most prominent Western Afro-revivalists, Ezra Koenig of Vampire Weekend, to record the hook. Yet, "Warm Heart of Africa" is more than just the considerable sum of its parts. Ezra's playful chorus is a surprisingly natural compliment to looping Uwaifo guitar cuts and Esau Mwamwaya's uncanny ability to imbue a song with incredibly uplifting energy. And while you may not be able to understand most of his lyrics, as they're sung in Chichewan, the way Esau's vocals soar across this infectious dance-jam speaks louder than words ever could. – Derek Emery
"I can see the end of what I've become"
The Big Pink – "Velvet" (4AD)
[Single; from A Brief History of Love]
The Big Pink's debut album A Brief History of Love finds UK duo Milo Cordell and Robbie Furze hedonistically bouncing back and forth between speaker-blowing stadium fillers (see: "Dominos") and beat heavy, baggy shoegazer jams (see: "Too Young For Love"). Funny, then, that their best song happens to be the one least informed by ecstasy or fireworks. "Velvet" is still a massive song, one whose production starts out heady and becomes increasingly molasses thick as it progresses. It's more tender than the quasi-misogyny of "Dominos," offering "I can see the end, of what I've become/ A tale of love come and gone," over a fuzz melody that's immediately endearing and hypnotic. Though its wall of fuzz will shake you silly, there's something incredibly affecting and intimate about this hyper-ballad, to steal Björk's word. The band has yet to match this song's enormity. – Jeff Terich
"I mean I'd…love to get to know you"
Franz Ferdinand – "No You Girls" (Domino – Epic)
[Single; from Tonight]
Are these Scots slipping? Did it really take until their second single from Tonight for them to get all ubiquitous this year? Was it the cascading he-said/she-said refrain that sealed the deal? What, "Lucid Dreams" didn't have enough chugging guitars for you? Are you not entertained? – Adam Blyweiss
"I'm gonna miss you all"
Antony and the Johnsons – "Another World" (Secretly Canadian)
[single; from The Crying Light]
I've already written somewhat extensively on my first hearing of Antony's "Another World." Suffice it to say, the song was emotionally overwhelming. It's one thing to have a song's lyrics devastate you to your very core, quite another to have those lyrics sung by a vocalist as affecting as Antony Hegarty. Antony seeks the other world of the title because of the oncoming threat of Armageddon, whether through the impending threat of war, the depletion of our natural resources or some other catastrophe. Unfortunately, what is inherent in the song and Antony's tone is that this other world is not coming. Antony sings of missing things in this life, the sea, the snow, the bees and animals. The contradiction comes in the notion that although we are deeply sensing oncoming doom and sadness, we can equally exult in Antony's glorious voice, and somehow, in some way, that makes it all better. – Terrance Terich
"A true don, only I could do wrong"
Raekwon (ft. Inspectah Deck, Ghostface Killah and Method Man) – "House of Flying Daggers" (IceH20 – EMI)
[Single; from Only Built 4 Cuban Linx Pt. II]
Before Raekwon finally dropped the absurdly anticipated Only Built 4 Cuban Linx Pt. II, one of the first tastes of the album we got was "House of Flying Daggers." Produced by the late, great J. Dilla, this track handily assured fans that the record would deliver on its promise as sequel to a true classic. Opening with an alternate take of a familiar Wu refrain ("Soldiers in the front, let the heat pump / Troops on the left, fight to the death…"), "House of Flying Daggers" finds Inspectah Deck, Ghostface Killah, and Method Man all joining Rae with the same ferocity and complexity that permeates the strongest records to come out of the Wu-Tang Clan, helping to again reaffirm their comfortable position as hip-hop's most prolific and consistent legacy. – Derek Emery
"Let's get out and smash any dreams of love"
The Big Pink – "Dominos" (4AD)
[Single; from A Brief History of Love]
Herein lies the argument against The Big Pink being tagged as mere copycats on A Brief History of Love. Sure, the song sucks in bits and pieces from all manner of standalone genres: Madchester through indie-dance, industrial through shoegaze. Yet it combines these to create both cutting emotion and anthemic power to match the greatest Britpop, and it's fortunate to do so alongside the lyric of the year. – Adam Blyweiss
"If you market yourself for blood, how do you come back?"
HEALTH – "Die Slow" (Lovepump United)
[Single; from Get Color]
HEALTH has always been expert at making loud, exciting and frequently terrifying sounding music, and 2009 didn't change that. They did, however, add one more element to their thrashing, vertigo-inducing repertoire: hooks. Leaping off from the previous year's remix album Disco, the Los Angeles quartet smashed out an industrial dance anthem of their own. Jacob Duzsik's serene, angelic vocals are easily obscured by the flashmob of guitar jabs and incendiary electronic screeches, until the song's multitude of moving parts lock into place to construct a catchy, if viciously chilling chorus. "She sees red at night," Duszik sings, and after a few rounds of this one, you might do likewise. – Jeff Terich
"what will make you believe me?"
Neko Case – "This Tornado Loves You" (Anti-)
[From Middle Cyclone]
When Neko Case sings, "My love, I am the speed of sound," my heart was won. A force of nature, Case has a voice that knocks you down with its gorgeous clarity, emotion, and physicality. In "This Tornado Loves You," she sings from the point of view of a tornado but it's so much more. The torrential force of love is beautifully captured in the whirling guitars and pattering snare drums. Singing of tearing up trailer parks, cutting through 65 miles of land in search of her love, Case's lyrics have never made destruction sound so romantic. The aching longing brought to lines like "I carved your name across three counties" and "come out to meet me / run out to meet me," are clear evidence as to why Case is one of the best singers around. While likely not the kind of love for everyone, I identified with Case here. "This Tornado Loves You" is about a love that is unrelenting, unwavering and yes, maybe a little dangerous, but it's precisely that wild passion that makes the song so soulful and gorgeous. If only all love could have that passion. – Jackie Im
"I can feel it in my bones"
Metric – "Gimme Sympathy" (Metric Music International)
[single; from Fantasies]
The third single from Fantasies has taken on two separate meanings in my life. Until recently, the song was simply one of the best and most energetic pop numbers of the year. Always a welcome addition to any of my playlists, "Gimme Sympathy" proved that Metric was only getting better with age, and I was still in love with Emily Haines' voice. But, then the deeper meaning came.
We don't often look deeper into pop lyrics. Sure, we analyze Morrissey's stuff to oblivion, and Costello, Dylan and Cohen get the attention they so richly deserve, but do kids today copy Metric lyrics onto their Pee-Chee folders the way I used to with New Order, Echo & the Bunnymen and the Smiths? "Gimme Sympathy" is about taking risks in life, and I listened much closer after I took a big risk in my own life. When Haines tells me that I'm going to make mistakes, I'm young, I feel comforted. And, should that cease to comfort me, I'll ask, as Haines does, to `play me something, like Here Comes the Sun.' – Terrance Terich
"Dance, dance, dance till you're dead"
Yeah Yeah Yeahs – "Heads Will Roll" (Interscope)
[Single; from It's Blitz!]
In retrospect this track approximates, for me at least, the point at which MySpace died. The level of rage generated by that banking aircraft of a synth was sad/hilarious, all these fake punk kids bewailing as sellouts a band that was never really punk in the first place. Scrolling through screedy anti-It's Blitz! bulletins that invoked, say, Cut Copy as a pejorative got me wondering for the first time if MySpace was really a proper crowd. (Yeah, it took me that long.) For that alone "Heads Will Roll" was a high point. Hearing it bumped, unalloyed, by discriminating DJs for most of the spring was another, and still another was A-Trak's marvelous mahjongg of a remix, which skewed all Karen O's panic into the biggest breakdown of the year. – Anthony Strain
"We're too old…we're not old at all"
The Antlers – "Bear" (Frenchkiss)
[Single; from Hospice]
The best and worst thing a song can do is make you cry. At your most vulnerable, the right combination of words and melody can break down the threshold between your composure and your most overwhelming feelings of ache and despair. But it typically takes a unique and special song to break down those barriers, and "Bear" is just such a song. After a "Twinkle, Twinkle" intro, Peter Silberman intones, "There's a bear inside your stomach/ the cub's been kicking from within/ He's loud, though without vocal chords/ we'll put an end to him." Within the context of the song, the bear takes on numerous meanings, from a child, to anxiety, to an illness (and on an album about a dying cancer patient, that's very likely). But as he lines up more thoughts and images, from "None of our friends will come/ they dodge our calls/ they have for quite a while now" to "When we get home we're bigger strangers than we've ever been before," the rift grows more vast and the cut goes deeper. And with the aid of distortion, horns and some momentum, that emotional frailty segues into an intense, cathartic rush of a climax. It's beautiful and painful, but in the end, the best thing this song did was to reduce me to tears. – Jeff Terich
"Chop a small axe and knock a giant lopsided"
Mos Def (ft. Slick Rick) – "Auditorium" (Downtown)
[From The Ecstatic]
I loved Black Star. Black on Both Sides is a record that profoundly changed my relationship with hip-hop. Mos Def was always an important figure for me and I waited, ever faithful, for a follow-up that would do his talents justice. When I first heard "Auditorium," I felt relief and excitement – finally, a track that could live up to everything Black on Both Sides delivered. The gorgeous sample from Madlib's Beat Konducta in India provides a lush, meditative backdrop for Mos Def and Slick Rick's complex flow. The two emcees touch upon everything from the Iraq War to writing. Ever the wordsmith, the best aspects of Mos Def's songs have always been in his lyrics and "Auditorium" is no exception. Mos Def's turns are stunning and it's a pleasure to hear the words, the rhythms fly off his tongue. Lines like "Soul is the lion's roar, voice is the siren / I swing `round, wring out and bring down the tyrant / Chop a small axe and knock a giant lopsided" are refreshing in their complexity but made all the better in Mos Def's ease in the delivery. While "Auditorium" might not quite reach the heights of a track like "Mathematics," nonetheless, it was worth the wait. – Jackie Im
"What did you want to be when you grew up?"
Atlas Sound (ft. Noah Lennox) – "Walkabout" (Kranky)
[Single; from Logos]
Bradford Cox's first foray into looping samples—inspired by a game played whilst on the road with Animal Collective—is built around The Dovers' classic nugget, "What Am I Going to Do?" "Walkabout" is a nostalgic and euphoric slice of pop sunshine; Noah Lennox's vocals hark back to the sandy-toed Californian harmonies of the '60s, and the lyrics about the necessity for change cut against an invocation to recall childhood aspirations. Subtly, it touches on the basic problem of balancing the ideal and the pragmatic, reconciling them in a way related to the feel of the music: the melancholy for things past exists alongside joyful acts of constantly creating new ways of being in and acting on the world. Not that the song immediately demands a high level of rumination. In fact, what it does do immediately is make you want to move your body in slightly awkward but eminently satisfying and smile inducing ways. – Tyler Parks
"Know where to go where our bodies go"
Animal Collective – "Summertime Clothes" (Domino)
[Single; from Merriweather Post Pavilion]
When I listen to Animal Collective's "Summertime Clothes," I imagine grassy fields, hand holding, general summertime merriment. I think of falling in love in the summer – carefree and fun. This wasn't the actual summer I experienced but "Summertime Clothes" still makes me think of all of that. The buoyant synthetic programming, marching beats, churning distortion and the effervescent vocals capture the restless energy of a hot day or night. Kicking off your socks, meandering walks, dancing to "songs from the cars as they pass" – all illustrate the best memories of summer and even better, sharing that with a special someone. Sitting here, on a chilly December night, listening to "Summertime Clothes" makes me nostalgic for a summer that didn't quite exist for me. Yet the sweetness of the song, the pure pop bliss of the music makes me believe that that summer happened to me. – Jackie Im
"So sentimental/ not sentimental, no!"
Phoenix – "Lisztomania" (Glassnote)
[Single; from Wolfgang Amadeus Phoenix]
Franz Liszt died before his time. He was 74, but he didn't get to meet his fan club. Liszt was Hungarian, his son-in-law Richard Wagner was German, and his revivalists in Phoenix are French. But in 2009 "Lisztomania" burned down more than Europe. It braced Saturday Night Live and infiltrated all the best clubs and mixtapes in a steady flow of classic characters: stately, elegant, dope as shit. Whichever edit you like best—the sneery hammered-piano version by A Fight For Love & 24 Hours A Day, Classixx' shimmery psychedelia, or Yuksek's loopy sort of mess–the song stays about its business of devious plucks and chunks and inchoate fair-ride whee, to say nothing of its general
whackness. To wit: the eccentric diction of Thomas Mars; that interlocking trill of "duel it, duel it, duel it, juggle it" may need fact-checking but not much else. Swear on a virtuoso's grave. – Anthony Strain
"So I'll ask you kindly to make your way"
Grizzly Bear – "While You Wait For the Others" (Warp)
[Single; from Veckatimest]
"While You Wait For the Others," the second single from Grizzly Bear's Veckatimest, serves as a perfect foil to its predecessor, "Two Weeks." Rather than being helmed by Ed Droste, Daniel Rossen takes the lead. Rather than opening with an immediate, twinkling piano hook, it lurches forth with a heavily reverbed guitar shudder. And instead of soaring into a magical dream state during its chorus, it goes straight for ragged guitar rock. But where the two differ most is in lyrical content, Rossen shrugging off any sense of melancholic longing for matter-of-fact dismissal, politely cutting ties with the kiss-off, "I'll ask you kindly to make your way." The re-release featuring Michael McDonald's vocals may have made the song a bit more soulful and direct, but being shown the door by Rossen seems just a little bit easier to take. – Jeff Terich
"The smell of cinders and rain perfumed almost everything"
Bat For Lashes – "Daniel" (Astralwerks)
[Single; from Two Suns]
The cover of its single release and the conclusion of its video suggests that Bat For Lashes' "Daniel" could be about Ralph Macchio's character from "The Karate Kid," but there's something much more mysterious and universal about the song. Slightly altering the bassline from The Cure's "A Forest," which she covered late last year, Natasha Khan crafts a fantasy world from monumental synthesizers, gently popping dance beats and weeping string hooks. While that video clip and its frightening, black-clad ghouls gave the song a dark new perspective, what ultimately stood out was Khan's longing for a time more innocent and romantic. After she chants her lost boy's name in the gorgeous, Fleetwood Mac-like chorus, Khan sings "I dream of home." There's intense passion and longing behind her verses, and a melancholy that permeates every beautiful measure. Heartbreak or not, this is pure ecstasy. – Jeff Terich
"It's not a miracle we needed"
Phoenix – "1901" (Glassnote)
[Single; from Wolfgang Amadeus Phoenix]
A small rift started among Treble's team of writers when it was asked: are you a "1901" man/woman or are you a "Lisztomania" fan? The correct answer should really be "both." But if I have to choose sides, I'm going with the beat-heavy first single from Wolfgang Amadeus Phoenix. Its buzzsaw synth bassline cuts through your nervous system, slows your pulse and sends you into a trance—at least that's very frequently the feeling I get. Every single element, from its manic guitar strums to its soaring keyboards to Thomas Mars' reassurance, "It's not a miracle we needed/ no I wouldn't let you think so," is absolutely meticulously placed and impeccably executed. The most apt criticism that I heard about "1901" was, "I don't like how it ends." And that's pretty close, but the only real problem with the song is that it does end. – Jeff Terich
"Where do you and I begin?"
The Dirty Projectors – "Stillness Is the Move" (Domino)
[Single; from Bitte Orca]
The New Yorker's Sasha Frere-Jones wrote extensively this year on the ongoing atomizing of genre. People like Toure don't buy it as regards hip-hop, at least, but borders are clearly way more amorphous in the age of outsized theft, bigger sampling privileges and rediscovery of music previously sent to the attic. There wasn't a more raucous example of this than "Stillness Is The Move," which found the most studious kind of alt band fooling around with Afro textures, swatches of Erykah Badu and Isaac Hayes and a narrative lifted straight from late-millennium Top 40. To sum up: "Get a job, get a job as a waitress"; chicken-scratch guitar, impossible to read; a female vocal circling like a cracked-out dryad, equally indecipherable. It took Solange Knowles' equally calm and stormy cover to reset, in a way, the sanity of it all. There's no 'I' in team but there's definitely meta. – Anthony Strain
"A real big heart and a father's grace"
Animal Collective – "My Girls" (Domino)
[Single; from Merriweather Post Pavilion]
For a week or so after I first heard "My Girls"—live, at a show in Lisbon in May, 2008—I walked around clumsily humming the melody, inventing words to go with it, a little better off than before for having had it carved into me. Eventually, I tracked down a bootlegged mp3 which confirmed what I had by then figured out: this was a magical song and one that was sure to extend Animal Collective's already sprawling circle of influence. What did surprise me though, once I could listen to it at my leisure, repeatedly, were the lyrics. You just don't find that many songs where someone is able to celebrate his love of his wife and daughter so clearly and without falling into sentimental traps. It happens now and again, sure, but an Animal Collective song isn't where you would expect to find it.
By the time "My Girls" finally builds to the first chorus—having glided through hypnotic synth arpeggios, off-kilter beats, and a thick, narcotic atmosphere of psychedelia— Noah Lennox's lyrics seem genuinely revelatory. "I just want four walls and adobe slats for my girls," a desire which certainly need not have anything to do with what anyone else thinks about you, about social status, but which somehow does in most of our practical dealings. I doubt there are a slew of hip, trippy songs that celebrate family waiting in the wings, but it's nice to have one now and again to remind us that building and living with our families can be acts as creative as any other. "My Girls" is a peculiar beauty, mysterious in its attractions and unusually open and candid (especially for an Animal Collective song) in its content. It's going to stay that way—and knock a lot of people out on first sight—for a long time to come. – Tyler Parks
"Take your time"
Grizzly Bear – "Two Weeks" (Warp)
[Single; from Veckatimest]
This year, I often found myself becoming incredibly impatient with my iPod in its shuffle phase. For some reason, the device kept choosing the same bands and songs again and again, and there's only so many times I want to listen to Journey's "Send Her My Love," REO's "Take It on the Run," and Wham!'s "Club Tropicana." There were a scant few times when a song would appease my restless spirit, and "Two Weeks" was at the top of that very short list.
The voices of Ed Droste and his ursine pals weaving harmonically and majestically in and out of each other over an almost overtly simplistic piano refrain can be described only as angelic. In the past, I've always daydreamed I was a lead singer, but the melodious voices of the men in Grizzly Bear motivated me, for the first time, to daydream about being a backup vocalist. How long will I love this song? Always…When will I tire of it? Maybe sometime….but not now. – Terrance Terich