Third Man Records announces previously unreleased Johnny Cash live album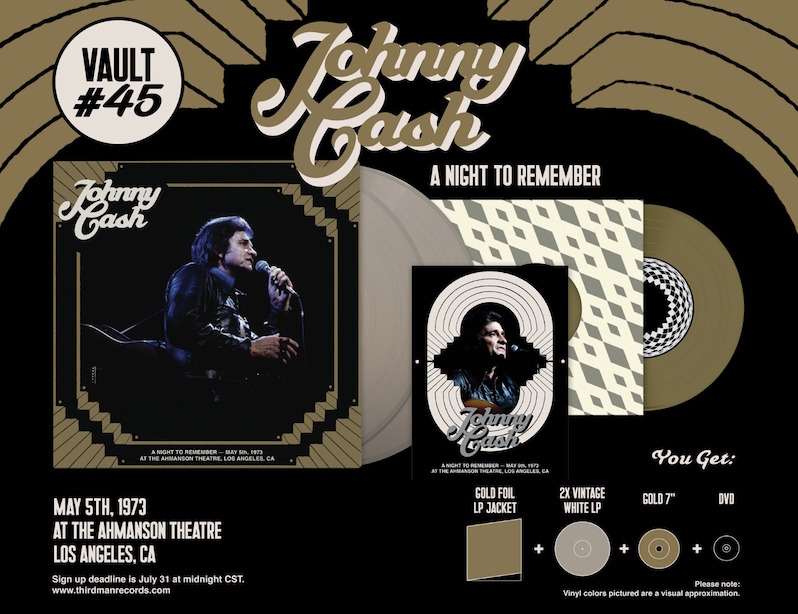 Third Man Records has announced a vinyl pressing of a previously unreleased Johnny Cash album from the 1970s. A Night to Remember, recorded at the Ahmanson Theatre in Los Angeles in 1973, will be released in the label's Vault #45 package. The package includes the 2xLP album on white vinyl in a gold foil jacket, plus a DVD of the performance, as well as a 7-inch featuring two unreleased Forever Words pieces by Ruston Kelly and a mystery artist.
Deadline to subscribe for the Vault in order to receive the A Night to Remember package is July 31. More info can be found here.
Johnny Cash A Night to Remember tracklist:
1. Big River
2. Sunday Morning Coming Down
3. The City Of New Orleans
4. Ballad Of Barbara
5. A Boy Named Sue
6. Going To Memphis
7. That Silver Haired Daddy Of Mine – with Carl Perkins
8. Medley: Hey Porter/ Folsom Prison Blues/ Wreck Of The Old 97/Orange Blossom Special
9. I Walk The Line
10. Jackson – with June Carter Cash
11. If I Were A Carpenter – with June Carter Cash
12. Help Me Make It Through The Night
13. Help Me with June Carter Cash & Larry Gatlin
14. Lord, Is It I?/The Last Supper
15. If I Had A Hammer with June Carter Cash
16. Will The Circle Be Unbroken with June Carter Cash & Carl Perkins
17. Daddy Sang Bass with June Carter Cash & Carl Perkins
18. Folsom Prison Blues (outro)
Johnny Cash's My Mother's Hymn Book is featured on our list, Soul Music: 10 Essential Albums of Faith.