Thought Gang : Thought Gang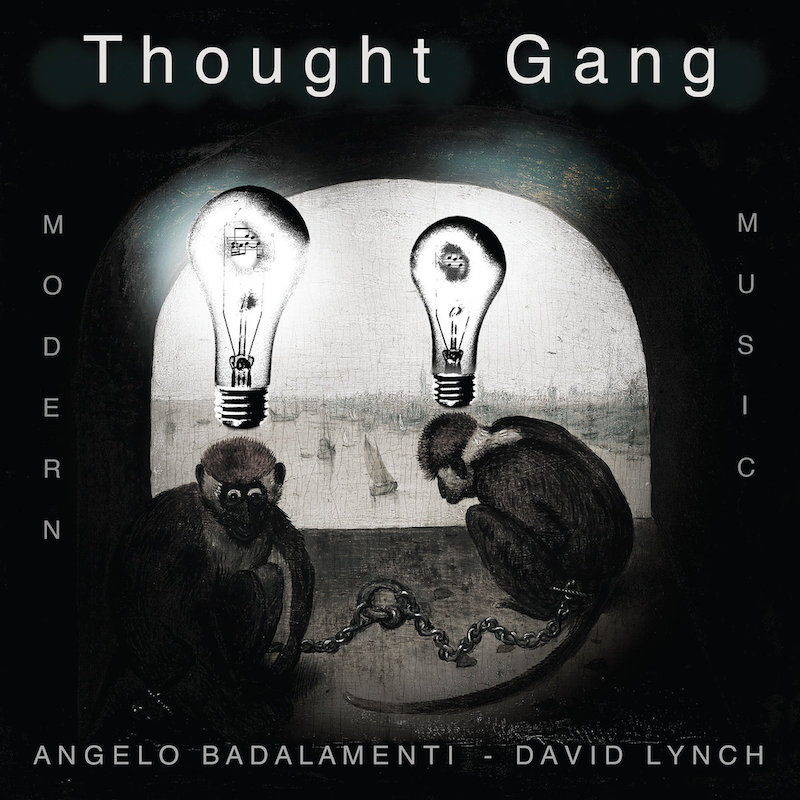 Using the word "jazz" to describe the sole album by Angelo Badalamenti and David Lynch under the Thought Gang moniker is like saying Lynch's series Twin Peaks is a procedural or soap opera. Such a statements is technically accurate but eminently reductive: Hundreds, maybe thousands of musicians predating Badalamenti by decades had used the abrupt tempo shifts, loose drum patterns, dissonant-bleat horns and overall lack of structure that are all over Thought Gang's music, but the group's self-titled debut is no easily explicable free jazz record. Considering Lynch's pronounced refusal to reveal much about his work, the sporadic recording circumstances of Thought Gang, the decades the album spent unreleased (reasons for which are noticeably lacking from Sacred Bones' press notes) and its abstract, often violent lyrical imagery, I don't think we should expect explanations anytime soon. Looking for them too intensely would likely do this surreal, fascinating work a disservice anyway.
Despite being released 25 years after its recording and mastering, Thought Gang is not exactly unknown to Lynch devotees: The group's best-known track, "A Real Indication,"  accompanied two notable scenes in 1992's Twin Peaks: Fire Walk With Me and thus appeared on that long-underappreciated film's soundtrack, as does "The Black Dog Runs at Night." Both were credited solely to Badalamenti on the FWWM soundtrack—possibly because Thought Gang sessions wouldn't finish until 1993, or maybe Lynch didn't think he should release all of the strange pieces they were creating. Then again, if the latter was true, why bother shooting the stark, Badalamenti-starring black-and-white music video for "A Real Indication, which also only saw its first release alongside this full album? (Given his commanding presence in the video, it's somewhat surprising Lynch rarely puts Badalamenti in front of the camera; his most notable role being the mobster in Mulholland Drive who speaks little yet is extremely demanding about espresso.)
Various Thought Gang cuts show up intermittently in Lynch's post-FWWM filmography, though not always credited under that name, with the most notable acknowledgment of the group's existence until now a song on the Twin Peaks: The Return soundtrack called "Headless Chicken." Whatever the reasons for the record's back-burner status, we have Thought Gang before us now, and the dates of its recording are irrelevant because the music it contains is what Poe called "out of space, out of time," with few obvious antecedents other than maybe Captain Beefheart (whom Lynch directly notes as an influence), Ornette Coleman, Morphine and certain aspects of noise and drone. Citing those names doesn't even tell you much, so I'll stop there.
Opening track "Stalin Revisited" largely exists as a droning intro consisting of ambient sound and Reggie Hamilton's bowed acoustic bass. Then we drop straight into "Logic and Common Sense," a free-jazz rave up built on the skeleton of "Headless Chicken" but with its lyrics retained. Badalamenti's talk-rap delivery of said lyrics—which no one but Lynch could've penned, some of them based on film-scene concepts too difficult to realize—is ultimately the lynchpin that holds Thought Gang together. His gruff New Jersey accent brings a frightening plausibility to perverse and bizarre images: "Two children of the earth emerged after that/A cat killed one of them and played with the other until one of its legs came off," from "Woodcutters from Fiery Ships," is a good example. So is "Pete is upset about things/His brain is sorting out information gleaned from this confusing life/Things aren't making sense—for instance, why is that boy bleeding from the mouth?…Smoke fills his room, blood shoots from the cracks, the appliances roar!" from the same track. But that harsh Mid-Atlantic intonation also often seems oddly reassuring, as if Badalamenti needs to show you these things but won't let them harm you.
In other instances, like "A Real Intonation," Badalamenti seems too unhinged to guide anyone, screaming about "that old WIIIIIIIIIIIND!" and "the YEEEEELLLLLL!!!!" as his synthesizer emits a blast of futuristic notes, Tom Rainer's saxophone screeches, Buster Williams's bass bows and scrapes and session drummer Grady Tate, a veteran of Mingus's bands, lays down a slinky funk groove. Moments like these emphasize how truly alarming this album can be, and since "Indication" is probably its most accessible track, that's saying something.
Half of the tracks on Thought Gang don't have lyrics, which only makes those that do stand out as even more arresting. When Badalamenti intones, "And as above, SO BELOW" on "A Meaningless Conversation," it's enough to jolt you out of your goddamned skin, especially given the song's funereal pace, thudding percussion and low, staccato horn blasts. But the album is not intended as an experience contingent on its lyrics but rather a concentrated piece in which all elements serve a singular goal of creating one mood—a unique blend of unsettlement, horror, filth and the blackest brand of humor. (Those searching for the social commentary lurking underneath certain Lynch works will likely find themselves disappointed, with the possible exception of the lyric "Men wearing suits racing lawnmowers—it's America!!" Lynch is and has always been simultaneously reverent toward and repulsed by the American character, but the Thought Gang music seems more broadly concerned with the strangeness of humanity overall.)
The album ends with an extended sojourn through ambient and tonal dynamics  in the tracks "Frank 2000" and "Summer Night Noise," which comprise almost 26 minutes of Thought Gang's hour-long experience. Although the entire band, including horns and live drums, plays on "Frank 2000,"  according to Lynch, all specific instrumental sounds aside from the occasional clear synth note have been edited by Badalamenti, Lynch and mixer-engineer Dean Hurley (another frequent Lynch collaborator) into an ominous maelstrom vaguely industrial sound over the first half of its 17 minutes. Only at around 8:30 do the instruments identify themselves, with Hamilton's maniacal slap-bass and brutally atonal guitar, Gerry Brown's thunderous drums and Badalamenti's keys creating a dissonant groove that briefly materializes as something concretely funky in the song's coda before concluding in a cacophonous burst almost reminiscent of Lightning Bolt (albeit with less distortion). "Summer Night Noise" is even less interested in conventional form and more concerned with the outer reaches of drone and noise. Taken together, these tracks represent a major curveball in the wake of about a dozen other curveballs, shaking the listener into disturbance while creating an irrepressible desire to dive back into this mysterious sound-world.
Thought Gang is a work guaranteed to reinforce the negative opinions of those convinced Lynch is full of shit, as some are, and it might not even particularly pique the interest of some Lynch superfans. But this leads to another important truth about Thought Gang, this specific self-titled album and much of Lynch's work: It lives or dies based on the strength of his collaborators. Despite writing the lyrics, Lynch doesn't play much on Thought Gang—just assorted percussion throughout, guitar on "One Dog Bark" and some distorted vocals and synth on the terrifying "Jack Paints it Red." Badalamenti is, ultimately, the strongest guiding force here, and Thought Gang is an outstanding showcase for him as a composer and arranger—though it can't be denied that he makes most of his best music for and with Lynch.
Similar Albums: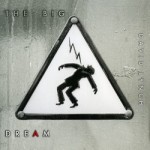 David Lynch – The Big Dream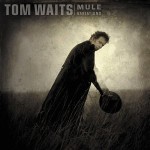 Tom Waits – Mule Variations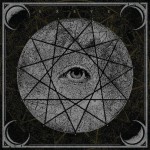 Ex Eye – Ex Eye