Life on Shuffle: Volume 2: Testing the Model
When my brother first proposed the idea of "Life on Shuffle" to me, I couldn't help but think of how frequently my iPod plays the same songs. For the longest time, "Daft Punk Is Playing At My House" by LCD Soundsystem would pop up early in a rotation, as often would Morrissey's "Glamorous Glue" or Os Mutantes' "La Premier Bonheur du Jour." It's not like I'm complaining; I love each of these songs quite a bit. It's just that my miniature musical device seemed to have a preference for certain songs.
But when I read our first installment, in which the idea of a clairvoyant iPod was proposed, I became intrigued further by each song's place in a shuffle. With around 4,000 songs in my own iPod, there seemed to be endless possibilities in which the songs could be arranged. Yet how they align is what's more interesting. On my first experiment into "Life On Shuffle," I discovered not necessarily one recurrent theme, nor an overall similarity in all of the songs. But there were definitely connections between each selections, often creating perfect transitions. Maybe I'm just reading too much into this, but then again, this is one awfully interesting ten-song mix.
1. "Down by the Water" – PJ Harvey
Possibly Harvey's most well-known song, "Down by the Water" is a fantastic track to start off any mix, shuffle or otherwise. It has a sort of intensity and urgency that kicks things off with a bang, even if subtly. As we at Treble have begun to start delving into our favorite music of the '90s, "Down by The Water" instantly comes to mind as one of the best of the decade. Not only is it a catchy single and a haunting tale, but a track that stands the test of time, going down, at least in my mind, as a true classic, a song that will forever remain one of my all time favorites.
2. "All My Friends" – LCD Soundsystem
I can't think of a better way to follow up an old favorite than with a new one. LCD Soundsystem's Sound of Silver has been on regular rotation at home, in my car, on my iPod…pretty much anywhere I have access to music. Maybe I was foolish in thinking that James Murphy may not have had it in him to make more than one great record. Listening to a track like "All My Friends," which, though initially repetitive and simple, is an epic track, building layers upon layers of sound, while making something of a mashup between a power ballad and a disco track. Yeah, I was definitely being foolish.
3. "Ida, My" – Annuals
I admit, I probably haven't given Annuals' debut as many spins as I should have. I mean, I reviewed it, and certainly gave it several listens a few months ago, but give yourself a listen to a record sometime after the fact, and you're bound to hear something a little differently. In the case of "Ida, My," the song may not have initially made a great impact on me, but listening to it again, I was actually impressed by its delicate melodies and grand build up. This North Carolina band offered a lot of promise on their first record, and I'm certainly intrigued to hear more.
4. "Pencil Skirt" – Pulp
And here we are back in 1995, but instead of revisiting a classic single, the ol' iPod gives me an album track by one of the greatest Britpop bands of all time (rivaled only by Blur, if you ask me). Jarvis Cocker plays the suave, if a bit sleazy, other man, watching his lover undress, thinking over the state of his torrid affair, going over in his mind how he know's it's wrong and that he knows it ultimately doesn't make his mistress happy. But in his words, "oh, it's turning me on." Fantastic.
5. "Rest My Head Against the Wall" – Heatmiser
I've always thought that Heatmiser has been a bit buried by Elliott Smith's solo work. And even more than that, Neil Gust's Heatmiser songs have been eclipsed by Smith's. Some of them are my favorites, though, like this slide guitar laden track, rife with paranoia and fear. It ties in well with the Pulp song before it, as both somewhat deal with the danger of being caught. In Pulp's track, the reasons behind it are tangible and realistic, whereas with Heatmiser's, it's ambiguous who the narrator is hiding from, and why. The intrigue and mystery in the song matches its bluesy melody, creating an altogether seedy atmosphere.
6. "Reunion" – Stars
Where Neil Gust sings of hiding and remaining anonymous, Torquil Campbell tells of facing one's past, reuniting with old friends and trying to capture an old feeling, even one that seems hopelessly distant. He sings "All I want is one more chance, to be young and wild and free," certainly a sense of longing that everyone goes through at some time or another, and the melody that accompanies is pretty and upbeat, yet similarly melancholy. It wasn't initially one of my favorite tracks on Set Yourself on Fire, but I've since grown to love it.
7. "Bow Wow" – Fiery Furnaces
Where Stars drape their songs in emotion and humanity, The Fiery Furnaces take a much less direct route, making great songs out of nursery rhyme lyrics and sing-songy melodies. "Bow Wow" is almost a complete 180 from "Reunion," yet they both contain similarly detailed narratives and both tell a vivid story. What the point of Eleanor Friedberger's is is unknown, as she appears to be following a dog around in a landfill. Or something. I really have no idea, but it's a lot of fun, anyway.
8. "Tchaparian" – Hot Chip
Finding the link between Hot Chip and The Fiery Furnaces may initially seem difficult, but they're not that different, really. Both bands have an undeniably silly side, both displayed in their two tracks here. And likewise, both bands have the ability to turn from light and fun to incredibly imaginative. This track on The Warning is one of the few that sounds like a holdover from Coming on Strong, with lyrics of kisses and smacks and quirky, bouncy synth beats. It's no "Boy From School," but it's a nice tune anyhow.
9. "Little Sparkee" – Q and Not U
And here we are with another complete turnaround. While Hot Chip side by side with one of Q and Not U's later singles might make for a dance party to beat all, this offering by one of DC's finest is a much more discordant and spastic affair. A personal favorite of mine from their debut No Kill No Beep Beep, "Little Sparkee" is a 2 minute punk rock sonata, transitioning from movement to movement without ever repeating any parts. It's monumental, and far too short. I could listen to ten minutes of this. Maybe.
10. "Mockingbirds" – Grant Lee Buffalo
Closing out the set is the only other single in this shuffle, yet another mid-90s favorite, and a song by one of the most underrated bands of the time. Grant Lee Buffalo's "Mockingbirds" is the perfect set ender, and a perfect song to end a film too, come to think of it. Its sweet melodies and alt-country rusticity give it heart and husk, at the same time reminiscent of some of Led Zeppelin's more laid back moments. I can't say enough good things about this song, and it may too, in fact, change your life. Stay away from this one, Braff…it's all mine.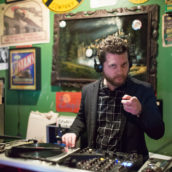 Jeff Terich
Jeff Terich is the founder and editor of Treble. He's been writing about music for 20 years and has been published at American Songwriter, Bandcamp Daily, Reverb, Spin, Stereogum, uDiscoverMusic, VinylMePlease and some others that he's forgetting right now. He's still not tired of it.