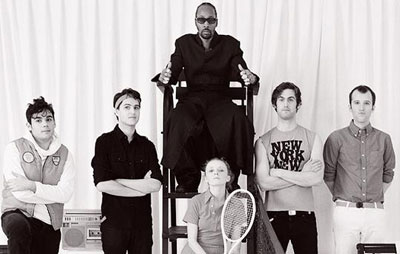 When December arrives, year-end lists are bound to be just around the corner. But before Treble indulges in the annual tradition of assembling lists of what we consider the best songs and albums released in 2010, we've got a series of smaller, more concise, but still entertaining assemblages of 2010 music and pop culture delights. Every day we're adding new lists of our favorite musical bits and pieces of 2010. Enjoy!
Top 10 Artist Tweets of 2010
Some of the most entertaining aspects of music in 2010 happened on Twitter. These are our favorite musician one-liners of the year.
Top 10 Most LOL/WTF Music Moments of 2010
A lot of bizarre and/or hilarious things happened this year. Here are ten of those moments that entertained us most.
Top 10 Best TV Music Moments of 2010
With MTV no longer about music, artists are taking their craft to other channels with sometimes awesome, sometimes hilarious and sometimes just plain weird effect.
Top 10 Album Covers of 2010
Digital may be the norm, but we still like pretty pictures.
Top 10 Music Videos of 2010
The best visual interpretations of some of the year's best songs, in both humorous and emotionally gripping form.
Top 10 NSFW Videos of 2010
And here are 10 more of our favorite videos of the year, but this time, strictly for mature audiences.
Top 10 EPs of 2010
As much attention as we give the album format, there's no denying that this year offered some stellar records under a half-hour.
Top 10 Debut Albums of 2010
A summary of the year's greatest moments in music wouldn't be complete without a list of our favorite first-time offerings.
Top 10 Comedy Albums of 2010
These are, hands down, the funniest records you'll hear from 2010.