Yo La Tengo announce 2019 Hanukkah shows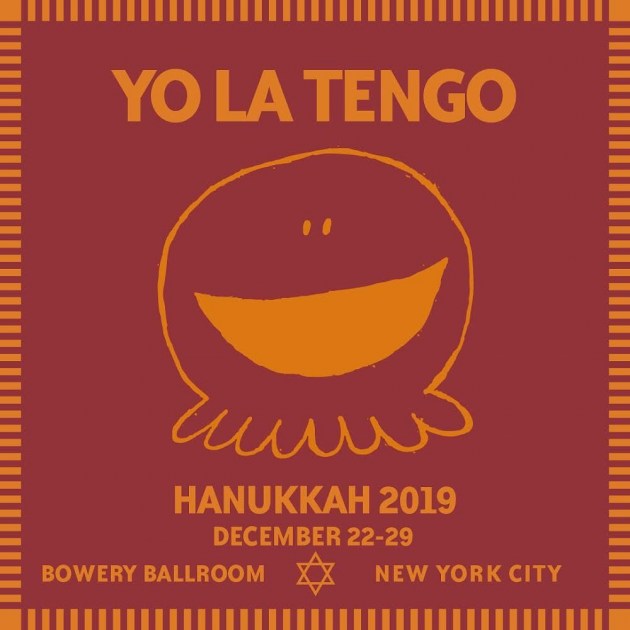 The holiday season is just a few months ahead, which means that Yo La Tengo are once again gearing up for a series of Hanukkah shows in December. Between December 22 and 29, they'll be performing nightly shows at the Bowery Ballroom in New York, with special guests—both musical and comedy—opening each show. Tickets go on sale September 6.
Before that, however, they'll be playing a series of U.S. dates including the Yo La Tengo Camping Weekend later this month, headlining dates in Los Angeles and San Francisco and a special Buckminster Fuller documentary scoring collaboration in San Diego. Take a look at their upcoming dates below.
Yo La Tengo tour dates:
9/13-14 Walla Walla, WA – Huichica Festival
9/16 Garden City, ID – Visual Arts Collective
9/17 Salt Lake City, UT – US The State Room
9/19 La Jolla, CA – US San Diego Center for Jewish Culture: David and Dorthea Garfield Theatre
9/20 Los Angeles, CA – El Rey Theatre
9/21 Big Sur, CA – Fernwood Resort
9/23-25 San Francisco, CA – The Chapel
10/11 Brooklyn, NY – Barclays Center
12/22-29 New York City, NY – Bowery Ballroom (Hanukkah shows)
1/1 Durham, NC – Reynolds Industries Theater
1/18-22 Rivera Maya, Mexico – Wilco's Sky Blue Sky Festival
Read our feature, Yo La Tengo's I Can Hear the Heart Beating as One set a benchmark in indie rock.