The Everyday Mystery of Yo La Tengo's And Then Nothing Turned Itself Inside-Out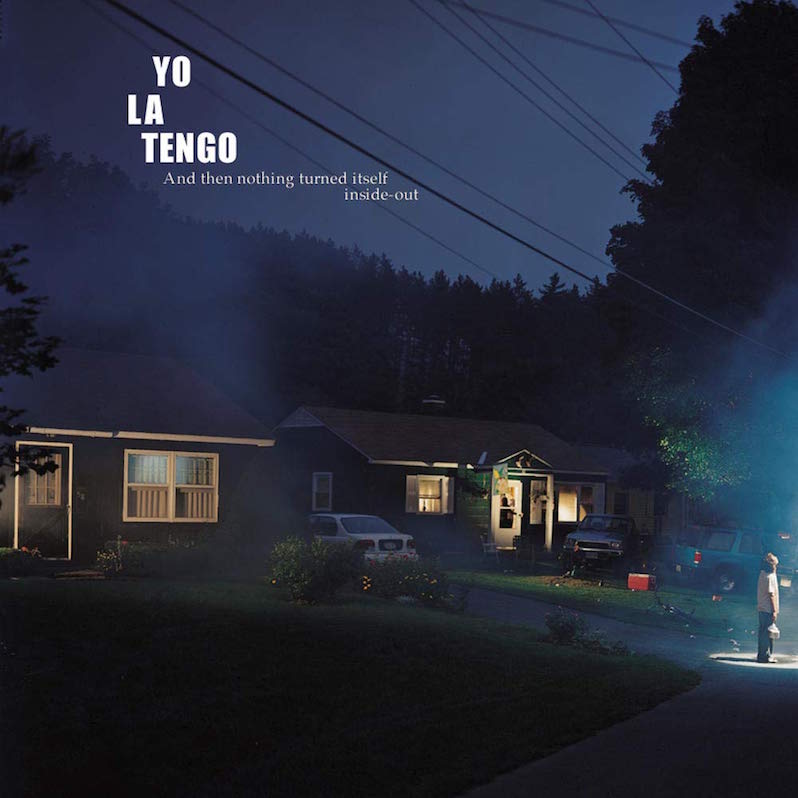 Years ago, I was drawn to an album by Yo La Tengo for its title and its album cover, both of which conveyed a sense of the surreal and the metaphysical. And Then Nothing Turned Itself Inside-Out, whose title is taken from a quote by Sun Ra ("…At first there was nothing… then nothing turned itself inside-out and became something"), features artwork by Gregory Crewdson, a photographer known for the cinematic surrealism of his images.
Crewdson's work is a useful way into an album of such quiet grandeur, an album which is surprisingly difficult to pin down. Crewdson's photographs—particularly his In the Roses series and his Twilight series, which is featured on And Then Nothing—are characterized not only by the surreal, fantastical or cinematic but also by the familiar, the mundane. Jasmine Benyamin has described Crewdson's subject as "the Domestic Sublime," going on to isolate the "mystery" of Crewdson's photographs as "the strange coupled with the recognizable." Benyamin's apt identification of Crewdson's subject is telling when we think about a band like Yo La Tengo, in particular their ninth studio album. Thinking about this description in relation to their music, is it any wonder why they chose Crewdson's photographs as their album artwork?
If I were to try to isolate what has given Yo La Tengo's music—in particular, And Then Nothing—so much staying power over the years, I'm tempted to also call it "the domestic sublime." Take the standout track "Last Days of Disco," whose subject is quotidian enough. The opening lines straightforwardly establish the setting: "Saw you at a party / You asked me to dance." But over James McNew's minimal bass—a highlight throughout the record—the bending guitar notes, and Georgia Hubley's shuffling drums, Ira Kaplan sings about the supernatural power of music to abruptly take us to other states of being, to make us happy and sad at the same time. It's a classic Yo La Tengo stanza:
"And the song said 'Let's be happy'
I was happy
It never made me happy before
And the song said "Don't be lonely"
It makes me lonely
I hear it and I'm lonely more and more"
The song exemplifies the dream pop tone that permeates this record, and McNew's bass gives the washes of sound solid ground to stand on. The effect is strange, funny, and, fittingly, both sad and happy at the same time. When the song asks, "Do you remember?" and Kaplan sings, "I remember, remember like it wasn't long ago," we are reminded of music's capacity to take us out of our own body, our own time, into the past. This immateriality is the surreal element that arises out of the materiality, mundanity, and humor of lines like, "I wasn't dressed right, I rarely am / You told me that you didn't care / I laughed as you wobbled in your platform shoes"—like Crewdson's eerie, extraterrestrial spotlight that falls on someone standing on the edge of a boring, suburban driveway at night.
Crewdson and Yo La Tengo share a similar approach to the familiar, but they also share an interest in film. The cinematic nature of Crewdson's work and the influence of Alfred Hitchcock, David Lynch, and Steven Spielberg in his photographs resonates with Yo La Tengo's multitude of references to movies and television on And Then Nothing. "Last Days of Disco" takes its title from the 1998 Whit Stillman movie of the same name, and "Let's Save Tony Orlando's House" is a reference to a Troy McClure-hosted telethon from an episode of The Simpsons. The title of what has arguably become Yo La Tengo's most acclaimed album—1997's I Can Hear the Heart Beating As One—was apparently taken from a film, but Ira Kaplan refused to say which one.
Yo La Tengo's many references to pop culture speak to another thing that makes this album great—the way it tempers moments of ambient melancholy with surprising levity. The tender tearjerker, appropriately titled "Tears Are in Your Eyes," which features silken vocals by Hubley accompanied by Kaplan's harmony on the chorus and droning, atmospheric guitar, comes not long after Kaplan's funny and neurotic spoken bits on "The Crying of Lot G" and the everyday observations of "The Last Days of Disco." Similarly, though And Then Nothing is a quieter affair than the records with which Yo La Tengo made its name, like 1993's Painful and 1995's Electro-Pura, we still get the noisy banger "Cherry Chapstick," which expand the record's range without disrupting the atmospheric sonic world that the record creates.
In a sense, the quieter, more limited sonic palette of And Then Nothing is what makes it unique. A record which establishes a sustained sonic mood of this kind comes with its challenges. When making music dominated by ambiance and texture, it's important to have an anchor. Yo La Tengo know how to anchor a song as well as how to build off of it to create alluring soundscapes. McNew's bass line on album opener "Everday," which climbs and descends over quietly shuffling guitars, does just that. Much of this record is so delicate, but there's always an anchor which keeps the structure from floating away. So, although some critics of the time complained that And Then Nothing wasn't as immediately engaging or dynamic as, say, I Can Hear the Heart Beating As One, the reason And Then Nothing remains a classic—and the reason it has become my favorite Yo La Tengo album—is akin to that which makes Gregory Crewdson's photographs so immersive. Both Crewdson's Twilight and Yo La Tengo's And Then Nothing Turned Itself Inside-Out create immersive worlds, illuminated by the surreal and anchored by the everyday.
***
Buy this album on vinyl at Turntable Lab.
---
Support our Site—Subscribe to Our Patreon: Become one of our monthly patrons and help support an independent media resource while gaining access to exclusive content, shirts, playlists, mixtapes and more.