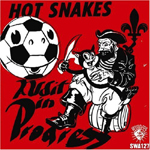 It must be some kind of miracle that the Hot Snakes are still putting out records. While three-fourths of the ferocious garage punk quartet lives in the sunny climate of San Diego, lead Snake Rick Froberg keeps permanent residence in New York City, 3000 miles away. That kind of logistical roadblock would make keeping a band together nearly impossible for most bands, and for the Hot Snakes, there has always been some extent of uncertainty as to whether or not the band actually is still a band. With the release of Audit in Progress, the band's third full-length record, that uncertainty has been quelled for the time being.
Audit in Progress isn't the brooding masterpiece they've been slowly working on for the last couple years, nor is it a step in a new direction for the mostly SD-based band. What it is is another furious row of a punk rock record, all jagged riffs and snotty lyrics. It's the garage rock record to end all garage rock records, save for maybe their last one, Suicide Invoice, which kicks so much ass, it would be embarrassing for anyone to suggest otherwise.
Hot Snakes are one of those bands that basically have one good trick and play the hell out of it. Now just hold on a second there. I never said that was a bad thing. Personally, if the Hot Snakes wanted to play power ballads or operettas, I would promptly be pressing the stop button and saying "good day." Leave the drama for The Darkness, because the Hot Snakes have only one setting: destroy. And Audit in Progress does just that. Froberg's vocals are consistently on shout. John Reis's guitars are permanently set to chug and Mario Rubalcaba's drums are always set to a steady pound. That said, there are countless highlights on the record, whether they're the melodic riffs on "Think About Carbs," the steady groove of "This Mystic Decade," the dirty organ on "Lovebirds" or the light speed fury of "Braintrust."
As usual, Audit in Progress is packed full of absurdity. The cover depicts a soccer ball with a face floating next to a pirate, who happens to have a cat, holding a sword, sitting in his lap. Huh? Exactly. Froberg's lyrics are equally ridiculous, as well. In "Think About Carbs," he rattles off dietary diatribes, while in "Kreative Kontrol," he asserts, "I'd cut off my dick for creative control!"
It's fast. It's loud. It's snotty. It's the Hot Snakes, brother, and they're here to mow your ass down one more time. Watch out!
Similar Albums:
Drive Like Jehu – Yank Crime
The Bronx – The Bronx
Rocket From the Crypt – Group Sounds