10 Essential Shoegaze Albums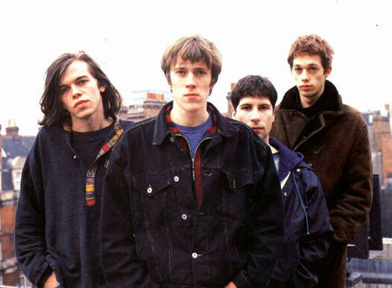 Around the late '80s, Oxford psych-rock band Ride unexpectedly gave birth to the name of a new genre because of their somewhat introverted performance style. Taking note of the way the band members' habit of looking down while playing, British journalists named the genre "shoegaze," a once joking name that now represents some of the most beautiful and/or powerful rock records in existence. Shoegaze music is frequently marked by its heavy use of guitar effects, and for that matter, heavy use of guitars. It's dense and dreamy, often very loud, but quite gorgeous all the same.
Shoegaze has been in the spotlight for much of the past decade, with bands like Deerhunter and M83 incorporating many of its stylistic elements. And bands like Ride, My Bloody Valentine, Swervedriver and Chapterhouse have all embarked on reunion tours in recent years. This year will see more interesting shoegazer activity, now that Captured Tracks is planning on reissuing Medicine's first two albums. So, in keeping with the spirit of the whooshing sounds ahead, here's a list of the 10 best shoegaze albums that belong in everyone's collection.
The Jesus and Mary Chain – Psychocandy
(1985, Blanco y Negro)
It's probably most accurate to call The Jesus and Mary Chain's debut album, Psychocandy, a 'proto-shoegaze' album. The noise-pop elements, reverb, distortion and overall euphoric vibe are all present on the album, even if it's not quite as cleanly produced as Slowdive, or as forceful as My Bloody Valentine. All the same, The Jesus and Mary Chain are noise-rock heroes for a reason, and they're at their ear-splitting best on this album, as noisy and chaotic as they'd ever sound. Like the Beach Boys or Ronettes with a heavy load of feedback and overdrive thrown over everything, Psychocandy is strangely beautiful in its shrieking glory.
---
Ride – Nowhere
(1990, Sire)
If not for one massive, head-spinning record that arrived one year later, Ride's Nowhere would have been the definitive shoegaze album. For starters, they're the band that inadvertently gave the genre its name, and more importantly, Nowhere is a tight, infectious and powerful rock record that invigorates as much as it swirls and loops. The band's love of pedals is highly apparent on the release, with zooming rockers like "Seagull" borrowing some of the LSD-laced psychedelia of "Tomorrow Never Knows," and dreamier highlights such as single "Vapour Trail" taking their sound to a more serene, yet nonetheless anthemic plateau.
---
My Bloody Valentine – Loveless
(1991, Creation/Sire)
There is no more heralded or celebrated album in shoegazer history than My Bloody Valentine's Loveless, and for good reason. There is simply no other album that managed such a beautiful expression through hazy production tricks, lilting melodies and utterly massive sound. The great irony about the album, which is legendary for urban myths surrounding its creation and cost (many of which are true), is that mastermind Kevin Shields took a surprisingly simple approach, often using only two guitars in most of its songs. There are, however, songs that feature five or six vocal tracks, which help to lend the album its miasmic underwater vibe. It's a beautiful album, and also a very noisy album, and at times, such as on closer "Soon," even a danceable one. But lest anyone think that beauty is their sole aim should dig up one of their performances of "You Made Me Realise," which the band transitions into 20 minutes of piercing, deafening cacophony.
---
Chapterhouse – Whirlpool
(1991, Dedicated)
One of the more fractured takes on shoegaze, Chapterhouse's debut album Whirlpool is maybe the least cohesive on this list, and its long list of producers and remixers has a lot to do with that. It doesn't sound so much like a unified whole as a collection of singles, but that being said, these tracks all pretty much sound amazing. Chapterhouse certainly dabbled in as much psychedelic atmosphere as contemporaries such as Ride or My Bloody Valentine, but with a more pronounced rave/baggy influence. Drum samples and wah-wahs abound, lending this a touch of acid-fried dance party appeal, but the melodies and atmosphere are nonetheless awesome. Perhaps it was unappreciated in its time, but Whirlpool left its mark on the music of decades to come. Just ask The Big Pink or Caribou.
---
Medicine – Shot Forth Self Living
(1992, American)
While most of the notable shoegazer bands of the '90s were British, and the UK certainly produced a staggeringly large number of exceptional effects-pedal-loving acts (just look at the rest of this list), there were plenty of like-minded and equally wonderful bands emerging in America around the same time. Perhaps the best of the bunch, Los Angeles' Medicine pushed two parallel extremes. On one hand, they were even more immediate and melodic than many of their peers, but on the other hand, they also made a lot more noise. Their splendid debut Shot Forth Self Living can be harsh and piercing at times, but also highly energizing. In tracks like "Aruca," "5ive" and "Defective," the group cranks up the overdrive and lets the melody flow through their Marshall stacks. It's good for what ails ya.
---
Slowdive – Souvlaki
(1993, SBK)
Slowdive share a name with a Siouxsie and the Banshees song, but it's probably more accurate to view their name as a kind of description for the dreamy, ambient pop in which they specialize. Sophomore album Souvlaki removes some of the more immediate elements of the Reading band's debut Just For A Day, and replaces them with more patient, beautiful soundscapes that, while plenty accessible in terms of melody, are glimmering monuments of atmosphere. It certainly doesn't hurt that Brian Eno had a hand in a few of the songs' sounds. Still, there are some definite standout tracks, chiefly "Alison," the transcendent "When the Sun Hits," and the considerably more ominous "Machine Gun."
---
Catherine Wheel – Chrome
(1993, Fontana)
Very few shoegaze acts enjoyed much in the way of mainstream success, but Catherine Wheel is probably the band that came closest, landing a regular series of minor hits with singles like "Black Metallic," "I Want to Touch You," "Crank," and "Delicious." Part of that was probably a stronger push on their part, but part of it also had a lot to do with the fact that, while the band celebrated effects and texture as much as their contemporaries, they primarily wrote driving rock songs with energy to spare. One could argue that Ferment is the band's best, but I find the songwriting is just that much sharper on Chrome, a breathtaking album that stacks up pop hooks alongside dense layers of distortion. In parts, it's heady euphoria ("Fripp"), while in others, it's pop perfection ("The Nude," "Strange Fruit").
---
Boo Radleys – Giant Steps
(1993, Creation)
A sprawling 17-track epic that makes full use of the time allotted on a compact disc, the Boo Radleys' third album Giant Steps is an exhausting listen, but one that rarely loses its magnetic appeal. Caught right in the middle of their transition from more explicitly MBV-sounding shoegazers and the bright, jangly pop band they would morph into, Giant Steps is the Liverpool band's crowning achievement, thereby justifying the use of a John Coltrane album title for its own. Here, the band shows off a jaw-dropping range, from the catchy noise rock of "I Hang Suspended" to the dub-influenced squealer "Upon 9th and Fairchild," the power pop jangle of "Wish I Was Skinny," and the truly awesome psychedelia of "Lazarus." With so much going on, and in so many different directions, one might wonder whether this is truly a 'shoegaze' album proper, but the heavy dose of effects and trippy atmosphere that surges through its 64 minutes should put that question to rest.
---
Swervedriver – Mezcal Head
(1993, A&M)
You mess with the bull, you get the horns, or in Swervedriver's case, the guitars. Easily the most aggressive of the UK shoegazing bunch, Swervedriver's take on the style is more beefed up and intense, with sophomore album Mezcal Head bearing as much resemblance to Smashing Pumpkins' dense alt-rock or Jawbox's melodic post-hardcore as it does to the effervescent whoosh of Ride. From the crashing riffs of leadoff track "For Seeking Heat," Swervedriver rarely lets up on their searing attack. They maintain a balance of intoxicated float and hard-charging crunch on "Duel," and create a mesmerizing strata of guitar riffs on "Last Train to Satansville." As meaty and driving as the album is, however, it's loaded with hooks, almost every song bearing an unforgettable chorus. At the heart of it all, this is mostly a great riff rock record dressed up in chorus and flange effects, but that works just fine for me.
---
Lush – Split
(1994, 4AD)
A band with one foot in the dream pop world of the Cocteau Twins, and the other squarely in the noisy realm of shoegaze, Lush gradually made a transition further toward straightforward, noisy Britpop. In fact, their final album, Lovelife, sounded a lot more like Elastica than Ride, and even featured a guest vocal from Jarvis Cocker. They were at their best when floating in a distorted, yet blissful dreamspace, however, the peak of this approach arriving with 1994's Split. It has its moments of hook-laden guitar rock, particularly in single "Hypocrite," though its most sublime moments are typically those in which singer Miki Berenyi is seemingly at one with the ethereality of their trippy, atmospheric guitars. "Desire Lines," curiously released as a single, slowly allows its gorgeous ambiance to approach eight minutes long, and the amazing opener "Light From a Dead Star" is almost all tension, a beautiful ride toward unseen stars.
---
You might also like: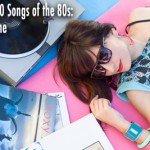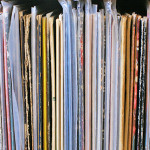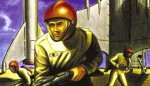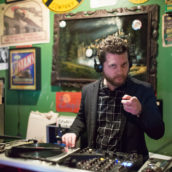 Jeff Terich
Jeff Terich is the founder and editor of Treble. He's been writing about music for 20 years and has been published at American Songwriter, Bandcamp Daily, Reverb, Spin, Stereogum, uDiscoverMusic, VinylMePlease and some others that he's forgetting right now. He's still not tired of it.