10 Slept-on albums of 2010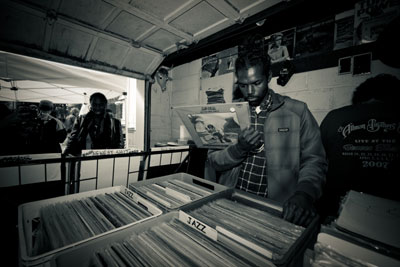 With 2011 behind us, most music websites and publications have since moved on from their 'best of the year' lists. The rankings provide the perfect opportunity to catch up on any albums that may have slipped under the radar the first time around, and also revisit some old(ish) favorites. Despite the tradition, however, perhaps now is not the best time to crown the most respectable releases of the past twelve months. With the sheer quantity of music being put out today, there are surely some high quality discs slipping through the cracks and not getting their due. That being said, an extra calendar's worth of perspective should make this a great opportunity to revisit 2010 and see which albums got a raw deal during the end-of-year festivities.
10. Teen Daze – Four More Years (Arcade Sound)
Teen Daze got lumped in with the "chillwave" sound for much better reasons than an affinity for vans, instagram photos and fixie bikes. If chillwave is about laid-back, half-baked summer vibes then Teen Daze fits the bill, and Four More Years is an excellent record with memorable songs like "Gone For The Summer." The song has a hazy, washed-out (pun intended) feeling that makes it instantly likable. Although Four More Years was lost within the "chillwave" I have confidence the record will float above the look-alikes in due time.
---
9. Diamond Messages – Smoke and Mirrors EP
As the only EP on this list, Diamond Messages sure does make the most out of the three original songs on the disc. The laid-back, electronic chill-out jam, "Liquid Summer" is one of my favorite songs of the year and has me extremely excited for the debut album (which got pushed back from a Summer 2011 release). "Let's Make a Vow" and "Smoke and Mirrors" are more upbeat but equally sultry and captivating.
---
8. Pantha Du Prince – Black Noise (Rough Trade)
Pantha Du Prince's music is often described as "minimalist." However, this tag seems to reference the repetition of individual sounds, rather than the overall ambiance of the songs. Pantha du Prince passes on stretched-out synths and bass as he employs a myriad of chimes, clicks and clacks to drive the songs forward and create some of the most layered and complex compositions of recent memory. Animal Collective's Noah Lennox (aka Panda Bear) also makes a welcome appearance on one of the album's highlights, "Stick To My Side."
---
7. Glasser – Ring (True Panther Sounds)
Probably the least "slept-on" album of this list, Ring got a fair amount of attention and even snagged a spot within our top 50 of the year. However, the charm of this album doesn't seem to let up — the unique blend of chants, rhythms, horns and hypnotic melodies has continued to grow on me and demand repeat listens. Ring is a extremely engaging listen and one fueled by booming climaxes, Cameron Mesirow's enchanting vocals, and tight, cohesive instrumentation.
---
6. Mount Kimbie – Crooks & Lovers (Hotflush)
This past March I saw Mount Kimbie put on a stunning live performance to a rather modest audience, making it readily apparent that this duo from England wasn't getting the respect they deserved. Their compatriot, James Blake (who appeared on some of their earlier work), has recently felt the benefits of being sucked into the hype-cycle blogosphere machine — launching his career and helping to sell out shows across the country. But unfortunately for Mount Kimbie, they were only able to ride a small wave of that success, despite delivering a post-dubstep album that, in my opinion, has more interesting content than the aforementioned horseman of the genre.
---
5. Bonobo – Black Sands (Ninja Tune)
When I tell my friends to listen to Bonobo (and I do it often) they usually want me to describe the style of music. I still haven't come up with a good response, but my attempts typically involve me blabbering about a mix of hip hop, jazz, new world, trip hop, and even a pinch of dubstep. Black Sands is Bonobo's fourth official studio album, and one that improves and refines the work found on 2007's excellent Days To Come. R&B singer Andreya Triana makes three different appearances on the album, all of which provide memorable and catchy vocals to go along with the enigmatic instrumentation found on the other tracks. This album is one to add to your library immediately, and one you'll be attempting to add to your friends' libraries for years to come.
---
4. Teebs – Ardour (Brainfeeder)
Teebs' first full length album was released on Flying Lotus' electronic label, Brainfeeder, but rather than sounding like a rather boring Flying Lotus clone, Ardour stands alone as a unique and expansive collection of electronic landscapes. His style is akin to a blend of Madlib and Bibio, where the end product has a peculiar cadence as if someone were playing with the volume dials of the different instruments on any given song. At 18 tracks long, the album has enough content to still feel fresh after months of listening.
---
3. Emancipator – Safe In the Steep Cliffs (Self-released)
Emancipator's music is a unique blend of classical or post-rock instrumentation and hip hop or electronic style beats. The end results are songs that are at both times funky and inspirational, working well in the background, or at the forefront of the listener's attention. And perhaps even more impressive is that Emancipator (aka Douglas Appling) plays many of the instruments heard on the record. Safe In the Steep Cliffs is Appling's second studio release and one that continues the beautiful natural and organic sounds found on his first LP, Soon It Will Be Cold Enough.
---
2. Dimlite – Prismic Tops (Now-Again)
Every so often I get the feeling that what I'm listening to is unlike anything I've heard before. As a listener, it's one of the most exciting things I can experience, and exactly what I felt when I first heard Dimlite's Prismic Tops. The album's perversity might have failed had it not been Dimitri Grimm's confidence behind each one of the musical movements. Take for example the second track, "On the Same Picture," which features a sexy Elan Tamara and brooding bass coupled with decidedly minimalist wooden percussion. The album closes with another highlight that Grimm boldly cuts off at the scant one minute, 30 second mark–just barely enough to satisfy the listener. Prismic Tops is at times a challenging listen but one where true innovation and confidence demand repeat visits.
---
1. Damu The Fudgemunk – How it Should Sound Vol 1 and 2 (Redefinition)
Damu's got beats. How It Should Sound Vol 1 and 2 is a collection of beats that the Washington, D.C. native, Damu The Fudgemunk, has been putting together for the better part of a decade. What separates Damu from most current hip-hop producers is his ear for old-school, funky, drum-breaks. On top of his percussion foundation, the Fudgemunk deftly lays down chopped-up horns, warm keys, and always poignant vocal samples. In a stark contrast to the tenets of hip hop, Damu seems to be a pretty humble guy. He also maintains his humility without ever coming across as corny or disingenuous. Damu The Fudgemunk is one of hip hop's best producers and How it Should Sound Vol 1 and 2 is the most criminally slept-on release of 2010.