The Growlers : Chinese Fountain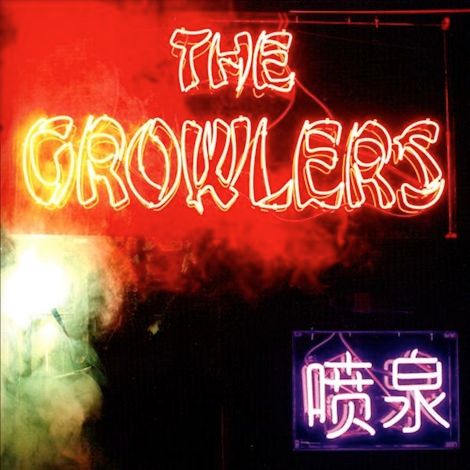 Costa Mesa's The Growlers made a splashy introduction to many listeners with their catchy single "One Million Lovers," a haze of raw and sunny, surf-inspired garage sounds that has since become synonymous with summer. But now that summer is behind us, The Growlers have new ground to cover, and do so splendidly on their fifth album, Chinese Fountain. Held up against their previous releases, Chinese Fountain is a more polished and mature record — lead singer Brooks Nielsen retains his signature drawl, while the rest of the band sound even stronger, showcasing even more refined melodies than on their previous releases.
On Chinese Fountain, The Growlers take steps to expand their musical horizons, as evident in the title track, with its danceable melody built around a catchy bassline, a woozy synth and some basic guitar plucking. "Not The Man" continues the trend, though in this case the focus is on lead guitarist Matt Taylor, who lays down a gorgeously melancholy riff tied in with the bass, backing guitars, a sweet organ solo and a calm drum beat — all the while, Nielsen crooning that he's no longer the person he used to be anymore. While the sounds are a lot cleaner and definitely work to the band's advantage, The Growlers still cling to their surf-rock roots. Album opener "Big Toe" is a clear indicator of this, holding dear to a prevalent reverb twang. Meanwhile, "Black Memories" and "Magnificent Success" feature similar elements with satisfying results that only prove The Growlers are uniquely able to create some refreshing songs that reflect a distinctive type of California sound only heard in a few bands.
Nielsen has a distinctive talent for carefully weaving narratives within his songs. Most tracks are littered with loss and depression, tied in with a personal philosophy geared toward seeking a more fulfilling life. The album's closer, "Purgatory Drive," is reminiscent of '80s punk band The Plugz and is a climactic bookend that would fit perfectly set against a film's closing credits. Nielsen tells the tale of a man who no longer has anything left after a relationship is over, and now it's time to move on. While this tale has been told countless times, it has a sort of eerie overtone to it and it's left with an ambiguous ending.
Part of what makes The Growlers special lies not only in their nostalgic sound but also with Nielsen, who presents himself as a mysterious narrator. While the production on Chinese Fountain is a notable departure from their earlier releases, the different route that the band takes is one that suits them well here. It might divide some fans because of the atypical approach, but at the core of the album, The Growlers remain a consistently compelling musical force.
Similar Albums:


White Fence – To the Recently Found Innocent


King Tuff – Black Moon Spell


Ty Segall – Manipulator
Find it at: iTunes