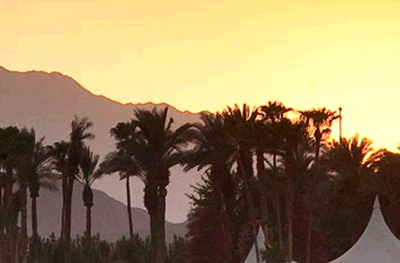 Summer won't be here for another couple of months, but this Friday, unofficially, the season might as well begin, because summer festival season is upon us. This weekend kicks off the first of two Coachella weekends (which will be identical, lineup-wise), and from there the festivals will continue to roll out on a weekly basis. So we thought we'd help you out by compiling the price, dates, location, lineup, ups and downs of many of the biggest festivals in North America this year. At this time, neither Lollapalooza nor Outside Lands have revealed their line-ups. However, that hasn't stopped people from buying tickets anyway. But we believe in an informed consumer. So here's your Cliff's Notes version of summer festival season. Take notes, and plan accordingly.
Coachella
When: April 13-15; April 20-22
Where: Empire Polo Fields, Indio, Calif.
Price: $285
Website: Coachella.com
Noteworthy Performers: Radiohead, Pulp, At the Drive-In, Refused, Company Flow, Andrew Bird, Dr. Dre and Snoop Dogg, fIREHOSE, Frank Ocean, Florence and the Machine, Godspeed You! Black Emperor, Jeff Mangum, M83, Mazzy Star, Squeeze, St. Vincent, The Rapture, The Weeknd
Other highlights: Not terribly far from Los Angeles or San Diego, for those that need a break from the heat; even closer to Palm Springs/Palm Desert; most of the lineup's biggest names are skipping many of the country's other big festivals.
Drawbacks: Having to share your one-night-only At the Drive-In experience with 50,000 other people; guaranteed sunburns/heatstroke; the inevitable struggle that comes with trying to find your car at 3 AM.
Crossing Brooklyn Ferry
When: May 3-5
Where: Brooklyn Academy of Music, Brooklyn, N.Y.
Price: $45/day; $110/3-day pass
Curated by Bryce and Aaron Dessner of The National
Website: CrossingBrooklynFerry.com
Noteworthy Performers: St. Vincent, The Walkmen, Twin Shadow, The Antlers, Sharon Van Etten, Beirut, Oneohtrix Point Never, Atlas Sound, My Brightest Diamond, Pat Mahoney and Nancy Whang of LCD Soundsystem.
Other highlights: Intimacy, proximity to public transportation, indoor venue with air conditioning, most likely won't feel much like a festival.
Drawbacks: The National, apparently, isn't playing; some days more stacked with dynamic performers than others; attendance will probably reinforce whatever Brooklyn stereotype people have attributed to you.
Sasquatch! Music Festival
When: May 25-28
Where: The Gorge, George, Wash.
Price: $315/4-day pass
Website: SasquatchFestival.com
Noteworthy Performers: Beck, Jack White, Tenacious D, The Shins, Bon Iver, Beirut, The Roots, Portlandia, Feist, Metric, James Murphy (DJ set), Explosions in the Sky, Mogwai, M. Ward, Santigold, Childish Gambino, St. Vincent, tUnE-yArDs, Little Dragon, Wild Flag, Spiritualized, Shabazz Palaces, Kurt Vile, Ted Leo and the Pharmacists, Zola Jesus, The War on Drugs, Shearwater, AraabMuzik, THEESatisfaction
Other highlights: Much better electronic/hip-hop lineup than last year, beautiful Pacific Northwestern landscape, Jack White might pull another one of his weird and highly amusing publicity stunts.
Drawbacks: Still too much beard-folk, and a little too much M.O.R. alt-rock for that matter, likelihood of confusing SBTRKT with STRFKR, and it's also been known to rain.
Chaos In Tejas
When: May 31-June 3
Where: Austin, Texas
Price: $95 for Red 7 pass; $85 for Mohawk pass
Website: ChaosInTejas.com
Noteworthy Performers: No Age, Best Coast, Saint Vitus, Moss Icon, Iceage, Ceremony, Big Freedia, Main Attrakionz, Nasum, Winter, Absu, The Clean, Ted Leo and the Pharmacists, Municipal Waste
Other highlights: All the debauchery of SXSW without the corporate sponsorship, more punk and metal than any festival you'll attend this year, an actual unique festival experience.
Drawbacks: You'll probably take some collateral brusies, your denim jacket with patches might get confused for someone else's, if you thought SXSW was hot…
Bonnaroo
When: June 7-10
Where: Manchester, Tenn.
Price: $259
Website: Bonnaroo.com
Noteworthy Performers: Radiohead, The Beach Boys, Black Star, Bon Iver, The Shins, Aziz Ansari, The Roots, Alice Cooper, Danzig Legacy, Santigold, tUnE-yArDs, St. Vincent, Flying Lotus, Bad Brains, SBTRKT, Danny Brown, Kurt Vile, The War on Drugs, The Anters, Mogwai,
Other highlights: Not terribly expensive when you consider how massive it is, more wide open space than most other festivals, more comedy, more everything!
Drawbacks: Geographic isolation, a surprising lack of metal, an even higher concentration of jam bands, dudes who will incessantly remind you that Skrillex… was… actually… fun, and the inevitable attendees who take delight in casting hygiene to the wind.
Governor's Ball Music Festival
When: June 23 and 24
Where: Randall's Island, New York, N.Y.
Price: $95/day; $160/2-day pass
Website: GovernorsBallMusicFestival.com
Noteworthy Performers: Beck, Fiona Apple, Built to Spill, Modest Mouse, Passion Pit, Santigold, James Murphy & Pat Mahoney of LCD Soundsystem, Explosions in the Sky, Cults, Phantogram
Other highlights: Per the website, No overlapping sets!; better selection of food than your typical festival.
Drawbacks: Ticket price plus ferry or shuttle tickets could add up to a pretty pricey weekend; separation of dance/disco acts from indie rock acts in two separate days makes it seem strangely segregated.
Orion Music & More
When: June 23 and 24
Where: Bader Field, Atlantic City, N.J.
Price: $150 for 2-day pass
Curated by Metallica
Website: OrionMusicandMore.com
Noteworthy Performers: Metallica (performing both Ride the Lightning and the "Black Album" in full), Arctic Monkeys, Modest Mouse, Roky Erickson, Fucked Up, Hot Snakes, Best Coast, Titus Andronicus, Black Angels, A Place to Bury Strangers, Sepultura, Liturgy, Suicidal Tendencies, Torche, Black Tusk, Red Fang
Other highlights: More metal than most summer festivals (obviously), potential to blow some $ on nearby casinos, Metallica redeeming recent poor artistic decisions through apparently decent taste.
Drawbacks: High likelihood of hearing "Death to False Metal" all weekend, Avenged Sevenfold reminding us that screamo/nü-metal is still around, possibility of having to endure something from Lulu.
Pitchfork Music Festival
When: July 13-15
Where: Union Park, Chicago, Ill.
Price: $45 per day
Website: PitchforkMusicFestival.com
Noteworthy Performers: Godspeed You! Black Emperor, Vampire Weekend, Sleigh Bells, Flying Lotus, Dirty Projectors, Beach House, Liturgy, Oneohtrix Point Never, Chavez, Atlas Sound, Wild Flag, Hot Chip, Danny Brown, Cloud Nothings, Big K.R.I.T., Olivia Tremor Control, The Men, Milk Music, Tim Hecker, Grimes, The Atlas Moth, numerous others.
Other highlights: Proximity to civilization, unsurprising absence of groan-worthy acts, fairly low ticket price, minimal overbearing corporate influence.
Drawbacks: The heat and the humidity, ambient artists losing some of their mojo in a sea of bodies, the number of attendees who already have their post-fest thinkpieces planned.
All Tomorrow's Parties: I'll Be Your Mirror
When: Sept. 21-23
Where: Asbury Park, N.J.
Price: $199
Curated by Greg Dulli of The Afghan Whigs
Website: ATPFestival.com
Noteworthy Performers: The Afghan Whigs, Godspeed You! Black Emperor, Louis C.K., The Roots, The Hot Snakes, The Make-Up, Dirty Three, Mark Lanegan Band, The Antlers, Emeralds, Sharon Van Etten, Charles Bradley, Death Grips
Other highlights: Guaranteed against overcrowding, a more diverse/interesting representation of genres than most other festivals, no dusty fields, (probably) no naked wizards
Drawbacks: $200 is a fairly serious commitment, school's in session, summer's over… then again those might be arguments in favor of going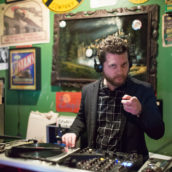 Jeff Terich
Jeff Terich is the founder and editor of Treble. He's been writing about music for 20 years and has been published at American Songwriter, Bandcamp Daily, Reverb, Spin, Stereogum, uDiscoverMusic, VinylMePlease and some others that he's forgetting right now. He's still not tired of it.