Aphex Twin : Computer Controlled Acoustic Instruments pt2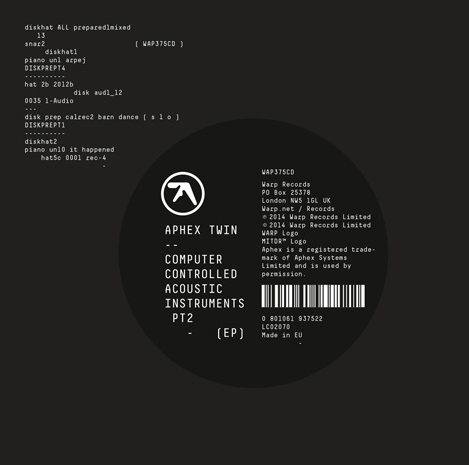 Three decades into his career as Aphex Twin, it should be fairly clear that Richard D. James is in the business of rewarding listeners for shedding expectations. Just when you get used to his bizarre sound experiments, the producer comes up with some glistening ear candy that flirts with pop sounds. (A recent case study in the form of mash-up record Aphex Swift revealed just how comfortable James' more relaxed compositions feel alongside some of country-star-turned-pop-sensation Taylor Swift's most blockbuster vocal performances.) But as soon as you might settle into those more calming sensations the more bizarre side of this project is likely to rear its gorgeous, unpredictable head.
Syro, James' long-awaited comeback (at least under the Aphex Twin moniker) was an interesting compromise of sorts between these two worlds. It was an odd collection of tracks named after the instruments used in their creation, and made heavy use of uncanny vocal samples, contributed by James' loved ones. It was a strange ride, but also one of the more human phases the project has ever seen. There was a soul to that record — a gritty form of honesty that helped it resonate on both a musical and emotional level.
On the other hand, Computer Controlled Acoustic Instruments pt2, James' surprise, follow-up EP plays out like a sort of behind-the-scenes featurette for that critically acclaimed comeback LP. A small handful of tracks ("diskhat ALL prepared1mixed 13," "DISKPREPT4" and "DISKPREPT1" among them) feel like fully-formed, if slightly minimalist songs. The rest fall somewhere between an electronic jam session and a Ted Talk, with James showing us how the sausage gets made when he steps behind the boards to produce a full-length effort. A fair amount of these songs are less than a minute long, and many of them focus on a single instrument, displaying the manner that James distorts and builds sounds over time.
If you're not already a well-versed fan of Aphex Twin, Computer Controlled Acoustic Instruments pt2 might be a disorienting and misleading place to start. But if you've witnessed the magic the producer can craft on any LP he touches then this EP is a fun, eye opening and generous look into the man's creative process. People will pay a small fortune for this kind of intimacy in the form of a backstage pass; this up-close look at Richard D. James is streaming for free on Spotify.
Similar Albums:


Aphex Twin – Syro


Boards of Canada – Tomorrow's Harvest


Squarepusher – Hello, Everything