Sufjan Stevens : Carrie & Lowell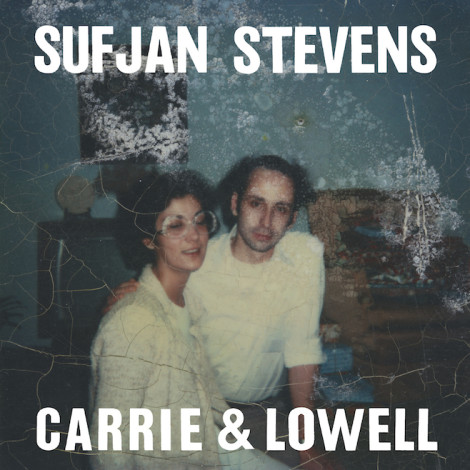 This summer will mark the 10th anniversary of Sufjan Stevens' Illinois, a unique and innovative record that put the singer/songwriter in the spotlight after a series of highly acclaimed, yet less commercially successful albums. Its lush arrangements of strings and choir, blended with indie rock songwriting and Stevens' talent for brilliant storytelling, made for a uniquely impressive conceptual feat. In the last decade, however, Stevens has moved away from the now-abandoned 50 states project and set his trajectory elsewhere. The challenging, but excellent The Age of Adz showcased his penchant for moving beyond an orchestral setup and acoustic guitar. While not on the same magnitude of success as Illinois, it was another great exercise for Stevens to prove he could hold his own while moving into other ambitious and less certain musical territories. But after after another five years, Stevens abandoned that experimental conceit for something much simpler, and more intimately personal.
In December 2012, Stevens lost his mother, Carrie, to stomach cancer. While Stevens' familial relationships were complex ones, Carrie was absent throughout most of his life due to her mental illnesses and substance abuse problems. Carrie's realization that she was unfit to be a mother was the primary reason behind her absence and it wasn't until faced with her final days that she sought forgiveness. Despite not having his mother around for most of his life, after her death, Stevens was overcome by pain and sadness, which consumes the entire scope of his new album, Carrie & Lowell. Stevens has long displayed an ability to transport listeners to new places through his brilliant assemblage of lyrics. Here, his experiences, while tragic and sad, are translated perfectly through musical expression into a fully formed whole.
In the past, his lyrics have combined Christian references with mythology to evoke fantastic settings. Carrie & Lowell contains few such instances, but rather, a somber and gentle form of songwriting. Yet because of the ongoing theme and biographical truth behind it, the album feels all the more realistic for being grounded in genuine grief. In many ways, grief can be an unsettling and tumultuous experience, and to describe the feelings endured is ineffable because it has to be lived to develop a whole new perspective. To many, this record might simply be another creative high mark for Stevens, based entirely on its sounds. However, those who have experienced grief and loss will probably have a better understanding of the album's intent and meaning.
Even though Stevens is at his most minimal, only showcasing his intricate acoustic guitar playing, harmonious piano and the gentle echoes of his voice, the music and the production behind it creates a feeling of abundance. There aren't any of the types of lavish components that Stevens is noted for; it's just him and the added touch of a simple musical setup. In a way, Stevens transports back to his early style of playing, though this time, the lyrical content in each song is rich and heavily layered in deeply personal meaning — a songwriting trait that Stevens used to varying degree on Seven Swans and Michigan. Stevens has admitted the record might seem a bit indulgent, but for what it's worth, Carrie & Lowell is an uncommon portrayal about both a person and an artist's struggle to come to terms with mortality, reaching a point of acceptance and learning to forgive.
Rarely are albums this compelling and honest in their delivery. There is no form of absolute closure with death, and speaking from personal experience, the death and loss of a loved one becomes a part of your life, and eventually you reach that stage of acceptance. With Carrie & Lowell, it's evident Stevens wasn't interested in just making another critically acclaimed album, but instead being able to share a touching and devastating story that many people know all too well. Carrie & Lowell encompasses his grieving process, and in its aftermath he has not only crafted a beautiful new set of compositions, he's made another artistic breakthrough.
Similar Albums:


Sun Kil Moon – Benji


R.E.M. – Automatic For The People


Iron and Wine – Our Endless Numbered Days