Of Montreal, Godspeed You! Black Emperor, Lil Bub to appear on Indiana Equality benefit compilation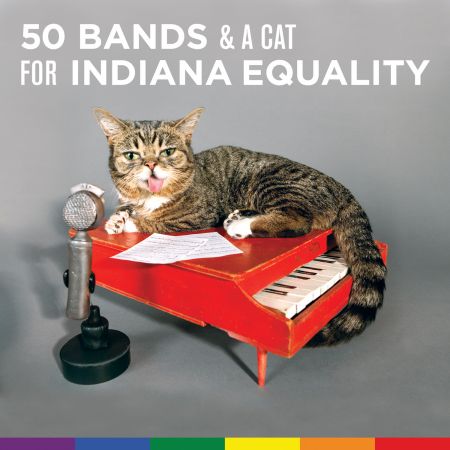 Next Tuesday, Indianapolis-based label Joyful Noise will release their compilation of 51 songs by local and national artists, and 100 percent of the proceeds will benefit "LGBT groups in Indiana actively continuing the fight to establish protections for all people." Many of the tracks are original, exclusive recordings, one of which was contributed by Indiana's most famous and amazing celebrity, Lil BUB.  A donation of $25.00 or more gets you a download of every track, as well as lathe-cut 7″ of one of the songs. (Which one you choose is up to you. You can view the list of contributors below, and order 50 Bands & A Cat for Indiana Equality yourself via Joyful Noise's website.
50 Bands & A Cat for Indiana Equality contributors:
Andrew Dost (of fun.) *
Apache Dropout *
Balmorhea *
Benoit Pioulard *
Bonesetters *
Child Bite
CJ Boyd
Cross Record *
David Yow (of The Jesus Lizard)
Deerhoof *
Defiance, Ohio
Divorcee
Dumb Numbers *
Godspeed You! Black Emperor
Half Japanese
Houndmouth *
J Fernandez *
Kishi Bashi
Ko
Laura K Balke
Lil BUB
Lily and Madeleine *
Lou Barlow *
Margot & the Nuclear So and Sos *
Mike Adams At His Honest Weight *
Murder By Death
O'Death
of Montreal *
Oneida *
Ought *
Protomartyr *
Reptar *
Reverend Peyton's Big Damn Band
Rob Crow *
Rodeo Ruby Love
Sedcairn Archives *
Serengeti
Sleeping Bag
Son Lux
Sonny & The Sunsets *
Stranger Cat
Surfer Blood *
The Coke Dares *
The Soil & The Sun
Thee Oh Sees *
Thee Open Sex *
Thurston Moore Band *
Tim Kinsella
We Are Hex *
WHY? *
Yonatan Gat
* previously unreleased track
Read our recent column Artistic Freedom: On art in conflict and the Indiana boycott, about the RFRA and bands' boycott of the state.