A$AP Rocky : At.Long.Last.A$AP
Like so many collectives in rap, transmissions from the A$AP Mob are cryptic and confidently ooze a cooler-than-thou ethos that—trust me—you covet; their combat boots and skintight black chinos exude something intangible and make me think that they have otherworldly affiliations, of which I'm jealous. They make me want to toss all of my paltry belongings into the Pacific Ocean, quit my job and do whatever I need to do, to pledge allegiance, so that I may give indifferent side-eye on the Mob's gothic flanks. However, I have no idea what mysterious threads link the A$AP Mob nor do I have any idea what, presumably, lofty goals unify the mob. But, essentially this is the point. We can never know what truth is meant to fill these vast holes in A$AP Mob's narrative. While the music is fun, it's the nebulous gap swimming below the rapper's literal offering and the metaphysical ideologies that the lyrical output supposedly represent. Rap fans certainly like Dipset's panache and New York jingoism, but what they love is the semiotic enigma beneath their slang and colorful fur coats. To put another way, our fascination with Dipset, Odd Future and A$AP Mob and virtually all rap crews is derived from that which we don't see and don't comprehend. The thought of some sort of new world order, with skull-and-bones exclusivity, is why extemporaneous mixtapes became more intriguing than label-sanctioned albums: they're more impulsive, more coarse and appear to more genuinely echo these enigmatic secret societies.
Constantly fluctuating the acronym in his moniker, A$AP Rocky has always nourished the cloudy aura surrounding him and his Harlem-bred squad. His latest effort, At.Long.Last.A$AP continues to invest in the murky and brooding rap that's kept him afloat in a genre where relevance is heartbreakingly ephemeral. At.Long.Last.A$AP actually starts off rather dull with tracks like the cranky "Canal Street," which fulfills the seemingly obligatory trope, where a rapper fulminates another rapper for possessing drugs and guns with no intent to sell or fire, respectively. However, in a sequence that I certainly hope was deliberate, At.Long.Last.A$AP ascends into entirely foreign territory where the mood, content and general sonic output get looser, more introverted and more hedonistic, starting with the terrific "L$D" which is shameless, unguarded dream pop. The track hears A$AP Rocky sing unabashedly about his hot-and-bothered origin with lysergic acid diethylamide. "L$D" is followed up with "Excuse Me," a return to A$AP's southern-inspired rap aesthetic where the rapper clings to the previous track's dreamy textures on the song's ethereal chorus, where A$AP joyfully croons on money and ambition. Other highlights include "M'$", which hears a self-smitten Rocky alongside an non-sequitur Lil Wayne verse, which is certainly apropos to the album's inebriated pride.
A$AP Rocky capitulates and deploys a multitude of tempos and ideas. So much so in fact that guest appearances from stadium-status guests like Kanye ("Jukebox Joints") and Rod Stewart ("Everyday") add to the star-power but are largely upstaged by A$AP Rocky's multicolored efforts. Nonetheless, "Electric Body" hears A$AP Rocky's fondness for lust and debauchery matched near perfectly by Schoolboy Q's snarling lyrical stabs. In addition, "Pharsyde" hears A$AP reflectively musing on fame and drugs over haunting guitar samples from Danger Mouse (one of the album's executive producers).
The truth of the matter is that very little art is interesting on its own. Art needs to be linked to larger contexts and mythologies. A$AP is a perfectly passable rapper but he's not selling pure lyrics by the pound. The Harlem-born rapper seems acutely aware of the fact that what he's really selling is affiliation. Before At.Long.Last.A$AP was released, A$AP extended the context of the album's bent towards hallucinogens, stating that his discovery of LSD was followed up with three separate orgies; whether or not this psychedelic lust actually occurred, I appreciate A$AP's supplementation of my suspension of disbelief. It's as if he genuinely wants us to believe that At.Long.Last.A$AP has come from a place that is distant and mystical but maybe, just maybe, accessible.
Similar Albums:


Danny Brown – Old


Earl Sweatshirt – Doris


Schoolboy Q – Oxymoron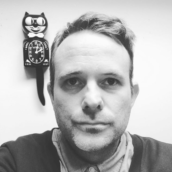 Paul Glanting
If a meteor was just hours away, Paul Glanting would recall that he has been in a Lil Wayne music video and has a 4.7 (out of 5) on Rate My Professor. He is at work on his first novel, Adjunct Megafauna.